"Big Man on Campus Ladies"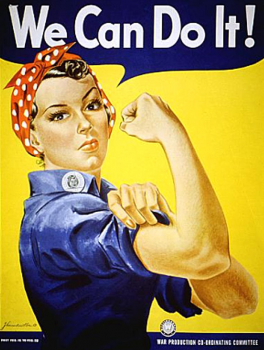 Rosie the Riveter
I once had a wonderful conversation with my introduction to feminism class. The mostly nineteen-year-olds in attendance seemed pretty content to validate women staying at home and raising families. I thought I could cause trouble by arguing that it was their moral imperative to find work that they found rewarding and engage in it. Given the historical banishment of women from working in the public space, it rested on their shoulders, I argued, to not let neo-conservatism decimate the profound social effects of the feminist movement. Whether or not they chose to have children in addition to that was external to the discussion.
Now a year later, I am not at all sure whether I did more good than harm. I of course see it as my central mission to encourage women students to excel, and allow them to see the sociological evidence for the continuing oppression of women in patriarchal culture. And, I certainly want to model for my students that my life — a world of reading books, watching movies, and writing about them — is exemplary of how being happy and productive is more deeply rewarding than the status quo messages they often receive from parents, churches, and other apparatuses of conformity. However, a recent episode of the Oxygen cable network's sit-com, Campus Ladies, has me thinking about that day in my feminism class in particular, and more generally about the pitiful status of university pedagogy in this very sick culture of ours.
Campus Ladies is a wonderful — politically smart and often quite hilarious — improvisational comedy created by Christen Sussin and Carrie Aizley about two middle-aged women, Joan and Barri, who decide to enroll in college. The show is executive produced by Cheryl Hines, who plays Larry David's beleaguered wife on HBO's Curb Your Enthusiasm. The show is important for a number of reasons, one of which is the way in which it attests to the spread of HBO techniques to other television outlets, in this case a women-centered basic cable network.
Curb Your Enthusiasm is a groundbreaking show, constructing hilarious comedy out of misanthropic behavior. For its New Year's Eve programming, HBO offered a "cringe-athon," airing all of the last season's episodes back-to-back. When an emotional affect, the cringe, becomes the basis of an advertising scheme, we can be pretty confident a new narrative domain has been defined. However, Curb Your Enthusiasm is very much Larry David's vanity show, building an axial narrative around his bad behavior. The women who surround him either suffer in a state of confusion (Cheryl) or are shrill and mean (Susie, his agent's wife). The innovation of Campus Ladies is to apply the cringe-com method to female experience. What would the female equivalents of Larry David look like? What would they do?
The show gleans its social critique from outrageous gender reversals. In the series' boldest episode, "No Means No," Barri gives a Vicodin to the university's star quarterback, Malcolm Rice. In a drug-induced state of freedom, Malcolm takes Barri into his fraternity house bedroom and confesses that he always wanted to be a star of musical theatre. He sings, in falsetto, "I can sing so high like Mandy Patinkin," which creeps out even Barri. The scene resumes with them lying in bed, Barri in post-coital bliss, Malcolm in a state of confusion. Malcolm stumbles out of his room, screaming so all at the crowded party can hear him: "Barri Martin date raped me!" Barri and Joan suffer through the second act of the show, scorned by the entire campus community as the "raper" and her friend. However, things end happily when the Dean explains to Barri that she was Malcolm's "moped," "a woman whom a man wants to ride, but doesn't want anyone to see riding." Barri returns to the frat house with football-shaped cupcakes, hoping to apologize. When everyone continues to scorn her, Malcolm intervenes and announces to everyone that Barri did not rape him. Barri offers a hilarious counter-apology: "If mounting you saddle-style made you uncomfortable, I'm sorry too." The show thus takes a very serious, and taboo, campus social problem, and renders it subject to comedic treatment by reversing the gender roles of the participants. Like all great comedy, the show sides with the outcasts — the Iranian Abdul; the overweight R.A., Guy; and Joan and Barri, the middle-aged women constantly harassed by perky teenage girls who make them feel as if they do not belong at college.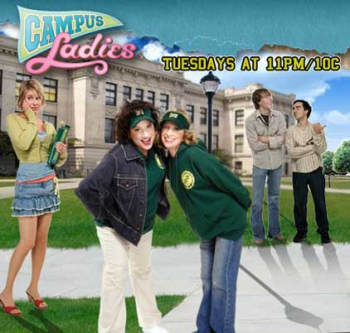 the cast of Campus Ladies
The episode that has me all aflutter, however, is entitled "All Nighter," and features Joan and Barri immediately getting themselves into a cringe-worthy situation. They arrive late at the first meeting of their class, "Women in American History." In a series of comic interruptions, they completely disrupt Prof. Fabre's class. She finally kicks them out. However, it is Prof. Fabre's outright discriminatory behavior that is remarkable. When Fabre refuses to believe that Joan and Barri are students, she quips, "Perhaps if you leave in time, you might get home and see a new episode of Oprah." The students chuckle behind their backs, thus linking Fabre's behavior to the perky blonde twins who torment Joan and Barri throughout the series. Later, when Joan and Barri go to Prof. Fabre's office to try to apologize, Fabre again heaps on the feminist vitriol: "If the two of you have come to swap recipes, I'm not really in the mood."
The show works to establish Joan and Barri's victory over Fabre in the oddest political terms. Fabre demands that the women deliver an oral presentation on an important figure in feminism. Joan and Barri pull an all-nighter trying to decide on their topic. They finally choose Fabre herself. Joan and Barri out Prof. Fabre before the students, reporting on how she and her lover lived in Chile. After the presentation, they cross paths with Fabre and her lover, Ming, on the campus quad. While Fabre is outraged and humiliated, Ming is quite grateful: "You guys did us a favor." Ming forces Fabre to apologize to our heroes, which she does. The episode ends as the twins walk by, trying again to terrorize Joan and Barri. However, Barri gets the last laugh, sticking a sign on one twin's back that reads, "I'm farting."
Of course, from Animal House (John Landis, 1978) onward, most American popular culture has been ignorant and insulting toward academic life. College is represented as a place where students party with wild abandon, and professors and deans are stuffed-shirts who try to ruin all of the fun. But the political contradictions in the "All-Nighter" episode of Campus Ladies are particularly confusing. Why would a show that wants to defend the marginalized (overweight, middle-aged women, and lesbians) equate vacuous, normative-obsessed teeny boppers with a feminism professor?
I worry that there is a particular vitriol reserved at this moment of American culture for professors. In very different circumstances, two films this past fall have demonstrated that professorial abuse is the new domestic violence. In The Squid and the Whale (Noah Baumbach, 2005), Jeff Daniels plays a professor father who pelts his family with tennis balls as the film opens, and it only gets worse from there. In Bee Season (Scott McGehee and David Siegel, 2005), Richard Gere plays a Jewish studies professor who so pressures his daughter into winning the national spelling bee that she judiciously chooses to lose the tournament on purpose rather than feed his megalomania. I wonder if in a culture where authority has so demeaned us (from Bush's illegal wiretapping to Michael Brown's mishandling of the New Orleans debacle to the Enron leadership's thievery), these texts use academics as authority figures as the easiest target available to channel our rightful anger.
While I know plenty of arrogant professors — both men and women — who behave like Fabre, I also know many others who deserve more than caricature. I would love to believe that I am one of the latter, but I worry now that my rhetorical flourish in front of the feminism students was more Fabre than Rose Morgan, Barbara Streisand's ebullient professor in The Mirror Has Two Faces (1996). Is it possible to critique a culture of housewifery without abusing housewives?
In the very same class, I took an equally critical — and again, rhetorical — position concerning having children. When I was explaining why I was a bit late for class, because my son was ill and I had to swap him with my wife on the way to class, a student rolled her eyes and told me to stop complaining because I "chose" to have children. I tried to calmly explain that "choice" is actually quite complicated: did my wife's passionate desire to have kids leave me a "choice?" We proceeded to have a conversation about mixing the raising of children with an academic career. Again to be controversial, I asserted that it might be better to have professors with children dealing with college students.
Of course, immediately afterwards, I backtracked from this position: many of the single women professors I know are my role models for excellence in the professoriate, and gay men and lesbian professors do not have the same access to having children that I did. The contradiction between these two positions, advocating careerism and parenthood, indicates to me the value of, not radicalism, but instead centrism. Professors need to take reasoned positions that account for complexity. In our representations, we are going to find many mean, terrible professors like Fabre, and a few glorious ones like Streisand, but what we need, and what I would like to present in front of my students, is the real one, flawed yet functional, well-meaning yet sometimes wrong.
Links:
Campus Ladies
IMDB: The Mirror Has Two Faces
Image Credits:
Please feel free to comment.