Public Radio Redux

NPR DJs
Someone once described the period between completion of an academic book and its publication as "the calm before the calm." In late 1999, my first book was published with the less-than-felicitous title of Conflicting Communication Interests in America: The Case of National Public Radio. The book was an institutional analysis of National Public Radio, focusing specifically on how NPR had configured the "public" throughout its history. Writing the book was like cutting stone; after publication, it promptly sank like a rock from sight. I posted a notice to the public radio listserv with a link to the first chapter, and the only comment came from the fundraising director of a public radio station in New Hampshire: "Jeez, I couldn't get past the tortured fire metaphor on the first page." One of the three published reviews referred to it as a "rant." Subsequent books about NPR ignored it altogether. So much for fortune and fame.
So I left the study of public radio for other endeavors. However, recent rumblings in the popular press regarding flat station revenues and audience growth, political machinations and listener discontent (as well as deadline pressures) have led me to re-examine my predictions for National Public Radio and its affiliated stations. On the whole, my predictions were fairly accurate. NPR's occasionally tenuous finances were stabilized when it received a $236 million windfall from the widow of McDonald's founder Ray Kroc in 2003, as well as a recent $7.5 million grant from the Ford Foundation. Yet NPR has been extremely hesitant to share its good fortune with stations. Instead, the network has been pouring more and more money into its news operations, and news continues to trump cultural programming at the local level. Classical music, the traditional mainstay of local station schedules, continues to slide in importance. Washington's WETA went all-news in 2005 and Detroit's WDET followed in 2006 (the latter move triggered a class-action suit from listeners against the station).
Predictions for regional consolidation have been borne out. Iowa public radio now operates as an umbrella, rather than as separate stations; other regional powerhouses, such as San Francisco's KQED and Austin's KUT, have engaged in aggressive land grabs by acquiring additional stations. Minnesota Public Radio, which introduced winner-take-all economics into public radio, split off from the distributor it co-founded, NPR's arch-rival Public Radio International (PRI), and, true to form, began jacking up rates for its programming. Overall, the rich got richer, and the poor simply vanished. NPR currently operates two channels on Sirius satellite radio, but the "tent poles" of Morning Edition and All Things Considered remain firmly staked to terrestrial broadcasting. Stations, which purchase programming from NPR and other suppliers, would never allow their two chief moneymakers to bypass them. Local programming is largely an afterthought at the station level (and NPR, to its eternal shame, worked in conjunction with the NAB to hobble the low-power FM movement). NPR also offers streams of canned programming to stations for rebroadcast on their web sites, but the results, as far as I can tell, have been underwhelming in terms of both carriage and listenership.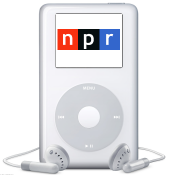 NPR Ipod
The wild card, which virtually no one could have predicted seven years ago, was the advent and popularity of podcasting. The audience research gurus who essentially set NPR and station policies throughout the '80s and '90s based their embrace of commercial programming strategies on the belief that listeners approach radio passively, listening to stations rather than discrete programs. However, a director at Boston's WGBH found that Morning Edition was downloaded approximately 14,000 times a week in December, 2005 despite no promotion whatsoever. In contrast, the program's RealAudio stream drew less than 50 listeners a week. Yet podcasting is no panacea, either. A micropayment system, implemented for station non-members, may discourage use, and producers may provide their programs through other venues. The economics also are problematic, since stations must add server capacity as they draw new listeners. The existence of a "digital divide" ensures that substantial portions of the population will lack access to broadband technology in the foreseeable future (although NPR historically has had little use for the folks on the other side of the tracks). Most importantly, the local stations that form the core of the public radio system do little more than vend the programs – they don't create them.
Blaming NPR for the malaise that afflicts public radio is akin to blaming the victim, since it is a membership organization that must follow the directives of its affiliates. And that is where the principal problem lies – at the station level. I'm still convinced that locally produced radio programming remains the key way to reach the "public" NPR was chartered to serve. In 1999, discussing the adaption of "seamless" formats and syndicated program advocated by consultants, I wrote, "Given the development of diverse delivery systems . . . local stations will not be able to survive if they continue their present practices." In fiscal year 2003, nearly half of all public radio stations in the U.S. operated in the red. A year later, the New York Times noted that "To remain viable, many managers say that their local stations must gain more leverage vis a vis NPR by producing and promoting more of the kind of distinctive, localized programs and segments that help shape public radio's eclectic character." Radio is uniquely suited to fill the role of a public medium. Its low cost and mobility afford a sense of immediacy and flexibility that make it ideal for reflecting a community's history and constructing a community's possibilities. At the risk of invoking another tortured metaphor, public radio must go back to the future if it is to survive.
Mike Janssen, "Jacking Into Podcasts." Current, January 31, 2005, p. 1
Lynette Clemetson, "All Things Considered, NPR's Growing Clout Alarms Member Stations." The New York Times, August 30, 2004, p. E1.
Image Credits:
1. NPR DJs
2. NPR Ipod
Please feel free to comment.