Irony Irony: The Mission (Accomplished) of The Daily Show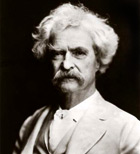 Mark Twain
"For your race, in its poverty, has unquestionably one really effective weapon–laughter…. Against the assault of laughter nothing can stand."
— Mark Twain, The Chronicle of Young Satan, Mysterious Stranger Manuscripts
Over forty years ago American novelist Philip Roth observed (in "Writing American Fiction" [1960]) that "American reality" "stupefies, …sickens, …infuriates, …and finally…is even a kind of embarrassment to one's meager imagination. The actuality is continually outdoing our talents, and the culture tosses up figures almost daily that are the envy of any novelist." Even the "daily newspapers," he writes, "fill us with wonder and awe (is it possible, is it happening?), also with sickness and despair."
Now, in the 21st Century, postmodern American unreality has inspired the proliferation of "fake news," parody journalism. In venues like the online journal The Onion, the website The Borowitz Report, the NPR news quiz show Wait, Wait…Don't Tell Me!, and especially Comedy Central's Emmy and Peabody award-winning The Daily Show, anything-but-meager imagination battles an increasingly stupefying, sickening, and infuriating political and cultural scene, and fake news, exhibiting perhaps more "truthiness" (as they call it on The Colbert Report) than that offered by legitimate journalism, has become an important component in our cultural discourse, an antidote, however temporary, to sickness and despair. As America's greatest humorist once reminded us, laughter is our secret weapon. It's a quote that often comes to mind when I watch my ultra-Republican, immune-to-irony next door neighbor stare in puzzlement at my "Republicans for Voldemort" bumper sticker.
On October 17th, 2005, the night Comedy Central would debut its "grippy" Daily Show spin-off The Colbert Report (pronounced "The Col-bear Ra-poor"), Jon Stewart's guest on the mother ship was Fox's bullying blowhard Bill O'Reilly, an especially appropriate booking since the network's new "all spin zone" (Havrilesky) was intended to be a parody of celebrity pundit shows like The O'Reilly Factor. In their colloquy, which included O'Reilly's perhaps clueless protest against that program "with some French guy making fun of me," Stewart's guest would call him a "pinhead" and accuse him of a lack of seriousness — of laughing, "playing it for giggles," at everything. Laughing heartily, Stewart would accept the charge that he (and The Daily Show) do "add insult to injury." "But," he would add, a finger pointing at O'Reilly, "you add injury."
Reviewing The Daily Show in PopMatters early in the Jon Stewart era (1999- ), Dan French would, like O'Reilly, find it pointless, frivolous: "masturbatory, nearly apolitical, only barely satirical, and without larger purpose." Since I was not watching back then, I cannot judge the accuracy of his harsh indictment — similar charges, after all, have been leveled against satirists throughout history, including Jonathan Swift — but I will suggest that The Daily Show in the Bush Era has become an absolutely essential source of sanity, a comic healing of our injuries.
The Daily Show is never better than when engaged in decidedly postmodern metacommentary on its own method. After playing a clip of the ever-scowling Condoleezza Rice (seeking to rationalize the faulty intelligence that led to the invasion of Iraq), insisting that "When you're dealing with secret regimes that want to deceive you're never going to be able to be positive," Stewart would observe:
"'Secret regimes that want to deceive' — if she's not going to see the irony in that statement, I'm sorry. I'm not going to point it out to her. That's not my job here. Oh, but there's irony in that statement, and not the fly in your Chardonnay kind. The real kind. Not the rain on your wedding day kind. This is irony irony."
Irony is, of course, the very essence of Stewart's job. The Daily Show is all about "irony irony." When Colbert (on the night in question "Senior Nuclear & Biochemical Weapons Analyst"), examining the "nonsmoking gun" of the Kay Report (on Iraq's WMD), wonders "What kind of madman refuses to produce evidence that he doesn't have what he said he didn't? Saddam had to be taken out or who knows what else he might not have done. It's imaginable" — that's irony irony at work. In Colbert's patalogic we discern a kind of discourse capable of challenging the proliferating absurdity of world events in a way the paradox-free language of network and 24-hour cable news cannot possibly match.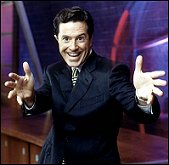 Stephen Colbert
In November of 2003, President Bush would make a surprise visit to the troops in Iraq. The major television newscasts covered his dramatic arrival with exactly the credulity Bush's handlers had no doubt envisioned, playing up W's generosity in giving up his own Thanksgiving, stressing the soldiers' happiness in breaking bread with their commander-in-chief. The Daily Show, of course, would cover it a bit differently. Colbert, that night Senior White House Correspondent, pretending to have accompanied Bush on his trip, would report that "this [the secrecy of Bush's trip] just proves that we journalists shouldn't even try, and we don't." Still, he would go on to report, the success of the mission did suggest some important, if ironic, lessons for the White House:
"When it comes to planning, do some. This Thanksgiving trip has shown the President that a lot of the best preparation is done in advance. Unfortunately with regard to our occupation of Iraq we did all of our preparation afterward, and now it's a seething cauldron of death and rage…."
A second ironic insight was likewise apparent, this time concerning exit strategy: "Have one. What we saw last Thursday was a President with a clear idea of when and how to leave Iraq, specifically at noon and full of giblets."
When "Media Analyst" Rob Corddry, investigating negative coverage of the Iraq war, insisted that "Facts in Iraq have an anti-Bush agenda," that, too, is irony irony at work, deconstructing White House spin. When Corddry, this time "Senior Foreign Affairs Analyst," heeded the President's insistence that the incidents at Abu Ghraib did not represent "the America I know," suddenly realizing "We invaded Iraq with the wrong America" and insisting that "Just because torturing prisoners is something we did doesn't mean it's something we would do"–his irony irony, delivered by one of a host of Daily Show correspondents seemingly oblivious to their own non-sequiturs, succeeded once again in identifying the Catch-22 mess we find ourselves in.
When, in March 2004, it was discovered that the White House had been coercing local television affiliates to run its planted, self-produced, pro-Bush policy pieces as if they were real journalism, "Senior Media Ethicist" Corddry would be appalled, not by the egregious duplicity of such postmodern manipulation but because he is jealous of the high caliber (better production values, better guests) of the "infoganda" in question. "They are kicking our ass," Corddry lamented to Stewart in a moment of irony irony irony. "As a fake, we are a sham."
In October 2005, in the wake of the unplanned revelation of the fakery behind a scripted conversation between Bush and American soldiers in Iraq, Corddry would treat the story of the Bush White House as if it actually were an episodic television series. As an avid, "living and dying with the show" fanboy, a "Whitey" (so to speak), he would take the airing of the rehearsal as a "gesture to the fans" (like a behind-the-scenes video on a DVD), denounce ABC's Commander in Chief as a "total rip-off" of his own favorite show, wonder if that preposterous social security "B story" (in which the President weekly "stumbled onto a community of androids") might be an indication that The Bush Years: The Series could be about to "jump the shark," and question what happened to the never-wrapped-up Bin Laden story line ("that's just bad writing"). And what, Corddry wanted to know, were the writers thinking when they turned that Dick Cheney character from "plausibly evil to cartooney evil." That's irony irony irony irony.
Sham or not, The Daily Show remains deeply committed to its mission. Covering in 2004 a make-believe, and hence meaningless, peace agreement in the Middle East signed by prominent out-of-power figures on both sides of the Palestinian-Israeli clash, in the hope of showing the way to a cessation of hostilities, Stewart made a solemn, this time sincere, promise: "And I vow, that as long as there are imaginary treaties signed by pretend delegates to create hypothetical peace this fake news show will be there to cover it."
Bibliography
French, Dan. "And Your Point Is…?" PopMatters.
Havrilesky, Heather. "The All Spin Zone." Salon.com.
Roth, Philip. "Writing American Fiction." Reading Myself and Others. New York: Farrar, Straus and Giroux, 1975.
Stewart, Jon, Ben Karlin, and David Javerbaum. America (The Book): A Citizen's Guide to Democracy Inaction. New York: Warner Books, 2004.
Twain, Mark. "The Chronicle of Young Satan." Mark Twain's Mysterious Stranger Manuscripts. Ed. William M. Gibson. Berkeley: U California P, 1969.
Related Websites
Daily Show Website
The Colbert Report Website
Colbert Nation Website
The Borowitz Report
Jump the Shark Website
The Onion
Wait…Wait! Don't Tell Me Website
Image Credits:
1. Mark Twain
Please feel free to comment.