Marriage as the New Trend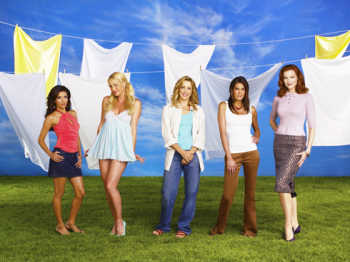 Desperate Housewives
Many critics have noted television's zeitgeist-affirming shift from the urban singles of Sex and the City (all neatly coupled off by the show's end) to Desperate Housewives' suburban marrieds. Indeed, a closer look at contemporary television reveals that marriage and motherhood have never been so desirable. While 1950's media normalized domestic life, husbands and children have become today's must-have luxury item, both ubiquitous and somehow not easily attainable, especially for women. This tendency is not confined to the small screen: October's Vogue features cover-girl Gwyneth Paltrow speaking out "On Marriage, Motherhood and Making a Comeback" with her career, naturally, coming in third place. Elsewhere the issue includes spreads on "Super Brides" and a fashion feature starring super-model, super-aristocrat and super-mother-of-four Stella Tennant on her Scottish estate. Tellingly, the magazine's nostalgia column (on 1970's working-girl fashions) is titled "The Feminine Mystique."
Current television shows glorify marriage and motherhood in a variety of ways, presenting them as alternately hip, comforting, rare and hard-to-find, under attack, and even a little rebellious. New shows like CBS's How I Met Your Mother present single life as from the perspective of a married man in 2035 talking about his youthful search for a wife. CBS's crime procedural, Close To Home, focuses on a new mother/prosecutor who has to deal with her unsympathetic childless female boss. Even Lorelei from WB's The Gilmore Girls finally wants to be married, but she's the one who has to ask for it. And then there's reality TV, from UPN's Chaotic to Bravo's Being Bobby Brown and MTV's Newlyweds, perhaps the granddaddy of them all.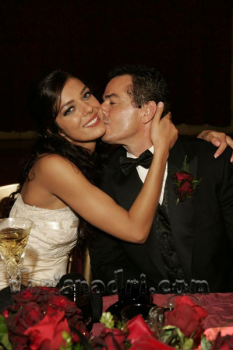 From My Fair Brady
VH1's current Sunday night "celeb-reality" shows play with this constellation of desirable, difficult to attain, and dangerous marriage. My Fair Brady focuses on Adrianne Curry's efforts to persuade her much older boyfriend, Christopher Knight (aka Peter Brady) to marry her. The winner of America's Next Top Model, season one, Curry repeatedly asserts that she does not want a casual relationship, as she walks around naked, showers with her best (female) friend, and dresses up in S&M outfits, underscoring that her overt sexuality and dangerous edge are compatible with today's racier marriage. The far more harrowing Breaking Bonaduce depicts fellow former child-star, The Partridge Family's Danny Bonaduce, and his wife Gretchen undergoing marriage counseling. Faced with the possibility of losing his wife, Bonaduce injects steroids, chugs alcohol, becomes violent and cuts his wrists. Both Bonaduce and Curry despairingly speak to the camera about their single-minded desire for stable, traditional marriage and parenthood, as they remind us of their histories with drugs, rebellion and self-destruction.
A suitably knowing, postmodern show, Desperate Housewives engages with these current trends and the representations of femininity and sexuality that preceded it. Most obviously, its casting makes it a quasi-update of the iconic 1990's night-time soap, Melrose Place. Marcia Cross, a Melrose fan-favorite as psychotic, love-hungry Dr. Kimberly Shaw, (who has her own schizoid housewife alter-ego, Betsy) has become Housewives' uber-married (then widowed), uptight and possibly similarly deranged Bree Van Der Kamp. Melrose's sole gay resident, the nice but sexless, Matt (Doug Savant) now plays nice but professionally impotent house-husband, Tom Scavo. If Kimberly and Matt were respectively Melrose's most excessive and marginalized singles, ironically they are now reincarnated as the characters most defined by marriage and least able to function without it.
In another echo of Melrose, Housewives' Tom and wife Lynette are both advertising professionals. Her (currently) unnamed boss (Joely Fisher) has Amanda Woodward's shrewishness without her intriguing private life. In the episode broadcast October 9, 2005, she refuses Lynette time off to attend her son's first day of school, explaining that it would be unfair on childless colleagues who have to pick up the slack. She adds that she has not even had time to go to the hairdressers in months. Although this sacrifice of personal care might evoke sympathy in Melrose or Sex and the City, it here highlights her inhumanity and reiterates the cultural shift away from single life.
Still, as any viewer of Friends or Sex and the City can attest, television has generally cast its glamorous singles in narratives of romantic disappointment. While this focus on single life granted them the visibility that is so central and validating in an image-obsessed culture, their unhappiness humanized them and evoked identification. Desperate Housewives uses a similar strategy: it makes marriage and motherhood visible while its frustrations produce sympathy, identification and comedy. This humor, in turn, offsets any critique of marriage as an institution, transforming the show into a sympathetic, media-savvy, and hip play with married women's experiences.
It is unsurprising that television — a domestic medium — would position marriage and motherhood as fashionable, glamorous and desirable. But in the post-network age of niche markets, this involves a more complex negotiation between many different forms of marriage: Vogue-style high-end glamour, MTV's post-modern MTV playfulness, Desperate Housewives' camp irony, and Breaking Bonaduce's very absence of distance have little in common. Their only constants are the desirability and potential scarcity of marriage, a development that is enough to drive characters both real (Bonaduce, Curry) and fictional (Bree Van Der Kamp) to the edge of insanity.
Image Credits:
Please feel free to comment.