Sim City or Dream City? Computer Imaging in the Reconstruction of Iraq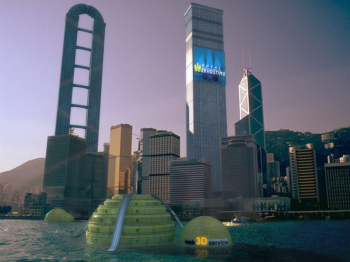 3D City
A couple of days after checking into the Hotel Erbil in Hawler (the name preferred by the Kurds for their city), I noticed a display of cityscapes mounted on boards on the mezzanine across the lobby. But my mind was on other things so at first I didn't check it out. I was to meet Slí­man Faiq Taki, the Dean of the Cinema Department of the University of Salahaddin, to talk about a media department curriculum. The interim head of the College of Arts and Sciences, Dr. Buland Dizayi, an environmental engineer pressed into service while another Dean was scouted up, drove me across town to the building which temporarily housed his office. He was worried that we hadn't been able to reach Dr. Slí­man on the phone, but as luck would have it, we encountered him trudging across a parking lot in the scorching heat. He joined us in Dizayi's office so we could talk. It turned out Slí­man Taki wasn't much interested in a media department with its vertical silos of journalism, electronic media, media studies, and cinema studies. He was, however, very interested in building up a cinema department. But first, he had to find a building.
The university here has 17,000 students (including night classes) but not enough facilities. So facilities are being reclaimed from government buildings abandoned by Saddam's regime. Buland Dizayi mentioned with a dark streak of Kurdish irony, that some classes now were held in the same buildings where Saddam's troops used to torture Kurds. The building in which we were meeting was a former dormitory with chipped linoleum floors and intermittent electric power.
Dr. Slí­man Taki's department consisted of a staff, basically his sons and his wife, who are artists or technicians. He had 25 students, but no equipment, and no building. He had spotted another government building that no one was using on a nearby lake and was planning on talking with the President of the University, Dr. Mohammed Sadik, about the possibility of claiming it. He outlined his own vision for his department, starting with scriptwriting and directing areas in which he specialized, acting, make-up, costume, (his wife's speciality), cinematography and 3D design (the interest of his sons). He was clear about how he wanted to proceed.
But finding a building and getting his department up and running was only the first tier of a long term plan. He telephoned his son, Safin S. Taki, who arrived wearing an Euro cut black jacket over a grey T-shirt and carrying a laptop. They talked about their lives as part of the Kurdish diaspora in Sweden and Dr. Slí­man Taki's own interest in producing a 3-script fictional narrative about the dislocations of life for Kurdish young adults into a film. They spoke of their frustration with finding backers. When they came to Iraq and spoke with Nechirvan Barzani, the Prime Minister of the Kurdish autonomous region, however, they found an interested party. He pledged some funds toward the film department and encouraged them to stay in Kurdistan.
They said that Barzani understood the power of film. They had visions even beyond building a department and producing their film. They wanted to build a studio and already had plans simulated in a hyperreal space of 3-D animation. Safin flipped open the laptop to demonstrate a DVD they had created showing their vision for a new northern Iraqi (i.e. Kurdish) studio.
The DVD simulated the studio using the programs that an architect's office might use. The opening shot of the building helicoptered in an arc in the approach of the building. The lobby was suitably grand. A John Williams type score swelled as background music. (Iraq is not a nation adhering to copyrights just yet.) Classrooms, edit rooms, make up rooms, and a foley studio, complete with SFX of glass shattering, demonstrated the future technical capabilities of the studio. A screening auditorium capable of holding hundreds of patrons was the final location that we cycled through. I asked where the studio would be built. Slí­man Taki is an expansive man. He suggested somewhere out in the countryside near streams and mountains. He is excited by his vision and sees no reason why Kurdistan cannot have a studio one day. He pointed out that the early Hollywood studios were developed simply because filmmakers thought the location was better than New Jersey or San Antonio. (And who would have thought a Mid-East rival to CNN, Al Jazeera, could be constructed in the middle of Qatar?) For now, at least, the simulation technology and his son's expertise on a laptop are all he has.
That experience propelled me back to the lobby to examine the architectural renderings with similar computerized programs of a new Dream City (the actual name) being constructed outside of Hawler. Various models of homes were available, with floor plans. Some were designs of Turkish, UAE, Egyptian, Iranian style houses. Prices ranged from $160,000 US though most are closer to half a million in US dollars. The blow ups of computerized housing were complete with virtual families consisted of images of smiling mothers, fathers, and children, although closer examination showed some of them to be disproportionate in size from one another, some European appearing — images pirated from some other web site or scanned from a publication and pasted into the computerized simulation of the model.
The Dream City houses also appear in televised ads here. In reality, a drive just outside of Hawler reveals Dream City to be miles of empty acres elaborately walled and gated, with bricked sidewalks. According to the spokesmen, only the central fountain and a few houses have begun construction. A supermarket along the lines of a MaziMart (a Dohuk-based enterprise similar to Target or WalMart) has broken ground next as a part of the development as well. In fact, another Dream City has already been constructed in Dohuk. While the acres appear empty now, the power of computerized imaging has fleshed out the dream for Iraqis and made it virtual reality at least. A fellow academic who traveled with me from the U.S. also came to talk with University President Dr. Sadik about new architectural design for a system of primary and secondary schools. Despite his moorings in the high-tech US, he carried only architectural drawings on paper. Meanwhile, the energetic Kurds have already picked up their laptops and started imaging and designing their own future.
A haze of the dust of reconstruction hangs in the air over this city of over a million and everywhere houses are under construction. New retail facilities, offices and streets are torn up as plumbing and electricity is upgraded or installed. Iraq is a nation that is in the middle of reconstruction at least in the relative calm of the Kurdish north. But the visions of a possible prosperous future for a "Kurdistan" — within Iraq or outside it– are everywhere on laptops, on television, pointing to a dream, which, though simulated for the moment, seems to propel energy, hope, and, if the Kurds are lucky enough, investment.
Image Credits:
1. 3D City
Please feel free to comment.