Reality TV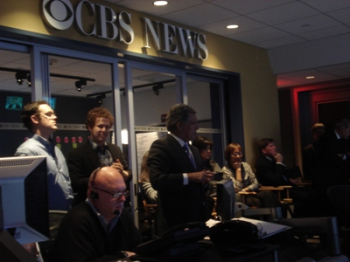 CBS Newsroom
The banality of standard television news narratives is both frustrating and oddly reassuring. The ritualized litanies of political posturing, consumer panics, lifestyle trends, celebrity scandals, and missing upscale white women lull us into La-Z-Boys of comfort, cynicism, or cynical comfort. To be charitable, these formulas paint a distorted picture of actual contemporary American life; that said, at least it's a dependable picture, an ongoing theater of the absurd, though without as much self-awareness.
On the last weekend in August, those standard media narratives, and their attendant comforts, were destroyed.
Given the rapid clip of news cycles, it has already become a cliche to talk of how Hurricane Katrina "blew away" the veneers of security, institutional trust, and social equality in this country. Nevertheless, it is important to acknowledge and try to come to terms with the massive, complex, impact of this disaster not only on the US Gulf Coast (the actual, long-term dimensions of which are only beginning to be understood) and on our relationships with our government, but also on our most immediate forms of media (radio, television, and the internet).
As I indicated above, there are many, many problems with television journalism. Its usual schizoid handling of past horrors (through trivialization, exploitation, or sheer neglect) has left us largely unable or unwilling to socially process the consequences of actions and inactions. Its tendency to exaggerate small events (e.g., Natalee Holloway, Michael Jackson) at the expense of deeper coverage of larger, more significant ones (e.g., Abu Ghraib and Guantanamo, global warming) has fostered the perception of an ahistorical world of assumed middle-class privilege threatened by seemingly random dangers, "evildoers," and a few "bad apples," rather than an understanding of a changing, complex world that might benefit from engaged citizenship. This pattern has long extended to weather coverage, though after Katrina, TV's usual hurricane montage of windblown reporters and downed telephone poles, ruthlessly mocked on The Daily Show mere weeks ago, was revealed to be an empty ritual in spectacle and broadcast flow.
The aftermath of Katrina shattered this standard framing, as the images of the desperation, tears, anger, and horror in New Orleans and elsewhere dominated television. The contrast between the actual fate of hundreds of thousands of people and the federal government's delayed and disorganized response became the story, as the sounds and images from the Gulf Coast clashed with those of Washington officials far divorced from reality (and long used to being so, apparently). The people, technology, and discursive apparati of broadcast news were at the nexus of these realities, and, for the first time in quite a while, did not retreat to safety and convention. The same broadcast reporters and studio anchors who had played well within Washington's unwritten rules for years were now compelled to show, to actually reveal what was happening, most notoriously at the New Orleans Convention Center, and tell, to point fingers directly at federal officials and their ideological defenders. Many could scarcely conceal their disappointment at the President's transparently scripted events, and reported openly on the contrast between the Administration's words and actions. Shockingly, several reports even offered up the kind of media critique usually found in academic media criticism, as seen, for example, in ABC Primetime's exploration of the news media's culpability in the racial dimensions of this disaster. The sights of ABC's Ted Koppel, NBC's Brian Williams, CNN's Anderson Cooper, and even Fox's Shepard Smith, losing their composure to anger and exasperation were almost as shocking as the events they conveyed.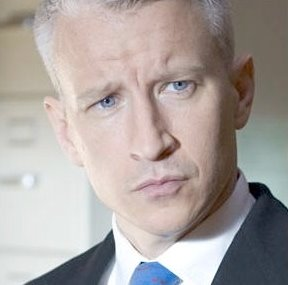 An Upset Anderson Cooper
Perhaps more importantly, the coverage also clearly conveyed how this disaster was compounded by our collective neglect of poverty and racism. Whether in the Superdome, on the rooftops of the Ninth Ward, abandoned in the nursing homes, or trapped on the bridge to Gretna, the vast majority of Katrina's victims were clearly black and poor, people who had long been invisible in standard news narratives. Unfortunately, the news media's grave concern over "looting" during that week dealt in the most basic racist assumptions, but even that perspective was mitigated somewhat by the more humanitarian concern of the majority of the coverage. Again, it is a sad testament to our expectations that it takes a deadly disaster, a literal disruption of the standard media universe, to raise awareness about so basic a problem as poverty.
While the television coverage of Katrina certainly dominates our understanding of the event, it is important to acknowledge the contributions of other media forms. The role of the internet in this regard, and in events such as these, cannot be overstated. Gulf coast radio and television stations (most notably New Orleans' WWL) maintained continuous coverage via the web as much as possible, offering up local perspectives to global audiences. New Orleans mayor Ray Nagin's desperate plea for federal help during a September 1 WWL radio interview was widely replayed and disseminated across the web. Local bloggers conveyed as much information as possible from the area, presenting important alternative eyewitness perspectives. Other blog communities rapidly gathered together audio, video, textual transcripts, and timelines, documenting this event in more detail and depth than even the revived mainstream news media could muster. The blog-based spread of key official documents (including Louisiana Governor Blanco's August 26 call for federal aid, and Homeland Security's own National Response Plan) helped contradict Bush Administration "blame game" spin.
Katrina seemingly revived the long-dormant power of an independent American television journalism, which had been mostly missing in action for decades (and was notoriously absent during last year's election). At the same time, it affirmed the growing power of the blogospheres as critical information sources and centers for action. In short, the kind of national media citizenship that we scholars have hoped for (despite knowing the contrary evidence all too well) seemed to finally emerge, if only briefly. Now, the big question remains: if this is a genuine opportunity to transform the news media, then how are we to build upon this moment? How can we keep it from slipping back to its standard narratives?
Moreover, how can we take on this challenge, and take television journalism — and television "reality," in the most basic sense of the word — seriously as media critics, rather than let our opinions slide back into resigned cynicism? My own disgust with TV journalism's obsequiousness, shallowness, and distortion runs deep and I know I'm not alone. Like most TV scholars I know, I rate entertainment television much higher for its complexity, verve, and (ironically enough) honesty. Similarly, I, along with much of Television Studies, have given reality television much more intellectual scrutiny than the ostensible televising of reality, i.e., the "news." Revaluing, or at least redeveloping a relationship with, information television (and, for that matter, journalism education) will take a great deal of commitment.
Our interests in the mediated universes of ironic images and fantasy narratives are certainly important, but in an era of rising social tensions, deep-rooted political crises, and an uncertain economy (all balanced on a looming, perhaps catastrophic energy crisis), a better engagement with television journalism seems like the least we could do.
Meanwhile, of course, while the images and sounds left in Katrina's wake continue to haunt and challenge our critical minds, it's the displaced people and demolished places that still need our political will and collective and individual actions. As I write this, Rita, now a Category 5 hurricane, is making its way across the Gulf of Mexico, and eventually right through to Houston and east Texas, where a few hundred thousand Katrina refugees are struggling to put their lives back together. This weekend will give us an early indication of whether the news media maintains its newfound scrutiny of our government. . . or goes right back to pretty images of windblown reporters and downed telephone lines.
Image Credits:
1. CBS Newsroom
Please feel free to comment.