Fluff: "The Final Frontier"
by: Eileen Meehan / Louisiana State University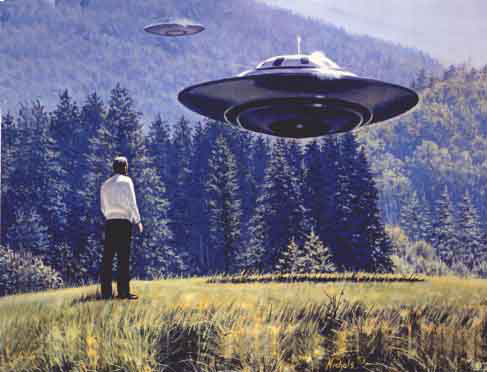 UFO
My last columns argued that "Peter Jennings Reporting: UFOs — Seeing Is Believing" was bad fluff because it oversimplified UFO subculture. "Seeing" erased both the respectable National Investigative Committee on Aerial Phenomena and the flamboyant contactees from its history of UFOs. This eliminated two priming discourses that provide a ready-made interpretation of 'strange lights in the sky' as being 'not of this world.' Instead, "Seeing" presented a parade of solid citizens whose sightings forced them to conclude that UFOs were real.
Oversimplification resurfaced in the segment on Roswell, where the profusion of Roswell stories was pared down to one account dealing with Major Jesse Marcel, Sr. That particular story was sadly ironic: Marcel was right about the cover up but wrong about what was being covered up. Jennings concluded solemnly that Roswell believers "cling to the myth." But UFO believers cling to, and argue about, different Roswell myths featuring different narratives, details, twists, heroes, and outcomes. And here the seeing-believing trope breaks down. For the Roswell stories, nobody has seen the wreckage for decades; the 'original' crash sites show no visible evidence of an intergalactic disaster. Here, believing depends on an interaction between us as audience members, the relevant players (Jennings, PJ Productions, Springs Media, ABC News, and Disney), and the people whose stories provide the raw material for "Seeing." Believing becomes possible without seeing.
Besides contradicting the program's title, that claim returns us to UFOlogy's interpretive communities, particularly the contactees who recounted multiple, positive encounters with Nordic aliens trying to warn humanity against self-destruction and to foster greater spirituality. Spirituality also emerged in the abduction stories of Betty Andreasson (Fowler, 1979). Instead of meeting Nordics and chatting, Andreasson claimed to have experienced the 'classic' abduction scenario a la Betty and Barney Hill (Fuller, 1966): bright light, paralysis, floating, physical exam — all conducted by short, gray aliens with pear-shaped heads, huge 'wrap-around' eyes, and smooth skins, who took her to a taller but similar being. Andreasson received spiritual wisdom from this 'Being of Light.'[i] In contrast, Betty Hill's tall gray showed her a star map. The Hills' accounts emphasize fear, trauma, and pain. The Hills-Andreasson split still reverberates in abductee tales.
The Andreasson tendency combined with Nordic-style concerns about environmental degradation surface in the abduction stories collected by Dr. John Mack (1994, 1999) at Harvard Medical School. Mack's writings on abductions are distinctly 'New Age,' focusing on raising consciousness and spirituality. Mack's view was not presented.[ii] Instead, "Seeing" focused on traumatized abductees and artist/UFOlogist Budd Hopkins, who has long retrieved stories mirroring the Hills' version (Hopkins, 1981, 1987, 1996). Hopkins' writings argue that the grays exploit humans in an attempt to renew their genetically damaged species. However, both Hopkins and Mack emphasize the consistency of the classic scenario: paralysis upon waking, a strange presence in the room, flashing lights, buzzing sounds, a feeling of being floated out of the room, a feeling of being probed.[iii]
Hopkins argues on camera that consistency in abductee tales is one proof of their reality.[iv] His claim would be weakened if "Seeing" reported the Andreasson-type stories and Mack's work. The contrast in story-types raises questions about experimenter effects: which came first — being an abductee or being hypnotized by someone who believes in alien abduction?
"Seeing" addresses this question by pitting Hopkins and victimized abductees against two Harvard psychologists. The 'both sides' approach ignores the other side in the abductee community and the other side at Harvard. Jennings introduces the segment by stating that the two psychologists believe that "your average abductee is no more psychiatrically impaired than the average person in the population."
Cut to an extreme close up of a young white woman wearing sunglasses, her face shadowed to protect her identity. Her voice seems stressed as she states: "We're perfectly normal people…your co-workers, your family, your friends…we're having quite extraordinary experiences and we're all trying to understand…." Cut to a close up of a drawing showing the classic gray alien, followed by a cut to a young white man looking directly into the camera as he tells a classic abduction story, intercut with drawings of such an encounter, noting along the way: "I thought I was going to die … It is really, really disturbing to be in a room with something that isn't supposed to exist … I can't talk about what was done there (examination room) because it's too personal." Cut to him silent, apparently recalling the event, blinking with a hand to his face. With the standard abduction sequence so widely circulated in the media, most viewers already know the narrative trajectory and the things that are too personal to disclose. The trajectory plays out later with subsequent abductees whose sincerity and consistency lends the drawings credibility as viewers get their first chance to see believers "up close and personal."
The next sequence shows the regression: medium long shots depict a modest, pleasantly cluttered room. Hopkins sits on a wooden folding chair and a young man lies on a couch. The room is darkened but warm. Hopkins speaks gently, sometimes leaning forward, other times obscuring his face with his hand or shielding the man from the camera. Shown in close-ups from the side, the man calmly recovers memories. When the session ends, they exchange words of support. We have seen and what we have been allowed to see suggests that we ought to believe.
As the sequence ends with individual abductees reiterating the classic scenario, Jennings introduces the "other side." Clancy and McNally reject hypnosis, noting that the hypnotists' beliefs affect what their subjects recall. They explain the physical sensations of the classic scenario in physiological terms: people awakening from REM sleep may still be in a state of sleep paralysis, which normally accompanies REM. Brain activity triggers the various feelings interpreted as alien abduction. Sleep paralysis is visualized through shots of a bedroom with a four-poster bed, an extreme close-up of a person's eye opening, the room's ceiling, a corner of the room suddenly bathed in bright light, etc.These images cannot compete with the regression for impact. If seeing is believing, "Seeing" makes sleep paralysis unbelievable.[v]
But "Seeing" could have shown it. Dr. Michael Persinger (Laurentian University, Ontario, Canada) has developed an apparatus that can induce sleep paralysis in people who are wide-awake. How do I know this? I saw it on TV in a documentary 8 or 10 years ago: a dashing scientist investigating UFOs ended up strapped into Persinger's apparatus in his lab. By manipulating her brain's exposure to magnetic fields, Persinger induced, and our heroine reported, the classic abduction sensations: paralysis, the cold presence in the room, flashing lights, buzzing sounds, floating, the feeling of being probed. Just imagine Peter Jennings undergoing that after Clancy and McNally explained sleep paralysis!
How easy would it have been for "Seeing" to find Persinger? According to his CV posted on the web, Persinger has appeared on 16 television venues (12 US) including ABC's 20/20 and Nightline, CBS' 48 Hours, CNN, NBC Nightly News, and PBS' Nova (Persinger, 2003).[vi] In the US, his work has been covered in Discover, New York Times Magazine, Newsweek, Omni, Psychology Today, Readers Digest, and Wired. His Neuroscience Research Group has "…been filmed by approximately 100 different groups of television journalists or writers within the last 15 years" (Persinger, 2003). He also has a chapter in David M. Jacobs' collection, along with Mack and Hopkins, whose views Jacobs' shares (Persinger, 2000; Jacobs, 1992, 1998).And now for the eternal question: so what? It's just a bit of fluff that misrepresented the abductee community by erasing NICAP, the contactees, priming discourses, consistencies between the contactees and Andreasson. It just ignored Mack's enlightened abductees and evidence from within the abductee community that a hypnotist's beliefs might influence the outcome of hypnotic regressions, making it appear that only scientists questioned hypnosis. It skipped over minorities within the scientific community by excluding Mack. It apparently avoided Persinger and the possibility of getting some striking footage to balance the abduction segment. Some implications of its findings contradict its title."Seeing" lacks the intelligence, curiosity, and professionalism necessary to produce good fluff — and, for that matter, good news. It is disheartening to see such bad fluff connected to Peter Jennings, emerging from work routines at PJ Productions and Springs Media, bearing the imprimatur of ABC News, and occupying two hours of prime time on Disney's ABC while wars rage in Afghanistan and Iraq.
I recognize the difference between Jennings producing fluff for ABC and Jennings reading the news on ABC, between ABC trying to hype its ratings during sweeps week and ABC running a news operation, even between fluff and news. Yet there are continuities: both may originate from the work routines of commercial news operations. That is cause for concern.
Remember the WMDs.
Works Cited
Bullard, Thomas E. "UFOs: Lost in the Myths" in David M. Jacobs, UFOs and Abductions: Challenging the Borders of Knowledge. Lawrence: U of Kansas P, 2000.
Fowler, Raymond E. The Andreasson Affair. New York: Bantam. 1979.
Fuller, John. The Interrupted Journey. New York: Berkley, 1960
Hopkins, Budd. Intruders: The Incredible Visitation at Copley Woods. New York: Random House, 1987.
—. Missing Time: A Documented Study of UFO Abductions.New York: R. Marek, 1981.
—. Witnessed: The True Story of the Brooklyn Bridge UFO Abductions. New York: Pocket Books, 1996.
Jacobs, David M. Secret Life: Firsthand Accounts of UFO Abductions. New York: Simon & Schuster, 1992.
—. The Threat. New York: Simon & Schuster, 1998.
Mack, John. Abductions: Human Encounters with Aliens. New York: Scribners, 1994.
—. Passport to the Cosmos: Human Transformation and Alien Encounters. New York: Crown, 1999.
Persinger, Michael. 2003. Curriculum Vitae, p 36-37. (accessed 10 July 2005)
—. "The UFO Experience: A Normal Correlate of Human Brain Function." in David M. Jacobs, UFOs and Abductions: Challenging the Borders of Knowledge. Lawrence: U of Kansas P, 2000. 262-302.
UFO Casebook. no date. "The Pascagoula, Mississippi Abduction (Hickson/Parker). (accessed 5 July 2005).
Worley, Don. 1997. "The Beautiful Blondes and Their Incredible Flying Machines," UFO Universe, Winter issue
posted by the Burlington UFO and Paranormal Research and Education Center. (accessed 5 July 2005)
Notes
[i] Stories of Nordic aliens with spiritual messages and dire warnings continue to circulate in some portions of the UFO subculture. For an example, see Worley, 1997.
[ii] The web site for the John E. Mack Institute states that Mack was interviewed for "Seeing." The interview was his last on the subject; he died 28 September 2004. Evidently, the Institute has no copy and no rights over the interview. For details see the web site for the John E. Mack Institute, (accessed 5 July 2005.)
[iii] Not all grays are alike. In 1973, Charles Hickson and Calvin Parker claimed to be abducted by grays who were wrinkled and eyeless; with neckless, bullet-shaped heads; and "thin, conical objects sticking out, like carrots from a snowman's head." See UFO Casebook, no date, for a typical account of their story.
[iv] Folklorist Thomas E. Bullard points out (2000) that consistency in narrative structure across multiple story-tellers is no guarantee of empirical truth, no matter how reflective it may be of community or cultural beliefs.
[v] The show winds down from this climax with a segment on the possibility of intergalactic travel followed by a profile of Peter Davenport who operates the National UFO Reporting Center from his home in Seattle, WA.
[vi] Persinger's CV states that his research has been reported in: "…Omni, Psychology Today, Newsweek (Japan), Equinox, MacLean's Magazine, New York Times Magazine, Wired, Newsweek(U.S.A.), Reader's Digest, Discover, New Scientist, Saturday Night;" that he has been on "NOVA", ABC's "20/20", ABC's "NightLine," "60 Minutes" (Australia), "That's Incredible," "48 Hours" (CBS), Unsolved Mysteries, The Discovery Channel, UltraScience, MTV News Special, The Unexplained, CNN News, NBC News, The Learning Channel, Arts and Entertainment Channel, Japanese T.V."
Links
Committee for the Scientific Investigation of Claims of the Paranormal
Coast to Coast AM with George Norry
Image Credits:
1. UFO
Please feel free to comment.