The latest in reality TV? Māori Television stakes a claim on the world stage
by: Faye Ginsburg and April Strickland / NYU
"What do you do if you've just launched an indigenous television channel, have got no footage, but have to promote the biggest Māori rugby event of the year which just happens to be in Canada? The decision was made to merge traditional Māori with a modern day rugby player professional. The team 'borrowed' the second largest rugby stadium in New Zealand for five hours on a winter's evening, persuaded him to strip down and dress in a warrior costume" says Māori Television promotions manager Sheila Byrne. The resulting promo spot (aired in June 2004), garnered a silver award for New Zealand's Māori Television last month in NYC at the 2005 Promax World Gold Awards (for promotional work in electronic media). The network won a second silver award for on-air promotions targeting children of all backgrounds to learn waiata (songs) and colors in the Māori language.
In the rapidly changing landscape of global television, as television technology has spread from centers to peripheries and expanded from terrestrial TV to the more flexible range of satellite, small format video and Internet, we rarely hear about some of the more interesting experiments in the uptake of such media forms in First Peoples' communities throughout the world. The capacity of such media to communicate the concerns and creativity of indigenous people to many audiences has created, some argue, a discursive space for an emergent indigenous public sphere, while others have raised concerns that such developments also have the potential to create culturally segregated "media reservations."
Māori Television, now 18 months old since its official launch in March 2004, is the culmination of thirty years of effort by Māori cultural activists in Aotearoa, New Zealand to have their own television network.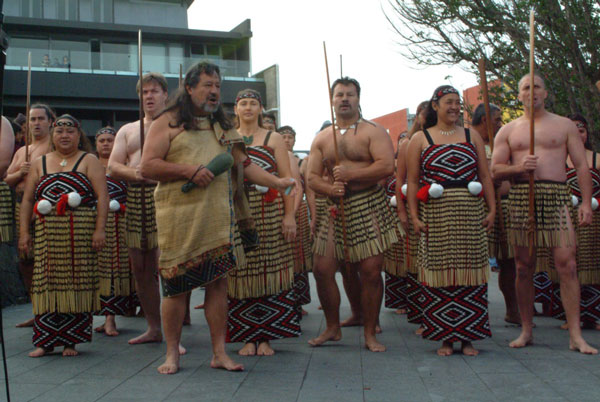 Māori performers at the celebration of the launch of Māori Television, March 28, 2004
In a country where 14% of the population identifies as Māori, this robust and engaging experiment in First People's media has addressed concerns about segregated audiences from the outset, as their website makes clear:
"Māori Television- Mārātou, mā mātou, mā koutou, mā tātou.
Māori Television – For them, for us, for you, for everyone.
No matter where you live, no matter what part of the country you belong to, no matter what your age, gender, or background —
Māori Television is for you."
And the numbers suggest that this is more than hype. In its first eight months, according to Nielsen ratings, Māori Television's cumulative audience grew by 86%. While half of that audience during prime time is Māori, 77% of the total audience are non-Māori. So much for media reservations.
The wide variety of original programing is meant to reflect Māori cultural values and Māori lifestyles, filling a market niche while increasing the visibility of Māori people, culture, and language in the larger New Zealand public sphere. It is a political and a social project as much as an economic endeavor. Importantly, the network represents a broad range of Māori cultural actors, as full participants in modernity, whether rural or urban, comfortably blending the cosmopolitan with the traditional. Programs range from news braodcasts and language instruction in Māori, to current affairs, sports, music videos, reality programs, children's shows, a technological news program, Cyberworld, and an alternative lifestyles show, Takataapui — New Zealands's only series for gay, lesbian and transgender Māori.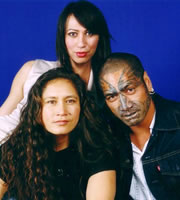 Takataapui series' presenters (2004-05)
But maybe such a show is not so unexpected from the only country in the world in which a former prostitute and transsexual of Māori descent, Georgina Beyer, was elected a Member of Parliament. The network also programs documentaries and feature films by Māori and other indigenous film makers, with a particularly strong focus on indigenous Australia as well as Canada. This month, for example, Māori Television screens the award-winning 1993 experimental feature Bedevil by Aboriginal Australian filmmaker, visual artist and photographer Tracey Moffatt. The the celebrated Canadian Aboriginal animated children's show, Tipi Tales, has been reversioned into te rea Māori (Māori language).
As has been the case for other initiatives in the creation of indigenous television (notably Canada's Aboriginal People's Television Network / APTN — inaugurated in September 1999, as the first nationally-sponsored First Peoples' television service in the world), language revitalization and linguistic activism have been key. The bilingual Māori network was created explicitly to promote the revitalization of the Māori language (te reo), and at least fifty percent of the programming is broadcast in Māori. One interviewee underscored that this not only serves Māori speakers, but is part of a broader project to help those who have want to acquire Māori language skills.
"My neighbors [who are Māori] are regular watchers of the channel. Like my husband [who's Māori], they don't speak Māori, but they want their son to learn the language. They put him in front of the TV for the children's shows and he's starting to pick it up. He'll learn the language that way, you know."
When I asked the respected Māori filmmaker and activist Merata Mita how she viewed the impact of Māori Television, she commented that:
"it has had a greater impact than anyone believed it would have. Its reach has been hindered in some rural areas by transmission problems. But it has a following among other minorities in NZ. The dullest programs are the ones which have used an American format. The original Māori programming is far superior. It was also groundbreaking here in Aotearoa — having a TV station with a non-religious, but strongly spiritual base.
Māori Television has problems of course. The biggest one is funding. Since it's a government-funded TV station and the government is very aware of what's happened to diversity funding in the USA, it will always be under threat of closure from the right."
Meanwhile, despite those concerns, and just a month after Māori Television observed the celebration of Matariki — or the Māori New Year — for ten days in June, the network is launching its third season of shows this Friday (July 22nd). Three decades in the making, this vital experiment in cultural creativity has much to teach us about what might be possible on "planet TV."
Links
Māori Television Homepage
Takataapui Homepage
Wikipedia: Māori
Image Credits:
1. Māori performers at the celebration of the launch of Māori Television, March 28, 2004
2. Takataapui series' presenters (2004-05)
Please feel free to comment.