A Slice of American Life
by: Megan Mullen / University of Wisconsin-Parkside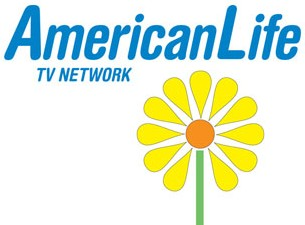 AmericanLife TV Logo
Around fourteen years ago I became interested in a cable network called The Family Channel. I was curious as to why evangelical Christian shows like The 700 Club were scattered among a bunch of old TV reruns (especially westerns) and inexpensive looking programs that I'd never seen before. After a semester's worth of research I knew that The Family Channel (eventually bought out by Fox) was the latest incarnation of televangelist Pat Robertson's Christian Broadcasting Network's satellite cable service. It had been started in 1977 as CBN-Cable, Robertson being second only to Ted Turner in his realization that the American public has an insatiable appetite for reruns and will pay to watch them on cable.
This was a great revelation to me — a story I still like to tell my students, even though few of them now can remember life before cable television. I went on to write a lot more about this, including a book in which I argued that satellite cable owed a great deal to its ability to repeat and repackage broadcast television's programs. I suggested at the end of the book, and have asserted ever since, that only now that cable networks have recovered their start-up costs have they been able either to grow more specialized themselves (e.g., ESPN) or to spin off "niche" networks (e.g., A&E's Biography Channel).
But then the other night I experienced a "blast" from cable's past — or so I believed. I went channel surfing and found AmericanLife TV (formerly known as GoodLife TV and before that Nostalgia Network). Oddly, AmericanLife seemed to represent the eclectic amalgam of TV reruns, cheap originals, self-help shows, and infomercials that had characterized CBN-Cable and The Family Channel in the early years. And there were some shows that, like The 700 Club, appeared to be packaging religious parables in mainstream television conventions — only this time the religious angle was more subtle. I had a look at some of AmericanLife's original shows before doing further research on the network itself.
Take, for example, The American Family: A Survivor's Guide, an hour-long morning issues program. The show has a credible look — decent production values and a professional looking studio. It is also hosted by Bettina Gregory, a longtime correspondent for ABC news, who covered such events as Princess Diana's funeral and the House impeachment trials. Gregory actually left ABC in 2002, earned a Psy. D. degree at George Washington University, and went to work both as host of The American Family and as a columnist for The Washington Times. Gregory's presence lends a mainstream network veneer to a program that otherwise has a clear religious agenda.
In the first half hour of the June 28, 2005 episode, "Restoring Fatherhood," Gregory interviews founders of Project Restore, a faith-based program in South Carolina for fathers imprisoned on child support charges. In the next fifteen minutes, she interviews a man who fathered a child, went to prison on drug and alcohol charges, discovered his Christian faith, and went on to found the Institute for Responsible Fatherhood, another faith-based organization. In the episode's last segment policy advocates debate the merits of financial child support alone and child support with marriage incentives. It is only in this last ten-minute segment that a single non-faith-based position is heard.
Other AmericanLife programs, both original and syndicated, represent a broadly conservative patriotism and "family values" theme. They range from Courtship of Eddie's Father and I'll Fly Away to China Beach and Combat in rerun fare. And they range from Embassy Chefs and Flea Market Mania to The American Family and Homefront America in original series. The last of these, Homefront America, cultivates an extremely paranoid and xenophobic mentality using interviews and speech excerpts from political and military officials, archival images of exploding nuclear weapons, and scenes of disaster (including bioterrorism) preparation and drills.
I'd heard of AmericanLife TV in its various incarnations; in fact I picked up a very nice canvas bag with their new logo when I was at the NCTA Cable Show this year. I even picked up a brochure. But I got busy with other things and didn't get a chance to look through it right away. No matter — it wouldn't have told me much about the network's origins or ownership, anyway. The brochure merely lists Lawrence R. Meli, a veteran cable executive, as COO and gives an address in Washington, DC.
It turns out that the Reverend Sun Myung Moon had bought a controlling interest in the failing Nostalgia Television (founded in 1985) in 1994. The cable network, purveyor of 1970s TV "classics" like The Rockford Files and The Captain and Tennille, was sustaining heavy losses at the time — and continued to do so for several years. Moon similarly has sustained (within a huge business empire) the conservative newspaper, The Washington Times, and Insight and The World and I magazines (these three print publications, incidentally, are listed as sponsors of the AmericanLife TV website).
Washington Post writers Marc Fisher and Jeff Leen suggest that such losses could and would only have been sustained by someone with a mission and very deep pockets. In fact, Moon and his church are known to hold very lucrative businesses both domestically and overseas, though rather little is known about the nature of these businesses. Fisher and Leen point out that as membership in Moon's ultraconservative Unification Church has apparently declined, his business empire has grown. "Moon's businesses exist for several purposes, church leaders and critics agree: to employ members, to gain influence in industries Moon considers crucial to worldwide recognition of himself as Messiah, and to support Moon's spiritual and political agenda."
My first encounter with AmericanLife TV made me feel like a targeted viewer; AmericanLife seemed like the sort of network I would watch. The promotional pamphlet and website state emphatically that the network is for nostalgic baby boomers like me. As the website says,
AmericanLife TV Network — The Boomer Network — the nation's only full-time cable channel dedicated to providing lifestyle, entertainment, and information programming for the baby boomer generation. AmericanLife TV Network's programming reflects the attitudes and shared values important to this dynamic audience.
And yet I'm not targeted at all. I do not share the attitudes or values of the Reverend Moon any more than I share those of Pat Robertson, even though I had been drawn to both channels by reruns that evoked my sense of nostalgia. It was The 700 Club that first gave away the agenda of The Family Channel. And it was the combined emphasis on combat and family lifestyle programming that first gave away the agenda of AmericanLife TV. In both cases, a nondescript name and the use of non-controversial programs serve as Trojan horses.
Historically there has been controversy over whether the Unification Church is a legitimate religious faith or a cult. Most Americans are aware of this to some extent, and my purpose here is not to deny people's freedom of religious expression. Of more concern, I think, is how these cable networks epitomize the very invisible commingling of ideology and entertainment that characterizes U.S. television generally. I feel this even as I watch "mainstream" cable networks like Nick at Nite, USA, and TBS: nobody makes TV reruns available as a public service for sentimental viewers. For most networks, though, reruns are an extremely cheap and lucrative programming source — propaganda for capitalism and a loosely regulated media economy, not much else. Others have subsidized this programming for different reasons, as should be clear from this essay. So dig deep and check your sources; while TV programmers adeptly appeal to your sentiments, nostalgic and otherwise, there can be a lot more underlying the schedule as a whole than you might realize!
Source:
Fisher, Mark, and Jeff Leen. A Church in Flux Is Flush Wish Cash, The Washington Post, Nov. 23, 1997, p. A01.
Image Credits:
1. AmericanLife TV Logo
Links:
The 700 Club
AmericanLife TV Network
The Unification Church
Please feel free to comment.