Some Good News about the News: 5 Reasons Why 'Fake' News is Better than Fox 'News'
by: Brian Ott / Colorado State University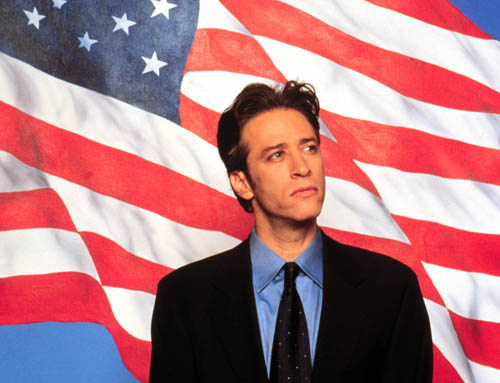 Jon Stewart
There is no more destructive, deleterious, and dangerous institution in society today than the mainstream news media. It has so profoundly fallen short of its mission and responsibilities in a democratic society that it has become our greatest national disgrace. The dramatic problems with the news media and in particular with the network news are well documented, ranging from its information biases to its corporate concentration.[1] Given its utter failure to serve the public as a positive tool for civic engagement, public opinion of the news media–not surprisingly–has been declining for twenty years. Citing a 2003 survey, Tom Fenton reports that, "Americans think journalists are sloppier, less professional, less moral, less caring, more biased, less honest about their mistakes and generally more harmful to democracy than they did in the 1980s."[2] Despite arguments to the counter, "the wide-spread public perception of journalists as ethically bankrupt" and "as moral pygmies"[3] is, in my judgment, well earned. We continue to consume the "news" at our own risk. But this column is not about how crappy the news is. As near as I can tell, the only people who don't understand that are news producers. No, this column offers, "Some Good News about the News." Simply stated, young and apparently bright Americans are turning away from traditional news sources in droves.
According to Mindich, for instance, "While more than 70 percent of older Americans read a newspaper every day, a habit they picked up in their youth, less than 20 percent of young Americans do so now."[4] Similar figures are available regarding youth consumption of national television news broadcasts. While Mindich deeply laments these trends, I see them as cause for unrestrained jubilation. The fact is that young adults age 18-to-34 are increasingly turning to non-traditional news outlets to get their information.[5] I refer to these non-traditional outlets — which include Comedy Central's The Daily Show, Internet blogs, and general interest websites such as Yahoo.com — as "fake" news. By inscribing "fake" in quotation marks, my aim is to question whether or not these outlets are actually worse than traditional news sources. Indeed, I refer to traditional sources such as newspapers and network broadcasts as "news" because they quite clearly don't deliver anything approaching actual news. I am particularly encouraged by recent data suggesting that nearly half of the people under 30 use late night comedians as a major news source [6] and that Jon Stewart, the host of The Daily Show, is the most trusted TV anchor among persons who identify the Internet as their top news source.[7] Using The Daily Show and Fox "News" as exemplars, let me explain why I'm encouraged by this data in a segment I like to call, "5 Reasons Why 'Fake' News is Better than Fox 'News'."
1. "Fake" news fosters critical thought. The Daily Show operates on Kenneth Burke's notion of "perspective by incongruity." Rather than telling viewers what to think, as Fox "news" does, it teaches viewer how to think. "Fake" news encourages citizens to engage it inter-actively, rather than to consume it passively. "Fake" news invites citizens to draw their own conclusions based on the presentation of facts and information, rather than to blindly accept the opinions of political pundits and talking heads.
2. "Fake" news does not pretend to be objective. Although The Daily Show is clearly left leaning, it does not try to hide that fact behind ridiculous slogans like "fair and balanced." Additionally, "fake" news does not pretend as though the prevailing methods of news gathering and reporting are natural or neutral. Rather, The Daily Show consistently exposes the arbitrary and often idiotic conventions of real "news."
3. "Fake" news does not have a giant, overblown ego. Fox "news" is first and foremost about the personalities of its anchors, who report on themselves endlessly. The personalities on Fox seem to be convinced that everything they do is newsworthy. "Fake" news, by contrast, downplays and even mocks its own celebrity, as a way of reminding viewers that reporters ought not be at the center of the stories they report. Reporters are supposed to report the news, not be the news.
4. "Fake" news does actual research. Traditional news sources do not aggressively fact check the sound bites they use from politicians. Rather, they simply include sound bites from the other political party as a way of "appearing" fair and balanced. The Daily Show uses its massive archive of previous news footage to expose politicians when they make statements that are either false or directly contradict previous statements that they've made.
5. "Fake" news is not simply spectacle. Whereas Fox "news" uses fear, hysteria, and shock value to peddle its cheap imitation of news, "fake" news actually reports news. The Daily Show does not attempt to frighten citizens into viewing by promoting a culture of fear. Nor does it manufacture political conflict to create drama and increase ratings. Instead, it values facts and information over salacious storytelling.
I suspect that some readers will be tempted to dismiss my brief analysis of the current state of news as nothing more than liberal bias. After all, I praise the "left" leaning Daily Show and excoriate the "right" leaning Fox Network. But from my perspective, Fox "news" is just a particularly clear example of what is wrong with broadcast news generally, be it on Fox or CBS, ABC, and NBC. It simply no longer can be called news. The good news about the news is that young citizens are opting out of traditional news sources in favor of "fake" news. Additionally, "fake" news such as The Daily Show would seem to suggest that news and profit are not, as often thought, mutually exclusive. In the words of David Javerbaum, "The real bias [of the news media] is toward laziness, toward entertainment, toward confrontation, toward that which will drive the ratings. The real story is this incredible laziness. It seems like the whole institution has lost its way."[8] Now, David gets it! Perhaps that's why he's the head writer for The Daily Show and not a network news producer.
References
[1] Bennett, L. W. (2005). News: The politics of illusion. 6th ed. New York: Pearson Longman.
[2] Fenton, T. (2005). Bad news: The decline of reporting, the business of news, and the danger to us all. New York: 10 ReganBooks, pp. 8-9.
[3] Coleman, R. (2002, Winter). Journalists' moral development: Study shows they may be surprisingly good at ethical reasoning. Mass Communication and Society Newsletter. Available online.
[4] Mindich, D. (2005). Tuned out: Why Americans under 40 don't follow the news. New York: Oxford UP, p. 3.
[5] Brown, M. (2005). "Abandoning the news." Carnegie Corporation of New York. Available online.
[6] Mindich, p. 57.
[7] See Brown.
[8] Quoted in Fenton, p. 13.
Links
Kenneth Burke Roadmap
Image Credits:
1. Jon Stewart
Please feel free to comment.