This Issue on Flow (24 June 2005)
by: Elliot Panek / FLOW Staff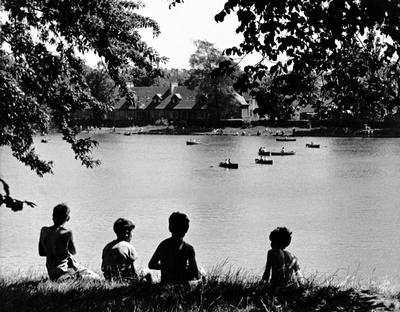 This Issue on Flow
Last week, I attended a screening of Dial M for Murder being shown at a 3-D film festival at the Coolidge Corner Theater in Brookline, MA. Any encounter with stereoscopic technology gets me thinking about the future of visual media — the present future as well as past futures. I imagine what it must've been like when motion pictures were new, or when people first saw a film with sound or color. I can quite easily remember the early days of video games — my feelings of nostalgia for that Atari 2600 my brother got for Christmas are embarrassingly strong. Then, most recently, there was the ascendance of the Internet, a medium that has had such an immediate, profound impact that it is difficult to imagine life without it. As the record shows, any predictions as to what the future of media might be are doomed to be ridiculously inaccurate (3-D hasn't exactly conquered visual media.) However, in studying media, it seems impossible not to, on some level, make conjectures as to what the future of it will be and, ideally, have some say in this future.
After the movie, I debated the merits of 3-D with a friend of mine. We agreed that the technology is still imperfect. But, for the sake of argument, what if there was a version of 3-D cinema that managed to feel totally immersive without giving you a headache? Would we want that? The debate reminded me of some of the larger questions I have about the role of media in our lives — Is each step on the verisimilitude scale a step in the right direction? Do we value emotional realism over visual realism? If we could have a totally immersive media experience, would we want control, or would we want to just sit back and watch?
Of course, Dial M for Murder, or even the state-of-the-art The Adventures of Shark Boy & Lava Girl in 3-D, are light years away from the Holodeck, but those issues of preference for control and predictability are already cropping up in online gaming environments. With the impending rise of HD television, we must ask if and why people are willing to spend thousands of dollars to get a crisper image on their TV screens. Does this little bit of verisimilitude matter that much?
While I'm of the mind that there is no aspect of media too trivial to warrant study, it's nice to take a break from the myopia of the daily media events, and the short-term projects that we're all working on, and take a step back to look at the larger picture, to ask the big questions about media and media education. In this issue of Flow, Sharon Ross offers some practical suggestions of ways to bridge the gap between cultural studies and political economic approaches, reminding us that it's as important to be confronted with something you don't think you will like at a conference as it is on the television. Brian Ott compares Fox News with The Daily Show, while Frederick Wasser looks at the connection between the narcotizing effects of television and Republican political dominance. Getting out of one's home country can widen one's conception of what television is. Jim McGuigan visits Australia and New Zealand and comments on regional and international television broadcasts appearing on television there. Guest Columnist Jane Feuer examines season finales in terms of narrative closure, contrasting the tidy endings of film with the sprawling arcs of television shows. Taking perhaps the furthest step back of all is John Hartley, who sees the fissure in media studies as a product of deeper differences between European and American cultures. We encourage you to take a step back from your everyday work and help us examine these "big pictures."
Image Credits:
1. This Issue on Flow
Please feel free to comment.