Television's Gated Communities
by: Megan Mullen / University of Wisconsin-Parkside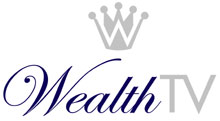 WealthTV Logo
In 1989 James Carey wrote, "Communication is a symbolic process whereby reality is produced, maintained, repaired, and transformed." Nearly every communication scholar, from undergraduate to tenured professor, knows this passage. Surveying the 2005 scenario of rapidly converging and relatively unregulated media industries in the United States sheds a thought-provoking light on this seminal statement. At a time when U.S. television was still dominated by three broadcast networks, people from different backgrounds had something to share, even if it only revolved around a previous evening's television programs. Today, people are moving away from any kind of shared cultural experience — moving both literally and symbolically into segregated or "gated" communities, from prisons to housing projects to singles condos to suburban subdivisions. Literal gated communities, though, are more a symptom than a cause of social separation and stratification. We cannot be fully part of the physical communities we inhabit if we do not also feel addressed (interpellated) as members of those communities. This should not be surprising to anyone familiar with those contemporary market research strategies that "know" more about us than we know about ourselves.
Recent experiences have made me ponder the near future of consumer targeting and segregation. First, some Business colleagues at my university contacted me, seeking input on a project related to targeted cable advertising. Though greatly flattered to have been asked to share my expertise, I left with some troubling thoughts about the erosion of even the most vestigial notion of universal television service. While I was still thinking about this, an article appeared in the New York Times on "The Future of the 30-Second Spot." Writer Lorne Manly identifies several specific firms actively pursuing technologies that "behave like a smarter version of direct mail." He explains that, increasingly, "ads can be customized, not just by neighborhood, but ultimately by household and perhaps by viewing habits." Clearly, my colleagues are not alone in their ambitions!
I wonder, since the technologies enabling such a refined level of targeting are still in the expensive trial stages, isn't it likely that the first uses of the technology will be for high-end products aimed at affluent consumers? Doesn't it therefore also seem likely that these technologies will reach upscale niche cable networks long before they reach broadcast television or even cable's more affordable basic tier(s)? And then, when these technologies allow niche services to generate whatever levels of profits their owners desire, what quality of television programming and services will be available to the rest of us?
Shortly after reading Manly's article, I attended the National Cable Television Association's annual convention ("The Cable Show") in San Francisco. There I observed the scenario I was concerned about actually coming to pass. Several of the higher-end programming services being touted involved pay-per-view and pay-per-download technologies that would eliminate traditional commercials. The programming they offer ("lifestyle" shows, in many instances) is well suited to product placement and even covert infomercials. The content will be tailored to the perceived tastes of high-end consumers (or at least people aspiring to those lifestyles). The newly launched digital and pay-per-view service Wealth TV both symbolizes and epitomizes this, with the slogan, "It's your life … Spend it well."
Scannable ID badges worn by all Cable Show attendees offered a convenient (almost facile) metaphor for what I was witnessing. At a network's exhibit booth, a delegate would scan visitors' badges, thereby assessing their relevance to the network's business goals. Needless to say, a college professor is greeted with far less enthusiasm than a cable operator! I wasn't prevented from taking informational brochures and logo-emblazoned freebies. So I wasn't exactly barred from participation, but I wasn't being courted, either. I'd say my place there was analogous to the lower- or even average-income television viewers I envision in the near future–barraged with meaningless and annoying traditional commercials, but not particularly desired by any. The programming won't be much better than the commercials themselves.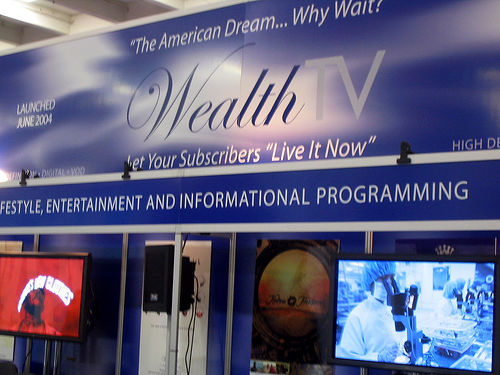 WealthTV
Such a situation points out the dramatic shift in fortunes for the cable industry over the half-century of its existence. Throughout the 1960s, policymakers — ever mindful of the FCC's local service doctrine — "flip-flopped" considerably as to whether community antennas (early cable) were a threat or a benefit to television service in smaller communities. At this stage of cable history, the mere continuation of the cable industry depended on an ability to weather shifting conceptualizations of democracy in television service. It is all too easy to forget how, when, and why this changed. By the 1970s, most visions of cable being bandied about by policymakers and the general public involved the fabled "cornucopia" of specialty services, with relatively little mention of localism as a form of specialization. Deregulatory fervor on various fronts allowed cable to move toward the least expensive programming schemes, the most widespread appeal, and the most convenient technologies.
Although the eclectic mix of inexpensively programmed cable networks that sprang up from the late 1970s through the early 1990s caused many observers to doubt that cable would ever compete with broadcast television, much less surpass it in setting programming precedents, a look around the exhibit hall of the Cable Show reminded me that it has done just that. The modern cable industry, now flush with resources, offers a programming cornucopia more varied than anyone in the 1970s ever could have imagined. And yet the one overwhelming theme of what cable television has to offer today is the pursuit of affluence — in program content, in the selection of networks, in levels of service, and in delivery technologies.
Half a century ago television set ownership identified a family as fairly well off. Quite simply, it allowed them to receive television signals — period — whether over-the-air or via community antenna. Today, with around 99% penetration, television set ownership is no longer a symbol of prestige, nor is a cable subscription. Both now mark people as "average." This is about to change. In the near future those of us with the means will select content tailored to the lifestyle we're most accustomed to, watch and listen to that content through consumer technologies — ranging from large-screen televisions to cell phones — that also connote social position, and share our experiences with people deemed most similar to us by market research companies. So where once U.S. television embodied a shared popular culture, now it (and technologies poised to subsume it) is becoming the metaphor for a culture of gated communities. If the reified separation I've considered here increasingly is our reality, then that reality is being produced, maintained, repaired, and transformed by technologies that, each day, become more sophisticated in their ability to address and flatter us based on socio-economic attributes.
Image Credit
1. WealthTV Logo
2. WealthTV
Sources
Carey, James H. Communication As Culture: Essays on Media and Society. New York: Routledge, 1989.
Manly, Lorne. "The Future of the 30-Second Spot." New York Times 27 Mar. 2005: 1+ [2 pp.] Sec 3.
Please feel free to comment.