Fans of Lesbians on TV: The L Word's Generations
by Jill Dolan / University of Texas at Austin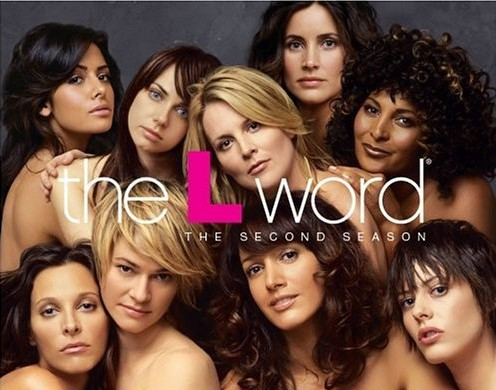 Showtime's The L Word
Now in its second season, Showtime's The L Word premiered January 18, 2004, to a certain amount of fanfare, given its status as the first television series to address lesbian lives and loves (as its tag-line boasts). Media critics speculated about its appeal, underlining the eye candy of its ensemble of young, thin, fashionably hip, mostly (though not exclusively) white stars. Feminist and lesbian viewers and critics worried over its demographics, bemoaning the lack of flannel shirts, of women of size, of women of color, of any lesbians who didn't appear to be financially well off (demonstrated by cavorting in cool clothes and nice houses), porcelain-skinned, and physically flawless.
I'm a feminist and lesbian scholar and spectator who's also hungry for eye candy. My own interest in the series, and the fact that it's become the occasion for my first ever expression of passionate fandom, stems from how it flirts with subcultural references somehow grounded in my own history of lesbian identifications while maintaining an accessible surface style. I look for subcultural signs and find them in unexpected places, such as the music choices that graced particularly the first season's episodes — Joan Armatrading, the Murmurs, Rufus Wainwright, among others — or the credits, which boast a proud genealogy of lesbian and feminist artists — including Lisa Chodolenko, Rose Troche, and Guinevere Turner — working as directors and producers. I listen for the shout outs on The L Word that signal to me — a 48-year-old first introduced to lesbian culture in 1977 — common memories of particular peccadilloes in American lesbian practices, like falling in love with unavailable straight women, or dancing and drinking as the initiation rites of a queer lifestyle. When those references connect, I feel the simple pleasures of watching a public representation of something I think I know.
Lesbian author Sarah Schulman has said that her (our) generation is the last that came of age without any cultural representations against which to judge our experiences. Representations generated from "women's culture" in the 70s and 80s were rigorously, resolutely feminist, "woman-identified" rather than overtly sexualized, although those of us who were baby dykes at the time certainly used them for how they incited our lust and our passions. Mainstream culture, if it engaged lesbian narratives at all, did so with disdain and disgust. If I remember correctly, the first lesbians I ever saw on television appeared on an episode of Medical Center, the series that starred Chad Everett; one woman was older and desperately in love with the one who was much younger and of course "really" straight. The episode traced their relationship's dissolution as the younger woman took up with a man, and ended with the older woman's physical isolation and emotional betrayal. I can palpably recall my own attraction to the scene, surreptitiously peering into the television, trying to cloak my own anxious interest in something that reminded me of myself. At the same time, I knew the moral of this story was that being one of these women — especially the one left behind — was a degraded, despicable thing, not a subject position to which I should aspire.
But whose identifications with television are ever about noble aspirations? I clung to every image of a lesbian I stumbled across, and can remember in the cells of my body the shame that accompanied my attachment to all of them. I can recall the horror of the people who watched with me, and how the lesbian scenes or characters were used by producers and spectators (my family, my friends) to make moral judgments, to set off the good women from the bad, from the fallen. I didn't have words like "heteronormative" with which to redeem myself; I couldn't protect my own nascent desire with theories that critiqued the way I was being taught to see myself.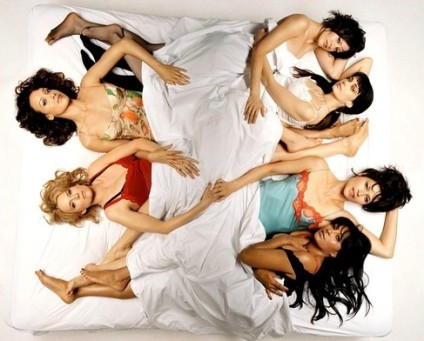 The cast of The L Word
How could I not, then, become a fan of The L Word, whose producer is a 48-year-old Jewish woman (two identity vectors that match my own) who clearly came of age in a universe parallel to mine? How could I not find myself cathecting with stories whose narrative arcs take interesting, funny, graceful leaps of faith straight into the messy center of lesbian relationships? The show communicates something of what it means to have a sustaining kinship network separate from families of origin that winds into and out of sexual and emotional attachments not necessarily defined by domesticity. Couples form and dissolve on the show, but the friendships among these women sustain them through their entanglements with others who can never quite claim them, at least in the first season's trajectory. Their birth families judge them, mooch from them, or avoid them, but their slights prove incidental to the characters. They gather in public places — in this case, The Planet, which was a coffee bar in the first season and has expanded to a full-fledged restaurant and nightclub in the second — to define and debate their lives, just as in my generation, we created who we were by meeting up in bars just as regularly. The show represents lesbians forming each other through their interactions, looking out at the rest of their world through the support of their own circle of influence and understanding.
When the show ventures out of the confines of the characters' West Hollywood neighborhood, it captures even larger lesbian public gatherings, like the notorious debauchery in Palm Springs at the annual Dinah Shore Golf Tournament and, on last week's episode, a women-only Olivia cruise. These scenes complicate our heroines' relationship to a wider, more diverse lesbian culture, which is often positioned as exotic in their realm, or made the butt of some of the show's harsher jokes (like the reference to the "100-footers" in the Dinah Shore episode — that is, lesbians you can spot a 100 feet away — or the large, older women promoting spiritual sexual practices when the girls board the boat for the cruise). But at the same time, the large public queer scenes capture the spirit of pride and abandon and utter freedom that these events promote, and instead of judging them, the show revels in them. The characters love them; they roam through these social scenes in many ways as spectators, as the viewers' substitutes, who anchor the pleasures of our own voyeurism. On this week's Olivia cruise, many of the passengers attended a panel about "women and leadership" featuring Dana, the guileless, self-deprecating tennis star, and a wolfish, suave sex expert no doubt modeled after the prolific lesbian writer and lecturer Susie Bright. In another scene, they gathered in the evening in the ship's cabaret, sitting with their arms draped around each other, dreamily watching Shawn Colvin perform. These references to the pleasures of women's culture (although in 1970s and 80s women's culture, Holly Near or Cris Williamson would have been performing) honor a part of history that's rarely represented on television.
Even in its self-conscious goofiness and its necessarily melodramatic excesses, The L Word manages to get a lot of things right about certain kinds of lesbian lives. It boldly tangles with the insistence of desire, and our inability to refuse it, even when its consequences are chaotic and hurtful. Jenny's coming out story in the first season was a complicated representation of a woman whose world is tilted by her first instance of sweet, shocking, irresistible same sex. Kit's hesitant relationship with Ivan, the transgendered crooner who tickled Kit's fancy with his pasted on mustache and goatee, caught at the edges of drag king culture. Bette and Tina's determination to have a child and their disagreements over the race of their sperm donor referenced and critiqued the lesbian baby boom and its assimilationist tendencies. Bette's affair with an African-American carpenter challenged the boundaries of monogamy and offered a way to question what fidelity means, along with complicating Bette's biracial identity and her racial affiliations. The addition of the initially reprehensible Mark, Shane and Jenny's videomaker roommate in the second season, might textualize the kind of straight male voyeurism to which critics accuse the show of pandering, but over the course of the last several episodes, he comes to be shamed by his own presumption that his lesbian friends are available for him to exploit and objectify. If the show is shouting out to straight male viewers, it simultaneously intends to teach them a thing or two.
In its combination of subcultural references that ground an older generation of lesbians' experience while parading and parodying the lifestyles of a new generation of queer dykes, the series, for me, marks a place of affective connection. I feel, weekly, intense identification with a story that is and isn't my own, embodied by young women actors who don't look anything like me, yet provide screens for the projection of bits of my own desires and excesses, my own past and perhaps my future. The L Word allows me to revel in the inchoate history of my own identifications with versions of my own and other lesbians' stories that I haven't lived, that I might have lived, that other queer dyke lesbians might remember or invent. How could I not be a fan?
Image Credits:
1. Showtime's The L Word
2. The cast of The L Word
Links
The L Word on Showtime – The L Word Official Site
LWord Fansite
Please feel free to commment.