Belaboring Reality
by: Heather Hendershot / Queens College CUNY
In season one of The Simple Life, the apparently soulless Nicole Ritchie and Paris Hilton spend a month in rural Arkansas disappointing the Ledings, the humble, hard-working farm family that has agreed to take them in. Each day the girls French kiss the local boys, ignore their chores, assemble slutty outfits, and make a half-assed attempt to work a blue-collar job. They don't even feel gratitude for the freshly slaughtered chickens offered to them by good 'ol grandma Curly, the only person in town who sees goodness in them despite the depths of bitchdom they sink to. The Simple Life seems to offer a Simple Moral: rich people are stupid assholes (but sexy), while working class people are saints (but fat).
A Marxist parable? Not exactly. The "working class" Ledings have a big house, an above-ground pool, and at least one nice car. They aren't poor, they just have working class tastes. The show is really about Nicole and Paris, so it is hard to glean many details about the Ledings, but one has to wonder how Fox found these farmers who seem to have no giant machinery, let their chickens breathe fresh air in outdoor coops, and manage a large farm without any hired laborers. Didn't agribusiness wipe out this Little House on the Prairie lifestyle some years ago? Altus, Arkansas, it seems, is a Southern working class Stars Hollow, the fantasy New England town of The Gilmore Girls. Both towns feature quaint pie contests and sack races, but in Altus the locals are likely to sport mullets and beer bellies.
As on The Gilmore Girls, the little private dramas of The Simple Life are wedged in between public dramas at work. Though TV has pictured the workplace for years, reality TV is the first genre to emerge that is obsessively focused on labor. Indeed, it seems that there is no human activity that cannot be turned into labor on a reality show. On The Apprentice, participants construct business strategies, and the effort displayed is often mental. On the other hand, their labor also has a physical dimension, as contestants are often asked to pound the pavement and do grunt work. (Also, one cannot fail to notice the labor of self-production on the program. Contestants put together special outfits to catch Trump's eye, and the taut female participants have bodies that are the visible result of labor in the gym.) Notwithstanding The Apprentice, on most programs the "work" demanded is not the kind of thing one would normally be paid for. Often, the labor is emotional: participants on The Bachelor are working really hard to make someone love them.
In real life, your job involves stacking things on shelves, balancing ledgers, plugging information into a database, or cleaning people's teeth. But on TV your job is to cheat on your girlfriend, pretend to be a millionaire, eat slimy bugs, pretend to marry a jerk, lose a ton of weight, or live with fellow washed up celebrities. If you do your job well, you can win a million bucks, or a Chapstick contract, or the chance to be on other reality TV shows. In regular jobs, the people who work the hardest don't necessarily advance, but if you do your job on TV, your effort is often rewarded. Moreover, in an information economy where manufacturing has been sent overseas and where minimum wage service jobs are among the few remaining jobs that require rigorous physical activity, reality TV is one of the few places where you can do hard physical labor for big bucks—if you win, that is.
The roots of genres such as the sitcom, soap opera, and drama date back to radio, but reality TV is a bit of generic puzzle. It may contain moments indebted to soap opera, and offer a sprinkling of cinema vérité pastiche, but it is really a new genre. Though reality programming might seem to have some kinship with game shows, game shows have never been so labor-intensive. In fact, before the money pots increased in the 1980s, shows like What's My Line? and Match Game were more about clever banter than actually winning prizes. The sly quips of Brett Somers and Charles Nelson Reilly are sorely lacking from the gotta-get-things-done (or die) work ethic that drives the competitive reality programs.
The heroines of The Simple Life lack this ethic, of course. The saddest illustration of this occurs at the Sonic fast-food restaurant, where a young manager desperately tries to get the girls to do their work. In other episodes, the older, self-employed male bosses have the option of firing the girls (after telling one of them "you're a real screw-up!"), but the fast-food manager knows that these nubile, lazy screw-ups are jeopardizing her own job, and there's nothing she can do about it. She works hard but has no money; Nicole and Paris do no work, are rich, and enjoy wasting money. Can anyone hear Thorstein Veblen shouting, "see, I told you so!" from the grave?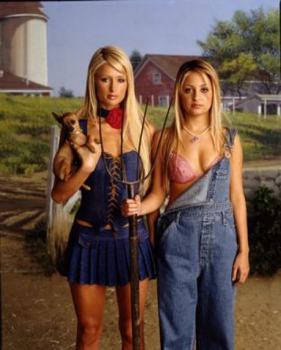 The Simple Life
The Simple Life baldly reveals the shaky foundations of the American myth of class mobility. Unlike on the competitive shows, where merit is rewarded, here doing a bad job brings no real punishment, and people who work hard do not necessarily advance. It seemed to me as I watched it that the show's underlying moral message was that hard work was better than slacking off. After all, it ends with the sympathetic Ledings saying that they hope the girls have benefited from the values the family has tried to teach them. But I cannot help but fear that many viewers find this about as convincing as Jerry Springer's "Final Thought," a tacked on moral that does little to mitigate the rich-and-lazy-and-proud-of-it ethos that has preceded it.
Given reality TV's relentless focus on work, one might naively imagine a behind-the-scenes team of empathic laborers creating the shows. The BBC's scripted faux-reality show The Office, for example, obviously springs from an impulse of proletarian solidarity: only writers who have endured the proverbial boss-from-hell could create the monstrous David Brent. Alas, American reality programs do not spring from a similar impulse. For, in theory, reality TV has no writers. Instead, videographers shoot endlessly, and editors then step in and collaborate with "story producers" or "story editors" (actually writers) to attempt to create dramatic tension, a Herculean feat that often requires the addition of goofy sound effects, voice-overs, or music (a recently heard ditty on Strange Love: "He's a jester, she's a fox. She likes smoking, he likes clocks."). According to a Washington Post article, the story editors "use the expression 'frankenbites' to describe the art of switching around contestant sound bites recorded at different times and patched together to create what appears to be a seamless narrative."
The premise that the people on reality shows are real translates into one thing as far as producers are concerned: free labor. These are regular people, not actors with SAG cards. And once you've gotten rid of unionized actors, why not get rid of the unionized writers? In fact, it is rare for any of the workers creating reality TV to be unionized — not the directors, not the carpenters, not the camera operators. The Screen Writers Guild has made reality TV central to its contract negotiations with the Alliance of Motion Picture and Television Producers but has had no success in attempts to get reality writers unionized. These young workers have lower salaries than Guild members, no health care, no pension, and, of course, they don't get a writing credit for their work, since no producer wants his show tainted by a credit acknowledging that stories are managed and banter is often scripted. The shows have much shorter shooting schedules than regular programs, so writers typically work 12 to 18 hours a day, but they tolerate such conditions because reality TV is seen as a steppingstone to better gigs for young writers. Willingly overworked, and desperate for a permanent job with benefits, these kids would be perfect candidates for The Apprentice!
In fact, I have a great idea: how about a reality show about workers on a reality show? I can imagine how the networks would respond to my brilliant pitch: "You're fired!"
Image Credits:
Please feel free to comment.