Interview: Jason Reich, writer on The Daily Show
by: Chris Lucas / FLOW Staff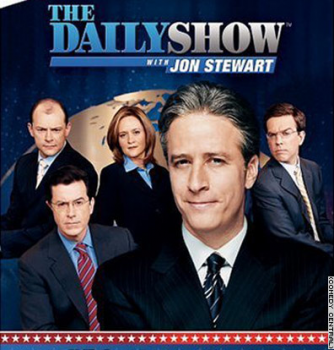 The Daily Show with Jon Stewart
Why do you think The Daily Show has achieved such widespread success? And more importantly, how do you think it is that a comedic commentary on the news could persuade so many to believe that what is said is the truth?
I think The Daily Show owes its success to that fact that we fill a rather unique niche in the media and comedy landscape. Nobody else out there is doing exactly what we do. While other comedy shows might touch on current events or poke fun at the news media, I can't think of another show that combines parody and analysis in quite the same way. Of course, it's taken the show a long time to find this exact voice, and I think the way the show's popularity has exploded in the past couple of years is a testament to the fact that, particularly during that time, we've really been doing something all our own. As for "persuasion," we're not trying to persuade anybody to think anything. We're merely offering our own commentary on the news. Read the papers and decide for yourself what the truth is. At the end of the day, we're just telling jokes.
Can you describe the process of putting together a show? How many writers are there? How much creative freedom do writers have and how much is directed by the show's producers? What role does the on-screen talent (Stewart, et al) play in the writing of the show? Are certain topics taboo and, if so, why?
Our day begins at 9:30 am when our team of ten writers meets with our head writer and several researchers. We skim the papers, review the footage we've received, and decide which stories are dominating the news ? those become our "Headlines." The meeting is also a chance for any writers to pitch ideas for correspondent standups or other segments ("This Week In God," etc.). The day's assignments are divided up among the writing staff, and we all go back to our offices and write, usually alone or in pairs, for most of the morning. Mid-afternoon, the material we've written goes to head writer DJ Javerbaum, executive producer Ben Karlin, and of course, Jon Stewart. Together they select the best material for the show and edit any correspondent pieces that have been submitted. The rest of the day is devoted to re-writing or working ahead for shows later in the week. At 5:15 we rehearse, and then the audience comes in and we tape the show.
The correspondents, when they're in the office and not on a field shoot, do contribute a lot to the writing. We'll frequently sit down and work with them on pieces. And we get a lot of freedom in terms of the ideas and jokes we can submit. We are certainly encouraged to be creative and experiment ? better to pitch a crazy idea that doesn't work than keep a great idea to yourself. We're not too concerned about taboos, either. We try to avoid death and tragedy, but beyond that, if it's happening, it's pretty much fair game.
Do TDS producers/writers/talent organize or write material based on a presumed target audience? Are guest bookings similarly scheduled with a demographic appeal in mind? Guests seem to vary from celebs hocking their latest product to Senators and ex-presidents discussing the political climate, how is this disparity managed?
We're writing and producing a show for a relatively young audience, so that does play a role in how we approach the material, but we've got an extremely smart viewership, too, so we never feel we have to dumb anything down. I think that's also why we can get a tremendous variety of guests. Jon and our guest producer Hilary Kun are well aware of what's happening in the worlds of both politics and entertainment, so when booking interviews they try to cover a wide range of interests. I don't see it so much as a "disparity" as merely an attempt to keep the show fresh, interesting and topical.
Regarding you and/or the rest of the staff: what writing jobs have you had before TDS? Does the staff mostly come from late-night comedy? What is the average age of the writing team? How long have most of you been with the show?
Our writing staff, which ranges in age from mid-20s to 40-ish, comes from a fairly wide range of backgrounds. We have several people with experience in comedy, be it television writing or standup. Quite a few of our writers have journalism backgrounds, and others have done time in fields like advertising or graphic design, but have always had a talent and ambition for writing TV comedy. All of the ten writers currently on staff have been with the show for at least a year; most have two to five years experience with the show, and one has been around since the very first Daily Show ever aired. I, personally, did a lot of writing with comedy groups both in college and after graduating in New York, and I got television experience as a production assistant for an NBC sitcom and then as the writers' assistant on The Daily Show, but getting staffed on the show was the first paying writing gig of my career.
What do you think about a large portion of today's opinion being based off satire rather than traditional means of journalism? Is this a concern or inspiration when you write?
I think satire is a much more effective way to make a point than than just hitting your audience over the head with heavy-handed opinion. First of all, it's more artful. Instead of coming out directly and saying, "such-and-such is a problem," we have more leeway in finding creative ways to get our point across. I think even if a joke has serious undertones to it, comedy is a lot less preachy and lot more accessible than finger pointing and lecturing. And of course, we're also giving our viewers something to laugh at. Our show certainly has a point of view, but you can also watch it without having to worry about what its "message" is. Hopefully, The Daily Show works on both levels for our audience.
Do you think there could ever be a political satire program with a conservative bend? Or are conservatives??just not funny?
Sure, I think conservative political satire can exist. I think that part of the reason what we do is so frequently perceived as "liberal" is because we're talking about the news, and these days, the people making the news are, by and large, conservatives. When one party controls the White House and both houses of Congress, they're going to be the target of the lion's share of our punchlines, but that doesn't mean the left isn't deserving of scorn, either. Conservatives are definitely funny. Have you read anything by Ann Coulter lately? Hysterical. Seriously, she's hysterical.
I remember a joke on the show after the Emmy about the writers' "diversity" (while showing a picture of a staff of white male writers). How much is this still (or was it ever really) the case? How does this relate to issues of target audience? Does the demographic makeup of the writing crew matter as far as writing for a specific audience?
We get asked questions like this a lot, and I firmly believe that the demographic makeup of our writing staff plays little to no part in issues of target audience. Yes, there may be a bunch of white men on our writing staff, but it doesn't follow at all to say that that's also the target audience we're going for. Similar to the way we don't book guests targeted for a specific audience segment, I don't think there's a specific "target demographic" in our mind when we're writing the show's material. We're just trying to put together the funniest, most interesting, most insightful show possible, hopefully one that appeals to a wide range of people.
I'm an avid watcher of The Daily Show and enjoy almost everything Jon Stewart and his minions do. It does seem that the writers rely on gay jokes for many of your pieces. Why is that?
I wouldn't necessarily say we "rely on" gay jokes for a lot of pieces, but I do think that jokes about sexuality or other "dangerous" topics are a good way to ease the tension when talking about already delicate topics. While we do like our material to have something to say, we're not above mixing things up a little bit by approaching something from a sillier angle. We can only do so many weighty jokes about how bad things are in Iraq until we feel the need to toss in a poop joke and lighten things up a bit.
In an NPR interview on Sunday, Art Spiegelman claimed that comic writers and satirists (including himself and The Daily Show) are only permitted to speak because they are "castrated," like medieval fools. How far is the TDS enabled or diminished by disclaimers like, "We only do fake news"?
I don't think we're hindered by that at all. After all, we're not the news. I think it's great that people see us as a valuable source of commentary, but watching The Daily Show should be a supplement to whatever other news sources you use, not a substitute. We've never claimed to be anything other than a comedy show, and I think if we were to claim some sort of legitimacy as a "real news" outlet, it would diminish what we're able to get away with ? we wouldn't be able to comment on the news media, which we do almost as often as we comment on current events. I'm glad that people respond to us, and I'm glad that Jon is taken seriously when he does speak on topics that are important to him, but we'd never claim to be more than "the fake news." We just don't want that kind of actual responsibility.
Are conservative media groups trying to get TDS off the air? Do you receive hate mail? Intimidating letters? Threats to boycott sponsors? In other words, how do conservative media groups respond to The Daily Show and how seriously are they taken?
As far as I know, there are no crusades being mounted to get us off the air. I think even staunch conservatives see the folly in trying to portray a basic cable comedy show as some sort of enemy of the people. We're the little guy. Sure, every so often we'll get a letter from someone who was upset by something we said, but no more often than any other comedy program or TV show gets those same kind of letters. We've had plenty of conservative guests on, and I think for the most part, they understand what we're doing and they appreciate the humor. We're really not out to make anybody mad. We just want to keep quietly doing our thing, albeit on the higher end of your cable dial.
Links
Bear Left Link Library
The Daily Show Site
Warner Books
Footnotes for The Daily Show
Salon.com Feature: The Daily Show
PopMatters Review: The Daily Show
The Daily Show Forum
The Online Gadfly
Ann Coulter's Website
Image Credits:

Please feel free to comment.