Small Pleasures
by: Mimi White / Northwestern University
Can you love and hate a television show at one and the same time? I am not talking about general indifference — you watch the show when you can, perhaps if nothing else you like is on, but you don't miss it when you can't. What I am thinking about is when you really like a show, and make an effort to watch it regularly. But at the same time (or perhaps some of the time) you actively dislike the very same show. So you watch sometimes but find yourself, as often as not, changing channels, or even turning off the television. But when you don't watch, you wonder what you are missing.I was made acutely aware of this sort of conflicted viewing when Sex and the City ended its original episodes life on HBO, and started showing in reruns on TBS. When Sex and the City was in its first-run on HBO (1998-2004), I was an indifferent viewer. If I happened to come upon it while flipping through the channels, and had nothing else in particular to do, I might watch it, but often would not. Or I would watch for maybe 7 minutes. The show always seemed mildly appealing, but slightly dull. At the time, I did not think about it in terms of more extreme responses. I didn't watch enough, or with enough interest, to have a more extreme response.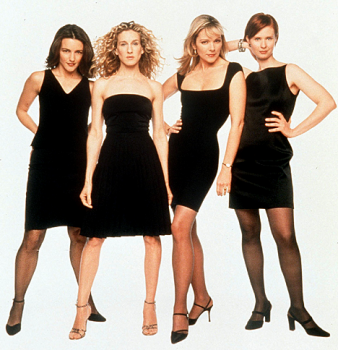 Cast of Sex and the City
When HBO ran the final set of new episodes in January-February 2004, I decided to take the program more seriously. Did I fall for the hype? Was I finally willing to engage with a "positive" variant of television's ubiquitous postfeminism? Does it even matter? I ended up seeing some pretty good shows, and was particularly struck by "The Ick Factor" (11 January 2004), an episode that combines and carefully balances issues about bodies, relationships, grand romantic gestures, and traditional rituals. If certain plot developments gave me pause (I am still unsure whether diagnosing the exuberantly sexual Samantha with breast cancer wasn't in some perverse, covert way using a women's health issue to "punish" her), the episode managed to walk the tightrope between being icky and being about things that are icky, between cynicism and romanticism, tragedy and comedy, and women's romantic relationships and their friendships. I thought it was perhaps the best half-hour television episode I had ever seen. I wondered if this is what I had been missing all these years.
I turned to the best "informants" I could find to figure out if I had really missed the boat here: the students in my graduate seminar. When I gushed about the episode (and I am afraid I did gush), the students who had seen it agreed that it had been an exceptional episode. Many of them assured me that I didn't need to rush out and buy the series on DVD, because I was as likely as not to be disappointed, if this particular episode was my standard of judgment; others said that the show was uneven, but that I probably would really enjoy other seasons and other episodes. And thanks to the afterlife of first-run television, TBS began rerunning the series shortly thereafter (even if it was "cleaned up" for basic cable audiences — less nude bodies and crude language).
I watched the first two episodes. While I had some qualms about episode one, a scene partway through the second, "Models and Mortals," moved me to turn off the television. Based on one of Miranda's dating experiences, Carrie decides to write a column about "modelizers," men who only date models. At dinner with her friends, the women start discussing modelizers, but end up focusing their attention on models. They say the sorts of things you might expect, parroting most of the well-worn stereotypes about women in this profession combined with pat feminist critiques of the fashion-beauty world. Models are stupid and lazy; they practice starvation in the best restaurants; they are giraffes with big breasts. Models embody the impossible standards of beauty to which the culture holds women, including the women having this conversation. While Carrie makes an effort to speak on behalf of her friends (they are smart, beautiful "flesh and blood" women who should not be intimidated by this beauty fantasy), they all, save Samantha, identify a body part they particularly hate, especially when compared to models: thighs, chin, nose.
There are (at least) two things in this scene that I found distinctly irksome. First, the women soon turn their venom on other women — models — rather than maintaining the initial focus of the conversation on men who date models. What starts as a problematic sort of man is quickly recast as a problematic sort of woman. Second, the women holding this conversation are themselves only one small step removed from models. They may not be quite as tall or thin as the "impossible standards of beauty" that models represent, but they are hardly distant from these idealized, "impossible" standards, and fully participate in and contribute to the same beauty-fashion-body culture as the women they are disparaging. This is true of both the characters and the actresses who portray them.
This scene is written to encourage a viewer to recognize them as "ordinary" women, even though part of their appeal, and part of the larger appeal of the show, is based on their appearance. Indeed, high end, trend-setting clothing and accessories (the very things that models model) are an integral part of the show. The characters shop for and wear expensive clothing and shoes; publicity emphasizes how the characters are dressed, and how they never wear the same outfit twice; and articles in magazines and newspapers promote the latest fashion trends being set by the characters on Sex and the City. This is after all the show that made "Manolo Blahnik" designer shoes a familiar household name. Do Carrie and her friends really not know that Manolo Blahniks are part and parcel of the culture of "impossible standards of beauty" they attribute to models? In terms of bodies, faces, and costume, these women are obviously not ordinary. In fact, they are rather like…models. And while I don't want to disparage them for this, as they disparage models, I also don't want to pretend otherwise. Having them vilify models in the language of popular feminist critique of the beauty-industrial complex doesn't help. Instead, having these women-characters-actresses express these views seems like a blatant contradiction, an insult to my intelligence (even though I also recognize the same clever writing that I enjoy in other episodes). So the first time I saw this scene, I turned off the television, not in indifference, but with full-blown distaste.
This kind of response, oscillations of variable intensities (love/hate or like/dislike), seems especially acute in television. The medium is, after all, so extremely multiple: multiple programs, channels, episodes, writers, producers, directors, etc. are all part and parcel of "a" television show. While we use the singular to designate a television program, it really is not just one thing, but a series — quite literally, of course. Seinfeld, Cagney and Lacy, Two and A Half Men, Two Guys and a Girl, Party of Five, Eight is Enough: you can keep adding to the numbers in the title, but each of these is still a singular program. The multiplication intensifies as opportunities for access proliferate, through reruns, syndication, home recording technologies, and in many cases, the possibility for purchase on tape or DVD.
Television, even one show on television, provides multiple viewing experiences — multiple episodes and multiple ways of seeing them. This, among other factors, opens television to much more complicated, and even contradictory, ways of watching and responding to its texts. We often simply assume that people do or don't like a show (or a program format, or a genre), and do or don't watch it. But since a show is many things at once, it isn't necessarily quite so straightforward. And perhaps my response to Sex and the City is only a slightly more acute version of ordinary viewing. A number of people state that this is how they watch Judging Amy; they only care about the scenes with Tyne Daly, and are otherwise at best indifferent to the rest of the show (or even pretty much dislike it). When it comes to routine viewing (situated somewhere in between not watching, channel surfing, and fandom) perhaps the best we hope for is an exceptionally good episode every now and then; a few characters who engage or divert us; or a few good scenes in an episode that is otherwise boring, clumsy, or even offensive. But given these "small pleasures," it is worth thinking about how we (and others) make decisions about our regular, but ordinary, viewing choices.
I expect that if I watched all of Sex and the City, I would probably continue to have similar experiences. I would really like some episodes or scenes, and really not like others. And I did end up buying two seasons of the show on DVD, including the set with "Models and Mortals." So I guess I will get a chance to find out.
Links
Sex and the City
Turner Broadcasting
TBS
Sex and the City fan site
New York Times Sex and the City article
Image Credits:
Please feel free to comment.