Affective Economics 101
by: Henry Jenkins / Massachusetts Institute of Technology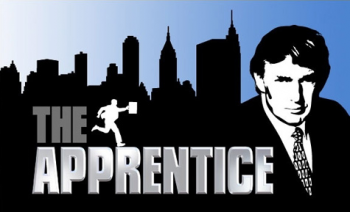 The Apprentice
How many different ways is The Apprentice involved in branding?
1. The Brand as Protagonist: The Donald casts himself and his corporate empire as the series protagonists. In the Sept.23 episode, the Donald ascends down the escalator to a trumpet fanfare and then directs our eyes upwards to enjoy the splendors of Trump Tower. [Play Video]
2. The Brand as Task Master: So far this season, contestants have been asked to design and play test toys for Mattel, to develop new ice cream flavors for Ciao Bella, and to market a new Crest Vanilla Mint toothpaste for Proctor and Gamble.
3. The Branding Process as Entertainment: On the Sept.23 episode, contestants demonstrated ways of linking brands and entertainment (circuses, the New York Mets) in order to create buzz for Crest. [Play Video]
4. The Brand as Helper: Frequently, the contestants consult with smaller companies (such as the Alliance Talent Agency [Play Video]) who aid them in their tasks in return for exposure. (see Vendor "Suite").
5. The Brand as Prize: In many cases, Trump rewards contestants with access to himself and his "things" or to luxury meals and services (such as a caviar feast at Petrushian's). [Play Video]
6. The Brand as Personal Statement: Some of the contestants can be seen wearing t-shirts promoting brands (such as Goizuetta Business School), seen as Kevin answered the phone in one episode [Play Video]) with which they feel a strong personal connection.
7. The Brand as Tie-in: Following an episode where the contestants designed ice cream, viewers at home were able to order samples of the flavors online.
8. The Brand as Community: Through a tie-in between the Apprentice and Friendster, fans can assert their affiliation with specific contestants and the producers collect real-time data about audience response.
9. The Brand as Event: Following the Sept. 23 episode, with its focus on thinking big, Trump launched a sweepstakes competition with Yahoo! Hot Jobs, whose 25k award is designed to encourage new initiatives.
These examples scarcely exhaust the roles brands play in the series (for example, the various ways NBC is using the series to revise its own brand identity). The importance of reality television goes well beyond its specific ratings successes. Reality television is the testing ground for convergence and branding strategies at an important moment of media in transition. The temptation among media-savvy people is to dismiss The Apprentice as nothing but one big product placement, but this would not adequately explain its popularity. The Apprentice is popular because it's a well-made show and the brand tie-ins work because they are linked to its core emotional mechanics.
Let's consider some important data points:
Right now, 43 percent of all households skip commercials. Tivo and other digital video recorder users skip between 60 and 70 percent of advertisements. These numbers are producing panic within the consumer economy. Many worry that the effectiveness of a spot during a top rated television show will be about the same or less than the clickthrough rate on the web. Yet, there are other ways of reading these figures. It isn't that 70 percent of Tivo users skip commercials altogether; people use Tivos to decide which commercials to watch. Marketers are trying to understand what kinds of commercials people choose to watch and why. More generally, they are looking for ways to more powerfully link brands and entertainment content. These approaches include product placements, but also context-specific commercials, such as this spot for the Trump board game which ran during a commercial break on The Apprentice [Play Video] and this spot for Pringles which wraps Survivor-specific content around a commercial for their canned chips. [Play Video]
Brand managers are fusing entertainment and branding content both to grab the attention of ad-skippers and to reshape our emotional bonds with brands. Here's former Coca-Cola CEO Steven Heyer speaking at a gathering of advertising and entertainment industry insiders last year: "We will use a diverse array of entertainment assets to break into people's hearts and minds. In that order. We're moving to ideas that elicit emotion and create connections. And this speeds the convergence of Madison and Vine. Because the ideas which have always sat at the heart of the stories you've told and the content you've sold… whether movies or music or television… are no longer just intellectual property, they're emotional capital." Or here's Kevin Roberts, the CEO Worldwide of Saatchi & Saatchi, talking about what he calls "lovemarks" (brands that inspire cult followings): "the emotions are a serious opportunity to get in touch with consumers. And best of all, emotion is an unlimited resource. It's always there, waiting to be tapped with new ideas, new inspirations, and new experiences."
Industry researchers are discovering that the most valuable viewers may be loyals (or what we call fans). For most shows, less than 5 percent of all viewers regard the program to be a favorite. For some shows (and these including many cult and reality television programs), the numbers may reach 40 or 50 percent of viewers. Loyals are significantly more apt to watch the entire show each week, seek out additional information, watch advertisements, recall brands, and talk about them with others. Marketers, then, are seeking programs which will generate high concentrations of loyal viewers, even if those programs do not necessarily enjoy high ratings overall. And networks are seeking to slow the erosion of their own viewership to cable competitors or digital media. Reality shows may be one of the few remaining forms of appointment-based television.
Brand loyalty is the holy grail of affective economics because of what economists call the 80/20 rule: for most consumer products, 80 percent of purchases are made by 20 percent of their consumer base. A generation of cultural and media scholars had equated the active spectator with audience resistance, but now, corporate America is embracing audience activity as the golden gateway into more reliable patterns of consumption.
Marketing researchers speak about "brand communities," trying to better understand why some groups of consumers form intense bonds with the product and through the product, with fellow consumers. These ethnographers research specific groups of highly committed consumers (such as Harley-Davidson riders, Apple computer users, or Saturn drivers) or what they call "brandfests," social events (either commercially sponsored or grassroots) that pull together large numbers of consumers. As these brand communities move online, members are able to sustain their connections over long periods and thus to intensify the role the community plays in their purchasing decisions. Companies seek to move more casual consumers towards links with these brand communities and count on what they call "inspirational consumers," in effect, fans of brands, to advocate on their behalf. Advertisers are drawn towards the audience participation surrounding reality programs because they can help fuel the growth of online brand communities.
Marketers want to understand the relationship between fan communities (the most committed consumers of an entertainment franchise) and brand communities (the most committed consumers of a branded product). What happens when the two are brought face to face? Do brand messages become part of what people talk about when they discuss the show? Can advertisements gain greater currency by becoming vehicles by which fans can get more program-specific information?
At the same time, consumer companies are trying to figure out what kinds of links to the entertainment properties consumers will accept or value and which links alienate viewers. For example, has frustration over the voting mechanisms in American Idol last season rebounded and left people feeling more negative towards ATT, the company which has used the show to broaden the market for text messaging? And if people are feeling more negative to ATT, how does this impact Ford and Coca-Cola, two companies that are also closely associated with the program content? The unpredictable character of unscripted programming increases the risks in some cases: a product placement for Stolichnaya Citroena during Big Brother several seasons ago went seriously awry because one "houseguest" was an alcoholic who was stealing other people's booze, getting sloppy drunk, and required an intervention, not exactly the messaging the company intended.
Before we write all of this off as simply an insidious new marketing strategy, consider a few more implications: Such arguments strengthen the hands of fan communities lobbying producers to keep their favorite series on the air. High favorability may trump high ratings in the new affective economy. The brand communities often emerge as important sites of consumer activism as those most invested in a brand seek to hold corporations more accountable.
Consumer products companies are not the only groups trying to tap popular interest in The Apprentice to shape our emotional responses to their messages. Consider this anti-Bush commercial created by the political organization True Majority to reach younger voters and circulated virally. Is this a form of ad-busting or is it itself an ad, given the fact that Ben Cohen, one of the group's leaders, is CEO of Ben and Jerry's Ice Cream . In the marketing world, they now talk about Citizen Brands — brands that build greater consumer loyalty by tapping into our political commitments. Companies like Ben and Jerry's or the Body Shop (on the left) or Coors (on the right) were early explorers of the relationship between consumers and citizens. At the end of the day, both Ciao Bella and Ben and Jerry's are in the same business — selling ice cream.
The example of Citizen Brands should help us rethink of own knee-jerk responses to these marketing strategies. The product placements work because they are tied to something people care about — whether it's how to defeat George Bush or who is going to the boardroom. If the brand campaigns interfere too much with what draws people to these programs, they fail. We may chuckle over the heavy-handedness of The Donald's self-promotion, but at the end of the day, he makes great television.
Links of Interest:
2. Village Voice article on the art of Trump branding
3. An exploration of cult branding
Image Credits:
Please feel free to comment.