ABC's The Middle: Redefining the Working-Class Male
Kelli Marshall / University of Toledo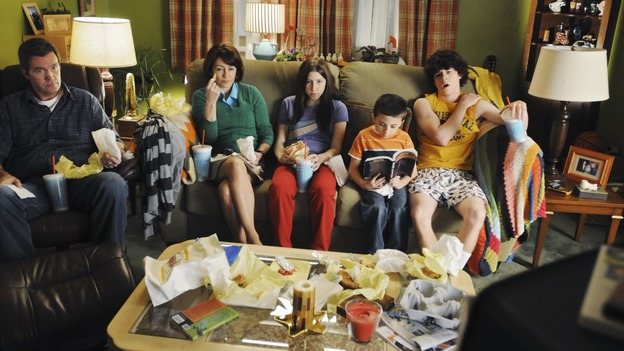 The couch, fast food, and Dancing with the Stars: Dinnertime on ABC's The Middle.
When it premiered in September 2009, ABC's sitcom The Middle received overall positive ratings for its relatable situations, eccentric humor, and down-to-earth tone. More recently, critics have applauded not only Atticus Shaffer's portrayal of 11-year-old Brick Heck, but also the show's running commentary on our current dismal economy and skyrocketing unemployment rate, incidentally something for which the slightly more popular and hipper family sitcom Modern Family has recently been criticized. Still, some reviewers pan The Middle for its supposedly stock characters and clichéd sitcom situations. For example, one critic reports rather bluntly, "If you haven't met these characters before, you don't own a TV." On the surface, the naysayers have a point. The family is normative (white, heterosexual, married, church-going); the parents are stressed; the kids are quirky; and the situational comedy often revolves around conventional family tiffs and misunderstandings. A closer look at The Middle, however, reveals that it is forging new territory, at least in terms of the representation of men in the working-class domestic sitcom.
According to the show's adult stars, Patricia Heaton and Neil Flynn, the title The Middle refers to the middle of the country (the family resides in the fictional town of Orson, Indiana), middle age, and middle class. These first two descriptors are correct, but the third is questionable. Even Flynn doubts this label in an on-camera interview with TV Guide when he says that middle income or middle class is something "these people would be lucky to claim." Indeed, one look at the Heck family's 1970s ranch-style home, modest blue sedan, fast-food eating habits, unflattering clothes, and occupations (manager of a quarry and a used-car saleswoman) suggests that, despite its title, The Middle is not a middle-class American sitcom. To be placed in that category the show would need to feature relatively affluent settings, prestigious professions, and well-groomed characters like those found in Father Knows Best, Bewitched, The Brady Bunch, Family Ties, The Cosby Show, and Modern Family. But it doesn't; rather, The Middle's homely mise-en-scene and grassroots-type themes resemble those of working-class sitcoms like The Honeymooners, The Flintstones, All in the Family, Roseanne, The Simpsons, King of Queens, and According to Jim. As a result, we should analyze it as such. ((Other references to the family's financial situation: because of cutbacks, trash pickup in Orson, Indiana only takes place every two weeks ("The Scratch"). The family shops at Frugal Hoosier, Indiana's best "expired food" store ("The Cheerleader"). Mike and Frankie can't afford a new dryer ("The Cheerleader"). An early anniversary present consists of a trip to the carpet remnant store in French Lick and an overnight stay at the Route 33 Motor Lodge ("The Floating Anniversary"). Other references to the grassroots framework of the show: Mike competes in "the Birchwood 500," a three-lap race around the block on a riding mower ("The Block Party"). Brick and Axl venture through corn mazes ("Thanksgiving"). Frankie and Mike play Cornhole at a car-dealership BBQ ("Worry Duty"); and a later episode features the Heck's eldest son, Axl, with his friends swimming in the Hecks's above-ground pool, a style typically associated with the working class ("Signals").))
Richard Butsch has discovered that since its inception, the domestic American television situational comedy has relentlessly manipulated gender traits to suggest that the working class is inferior to the middle class. ((Butsch, Richard. "A Half-Century of Class and Gender in American TV Domestic Sitcoms." Cercles 8 (2003): 16-34)) Working-class sitcoms, for example, traditionally feature incompetent, immature, and irrational husbands/fathers who have to be bailed out of inane (yet comical) situations by their capable, responsible, and logical wives (e.g., Alice and Ralph Kramden, Florida and James Evans, Marge and Homer Simpson). Middle-class family sitcoms, on the other hand, usually present both sexes as "a superb team […] intelligent, sensible, and mature," and neither is devalued or revered in spite of the other (e.g., Carol and Mike Brady, Maggie and Jason Seaver, Claire and Heathcliff Huxtable). ((Ibid.))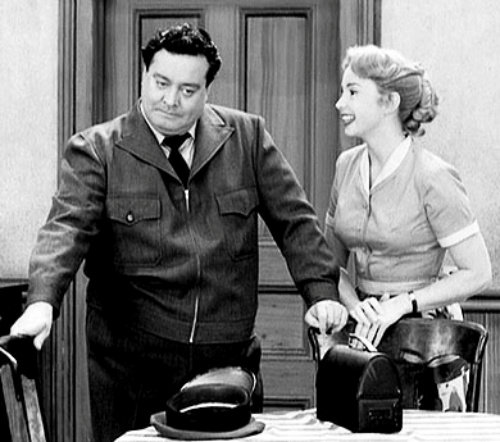 The Honeymooners' Ralph Kramden, the original working-class buffoon.
Based on its blue-collar mise-en-scene and themes, ABC's The Middle — and Mike Heck (Neil Flynn) in particular — should take on the stereotypical character traits of the working-class sitcom. For example, Mike should lack good sense and engage in emotional childish outbursts, Frankie Heck (Patricia Heaton) ought to make up for what Mike lacks in intellect and maturity, and the Heck children — Axl (Charlie McDermott), Sue (Eden Sher), and Brick (Atticus Shaffer) — should best their father mentally and otherwise. ((Ibid.)) But this is not the case. Instead, Mike helps his kids with their homework, coaches their spelling-bee competitions, and empathizes with their dating issues. As well, when Frankie has to work late on Thanksgiving and Christmas, he (along with other family members) prepares the turkey feast and shops for presents. Moreover, unlike his working-class sitcom predecessors, Mike responds wisely to delicate situations. For example, when Sue brings home her new boyfriend, whose effeminate mannerisms, interests, and clothes indicate he is gay, Mike suggests that he and wife hold off telling their daughter the truth: "She'll figure it out eventually…or he will," he counsels. ((One reason that Mike is able to assist his family in these ways is that for much of The Middle's first season he is unemployed. Granted, his joblessness is not a result of the failing economy but the discovery of a dinosaur bone, which prompts a four-month shutdown at the quarry so paleontologists can unearth more prehistoric treasure (what a nod to the show's working-class sitcom predecessor, The Flintstones!). Still, Mike's situation reflects the U.S.'s current layoffs and high unemployment rates, particularly those in the Midwest. In fact, one episode, "The Interview," is devoted almost exclusively to how difficult it is for Mike to find a temporary position.)) Finally, in contrast to other working-class males like Homer Simpson and Dan Conners (Roseanne's John Goodman), neither Mike Heck's children nor his wife ever appears more intelligent or capable than he. ((Looking at the examples above, it appears that Mike Heck is the model husband/father/Midwestern male. But that is not quite the case; he (as well as Frankie) has faults, several of them. For example, Mike (as well as his wife) forgets his daughter's birthday, cannot operate a computer, fails to fix the family's lawnmower without help, chooses Final Four tickets over a family funeral, and occasionally lets his children's immaturity and bizarre behavior get the best of his emotions. Still, Mike's shortcomings are balanced with the positive characteristics mentioned above, which is not usually case for working-class male sitcom characters.))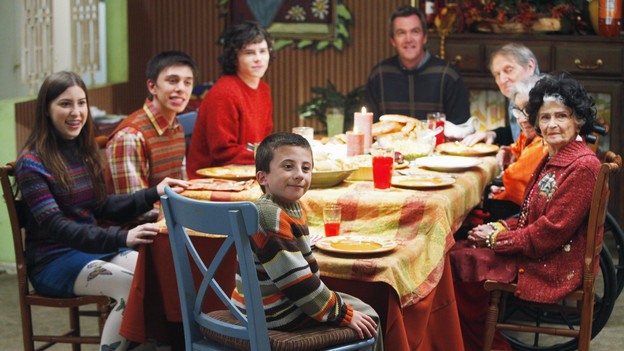 Thanksgiving dinner, served up by Mike and the rest of the Heck clan.
So why this shift? Why would The Middle move away from the buffoonish male stereotype that the working-class sitcom has perfected over half a century? Why would it bestow traits of the middle-class sitcom father — self-assured, admired, competent — on its blue-collar character? ((Butsch, Richard. "Five Decades and Three Hundred Sitcoms about Class and Gender." Thinking Outside the Box: Television Genre Reader. Gary Edgerton and Brian Rose, eds. Lexington, U of Kentucky P, 2005, 111-135.)) Three words: the current economy.
The Middle is the only working-class situational comedy to premiere in 2009-2010, and it is the only non-animated working-class domestic American sitcom currently in production as well as the only one set in Middle America. ((Of course, there are non-animated working-class family sitcoms in syndication (e.g., Roseanne, According to Jim, Still Standing, Everybody Hates Chris), but The Middle is the only one currently in production.)) One might say, then, that for good or bad, in contemporary popular culture The Middle alone signifies familial life in the Midwest. Now, consider the current unemployment rate: nearly 15 million people, the majority of whom live in blue-collar Michigan (14% jobless) as well as other Midwestern states like Illinois (11.2%) and Ohio (10.9%). ((The Bureau of Labor Statistics (April 2010): Employment Situation and Regional and State Employment and Unemployment Summary.)) If we reconcile these two realities, we might conclude that it would be mighty irresponsible and potentially risky of ABC to depict its sole blue-collar husband/father (and family) in the negative manner of the traditional working-class sitcom. Indeed, having a bumbling, unthinking, incompetent man represent the multitude of out-of-work and undervalued Midwestern blue-collar males at this time, in this economy, in this job market would be unquestionably insensitive and out of touch. It's just a shame that such a positive modification had to derive from such a dismal real-life situation.
Image Credits:
1. The couch, fast food, and Dancing with the Stars: Dinnertime on ABC's The Middle.
2. The Honeymooners' Ralph Kramden, the original working-class buffoon.
3. Thanksgiving dinner, served up by Mike and the rest of the Heck clan.
Please feel free to comment.