La Banda: Marketing Confusion, Cultural Hybridity, and Nostalgia in Univision
Manuel G. Aviles-Santiago / Arizona State University
La Banda, a reality music competition in search of the new Latino boy band, was Univision's latest effort to reach millennials.
Marketing Confusion
When I heard about La Banda, Univision's latest reality music competition, I was immediately intrigued by its promotional strategy. The show was initially introduced to the audience by its name—La Banda—and marketed as a joint effort between internationally acclaimed music mogul and producer, Simon Cowell, and Latin superstar, Ricky Martin (the latter advertised as both executive producer and judge). My immediate reaction was one of confusion: why is it that Ricky Martin, a Puerto Rican pop-music star, will co-produce and judge a show devoted to Mexican music? For those of you who are not familiar, in Spanish the term "banda" refers to "a brass-based form of traditional Mexican music [that] performs a wide variety of songs, including rancheras, corridos, cumbias, baladas, and boleros, [and is] composed of 10 to 20 members.[ ((Candelaria, C. (2004). Encyclopedia of Latino popular culture (Vol. 1). Westport, CT: Greenwood Press.))]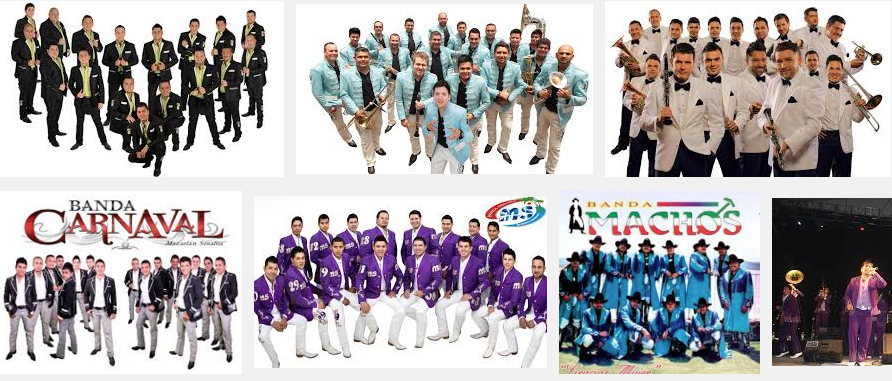 The use of the term "banda" in the title of the show lead to confusion during the early stages of the promotion of the show. A Google search of images for the term "banda" visually defines the concept.
As I was doing some preliminary research about the show, I called some of my colleagues to gather their opinions on the upcoming reality competition. Some of them expressed their interest in it while claiming their keen passion for "musica regional Mexicana." Others stated that even though they were not avid followers of the music genre, they would watch it just for the presence of Ricky Martin. At this point, the marketing confusion was holding captive diverse segments of the Latino audiences who were intrigued by branding innuendos of the show.
A few days later into my inquiry, the doubts were clarified when Univision released their press kit describing La Banda as a new take on the singing competition format in search of the ultimate Latino boy band. Like other music reality shows, such as American Idol, The Voice, and X-Factor, La Banda consists of a series of auditions all over the U.S. and Puerto Rico followed by live shows with weekly eliminations. This process will narrow the group to five young males (14 years old and up) who will form the new Latino boy band and win a music contract under the Sony Music label.
The formula is aimed at Univision's goal to reach millennials, or what the network refers to as billennials—a concept formed through the symbiosis of bilingual and millennial. This term was coined by Univision's advertising and marketing strategist team in 2015 in reference to the increasingly millennial audience that consumes their media mostly in English but grew up surrounded by Latino culture.[ ((Retrieved from: http://www.latimes.com/entertainment/envelope/cotown/la-et-ct-latino-millennials-univision-20150719-story.html))] In that regard, marketing cultural hybridity seemed like a logical step toward attracting that audience.
Marketing Cultural Hybridity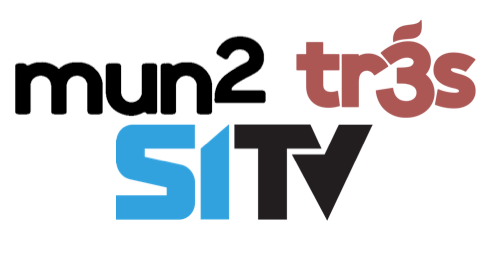 Bilingual-bicultural networks like Tr3s, mun2 and SiTV tried to reach Latino youth since the early 2000s.
Since the early 2000s, cable networks like MTV Tr3s, mun2, and SíTV have attempted to reach the bilingual-bicultural segment of the young Latino audience. For over a decade, these channels have experimented with an array of lineups consisting of primarily music and reality TV programming. As explored by Viviana Rojas and Juan Piñon (2014), the televisual landscape configured by these niche networks produced a nourished landscape of representations of cultural hybridity, particularly instances of linguistic flexibility.[ ((Rojas, V., & Piñon, J. (2014, August). "Spanish, English or Spanglish? Media Strategies and Corporate Struggles to Reach the Second and Later Generations of Latinos." International Journal of Hispanic Media 7 (August 2014). Retrieved February 26, 2016, from http://www.internationalhispanicmedia.org/spanish-english-spanglish-media-strategies-corporate-struggles-reach-second-later-generations-of-latinos/))] By linguistic flexibility, I refer to the variable use of Spanish, English, and Spanglish within the programing of the networks. However, the bilingual and bicultural approach of these channels was not a guarantee for success. For example, mun2 had a lack of traction with the bilingual-bicultural audience that resulted in a full rebranding of the channel into NBC-Universo, a Spanish-language channel with an emphasis on sports.[ ((Retrieved from: http://www.latimes.com/entertainment/envelope/cotown/la-et-ct-latino-millennials-univision-20150719-story.html))] Similarly, what started out as SíTV in 2004 was rebranded as NUVO TV in July of 2011 and then absorbed into Fuse, a network targeting the "new American audience"[ ((Retrieved from: http://www.mediamoves.com/2015/03/nuvotv-to-be-phased-out-as-it-merges-with-fuse.html))] that distanced itself from the Latino-theme. Therefore, creating networks specifically for Latino millennials was not the right pathway. Departing from unsuccessful models to approach billennials, what can Spanish-language networks like Univision do to attract this complex segment of the market without losing their regular audience?
The year 2015 was a paradigm-shifting moment in the history of Univision. That was the year they realized—after more than five decades on air—that Sábado Gigante was an outdated and somewhat obsolete show. That same year, the network came to understand that marketing cultural hybridity was imperative for the network's traction with billennials. That meant breaking the sanctity of the monolingual and Spanish-only network approach to embrace linguistic flexibility. After all, according to data from Pew Research and the U.S. Census: a) billennials represent 21% of the overall millennial population in the U.S., b) English is the predominant language in 34% of Latino households, and c) projections show that by 2020, one-third of Latinos ages 5 and older will speak only English at home. In that regard, La Banda became Univision's most aggressive step toward marketing cultural hybridity.
In contrast to the traditional monolingual-Spanish-only approach, La Banda distinguishes itself from the regular programming of Univision by a linguistic flexibility.
In La Banda, the marketing of cultural hybridity takes center stage through the linguistic flexibility of the show. Even though La Banda is primarily in Spanish, the content is constantly dashed with instances in which the contestants, their coaches, and the judges will interact in both English and even Spanglish. The show also includes content in both English and Spanish through other media platforms, such as Univision's YouTube channel and the smartphone app Univision Conecta. Also, the app's element of interactivity allows audiences the power to decide if they want the contestants to sing in either English or Spanish. It was precisely through the app that the winners of La Banda were selected.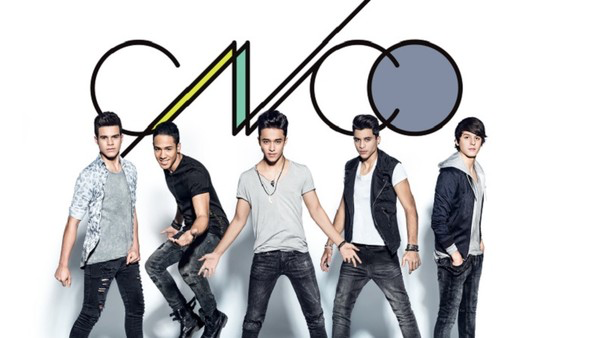 CNCO was the boy band one formed by the winners of La Banda.
At the end of the season, a Dominican-American from New Hampshire, a Cuban-American from Florida, a Puerto Rican native, a Mexican-American from California, and Ecuadorian-American from New Jersey formed the new boy band that was named CNCO. The name of the band is an intentional misspelled of the word "cinco," which in Spanish means five but when spelled in English sounds like Spanish word. The name received mixed reactions. One fan suggested that the name Menudo would have been a better option. Why?

The name CNCO, while embraced by some fans, was highly criticized by others.
Even though the core of the show seemed to be aimed at billennials, it implicitly triggers some sort of nostalgia to those pre-billennial Latino audiences—particularly those of Generation X—to whom the notion of a boy band immediately gets associated with the name "Menudo."
Marketing Nostalgia
The current success of groups like One Direction and its predecessors, Back Street Boys, NSync, and New Kids on the Block during the '90s and early 2000s, reinforces the idea that boy bands have had their momentum during the last two decades.[ ((Some cultural historians may include family groups like The Osmonds and the Jackson Five in the category of boy band.))] In that regard, making a reality music competition in search of a new boy band could have made total sense marketing wise. This asseveration acquires special significance in the Latino context where Menudo, a Puerto Rican boy band that began their successful international career during the late '70s, became a game-changer in the cultural history of boy bands for over two decades.
Menudo was the original Latino boy band. The inclusion of Ricky Martin, a former member of Menudo, triggers the nostalgia of the Menudo fans all over the U.S. and Latin America.
Just like CNCO, Menudo was composed of five teenagers known for wearing skinny jeans in coordinated flashy colors, achieved selling out national venues like Radio City Music Hall, gathered 200,000 fans at a soccer stadium in Rio de Janeiro, and united over 500,000 fans in Mexico City. When discussing the notion of Latinos making a crossover to the U.S. market, Menudo should take center stage. In fact, Menudo was the platform that catapulted Ricky Martin to international stardom even before the so-called Latino boom of the '90s. For that reason, including Martin in the entourage of producers and judges of La Banda make sense both artistically and historically. Most importantly, it triggers some sort of nostalgia for those who grew up with Menudo from the late '70s until the end of the '90s, when the group vanished from the public scene after legal battles between members of the band and the producers.[ ((In 1997, the rights of the name Menudo were sold and the band changed the name to MDO. This version of the group was less successful than the original band.))] Interestingly, that nostalgia has worked as a marketing opportunity for Latino media enterprises.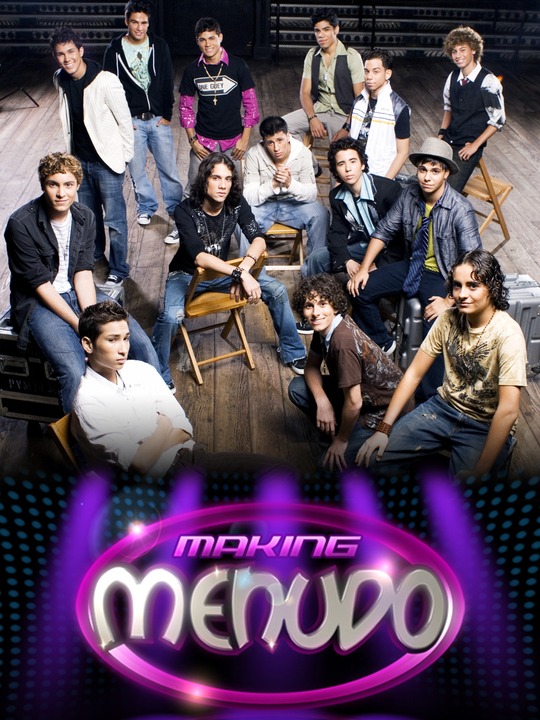 Before La Banda, MTV Tr3s produced the reality show Making Menudo, a failed attempt to re-launched the Latino boy band.
In 2006, MTV Tr3s produced the reality docu-series Making Menudo, an attempt to re-create a Pan-Latino version of the group. Just like La Banda, the cast of the show included a second- and third-generation of Latinos from all over the U.S. and Puerto Rico. As with other MTV Tr3s productions, the show followed the bilingual and bicultural approach and aesthetic. As other Tr3s productions, Making Menudo had a very limited audience, and the formed boy band never achieved the success of the original Menudo.
However, La Banda, a concept that would never have been able to find a space in a network like Univision in 2006, a decade later managed to reach 5.1 million viewers during its finale, out-delivering networks like ABC and CBS with billennials (18-34) and adults (18-49).[ ((Retrieved from: http://corporate.univision.com/2015/12/univision-networks-la-banda-finale-reaches-5-1-million-total-viewers/))]
Image Credits:
1. La Banda
2. "Banda", courtesy of the author
3. Bilingual networks, courtesy of the author
4. CNCO
5. CNCO Twitter, courtesy of the author
6. Making Menudo
Please feel free to comment.