:30 Spot on Life Support?: Considering Media Advertising Options
Justin Wyatt / University of Rhode Island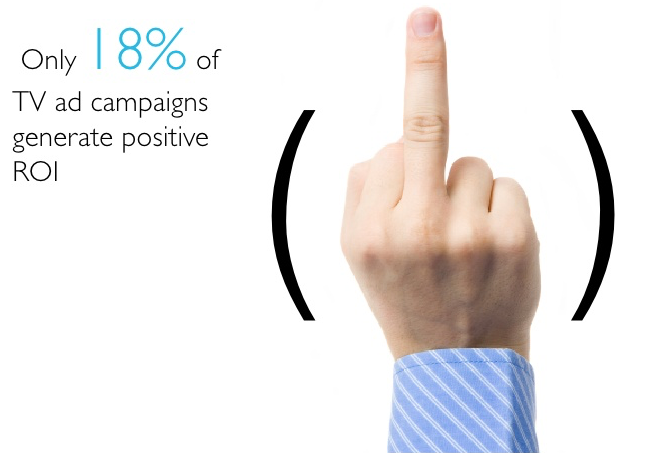 :30 Spot on Life Support?
When viewers are asked about their sources of awareness for a new TV show, almost without fail, 'television commercials on the network' emerge as the leading response. Intuitively, it makes sense: viewers of a particular network are 'captive audiences' to be exposed to promos for new shows, and, with any luck, the like-minded show being advertised fits with the show being watched. In 2014, reviewing results from an audience questionnaire, I found that 'social media' had supplanted TV promos as the key source of awareness for a particular new show. Suddenly even one of the most trusted adages of television marketing needed to be thrown out the window. Of course, the exciting – and terrifying – aspect of the period was how many other truisms of television marketing were being revised, reformed, and sometimes simply rejected by the new variety of options for TV consumption. I want to consider one specific battleground from this arena: the role of digital vs. television advertising. [ ((Brian Steinberg, "Do TV and Advertising Belong Together,"
Variety
, September 18, 2014,
http://variety.com/2014/tv/news/do-tv-and-advertising-still-belong-together-1201308758/.))] Rather than push to conclusions on the relative merits and liabilities of each, I am interested in the ways through which the media industries have negotiated a dialogue over these advertising forms. This dialogue enacts certain strategies of resistance against the encroachment of digital advertising, but, over time, even this resistance has become frayed. More recently, some industry leaders have made a larger argument that is probably more relevant: what role does advertising play at all for consumers, viewers, and audience members?
Markers in the Timeline
Going back to 2007, Ryan McConnell's Advertising Age article, 'How the Ad World Is Dealing with the Decline of the :30,' focuses on the financial accommodations being made in TV advertising to create spots at a lower cost. [ (( Ryan McConnell, "How the Ad World's Dealing with the Decline of the :30," Advertising Age, 78.45, November 12, 2007: 14.))] This shift toward online video and alternate platforms paralleled the economic downturn at that time to privilege more cost effective ways to connect with consumers. Digital ad spending grew year-by-year until, by 2017, it finally outstripped TV advertising ($209 billion for digital and $178 billion for TV). [ (( Peter Kafka and Rani Molla, "2017 was the year digital ad spending finally beat TV," Recode, December 4, 2017, https://www.recode.net/2017/12/4/16733460/2017-digital-ad-spend-advertising-beat-tv. ))] Looking solely at the US market, eMarketer forecast that the percentage of TV ad spend would be topped by digital ad spend in 2017, with increases leading to a 12% gap by 2020. [ (( "Digital Ad Spending to Surpass TV Next Year," eMarketer.com, https://www.emarketer.com/Article/Digital-Ad-Spending-Surpass-TV-Next-Year/1013671.))] The death knell for television advertising is confounded by the simple fact that TV advertising is still, in fact, slowly growing. Brian Steinberg reported that the 2017 network 'upfronts' demonstrated a 3-4% gain for advanced advertising commitments compared to 2016. [ (( Brian Steinberg, "How TV Tuned in More Ad Dollars: Digital Doubts, Drugs and Desperation," Variety, July 13, 2017, http://Variety.com/2017/tv/news/2017-tv-upfront-advertising-measurement-1202494620/.))] Further, the pace of digital advertising growth has slowed, making the 'threat' less of an immediate concern.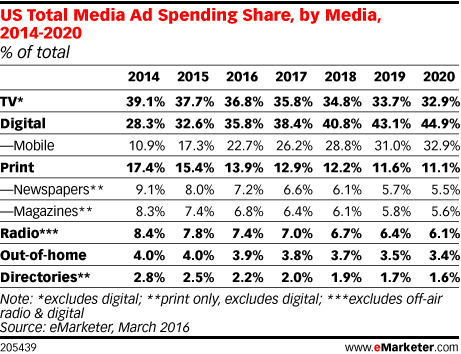 US Total Media Ad Spending Share, by Media, 2014-2020 (% of total) — Projection
Strategies of Resistance
The trajectory of revenues for digital and television ads is only so interesting. In our consumer society, goods are there to be sold and bolstering awareness, image, and consideration through advertising and communication, of any form, remains absolutely central. More thought-provoking are the ways through which the industry has attempted to shape the image for TV vs. digital advertising. The model of television advertising has been crucial to commercial television since the days of single show sponsorships. It is hardly surprising that the industry has marshaled a robust 'campaign' on multiple fronts to protect TV advertising as a form.
One of the fronts for this resistance has been quantification. The standards for evaluating and counting the experience of watching an online video ad have been in process, with several purveyors offering ways to understand volume, sentiment and engagement with online video. Given that Nielsen ratings are the accepted currency for TV ratings among content providers, agencies, and consumer brands, this monopolization makes for an easy and reliable way to understand audience, even if there are serious and ongoing debates on how Nielsen has accounted for quantifying cross-screen viewing. The multiple options for online measurement, with Nielsen just one of many players at the table, encourage questions on the efficacy of digital advertising: how long do people watch? What's the context of their viewing? How does engagement differ compared to encountering :30 spots on TV?
These question underline a recurring theme of resistance: to suggest that the online video ad experience is qualitatively different than the TV ad experience. In 2016, Geri Wang, then ABC Sales President, offered a vigorous examination of digital advertising. [ (( David Lieberman, " ABC Tells Advertisers That TV Spots Sell Better Than Digital Ones," Deadline, May 17, 2016, http://deadline.com/2016/05/abc-tv-ads-sell-better-than-digital-1201758341/.))] Her position was that the concept of prime time equals a 'promise of quality.' So, in effect, the television advertising experience is bolstered by this preferential screen. The pitch was accompanied by a report from Accenture, a high-profile consulting and strategy firm. The benefits of multiplatform advertising were proclaimed, with the distinct 'halo effect' of television spots over the rest of the advertising package. For digital, marginal rates declined quickly and the value of long-form (=TV) vs. short-form (=online) video were identified. The bottom line was that 'TV drives sales,' digital was seen as a useful, but secondary, augment. Separate from the ABC position, a variety of limitations have been leveled against digital advertising: click fraud, ad blocking, and the placement of video next to objectionable content to name just a few of the complaints.
Steve Whittington (Executive Director, Consumer Data & Analytics, Disney/ABC TV Group) Discusses the Accenture Study
The other broadcast networks also have made a spirited defense of TV advertising. NBCUniversal Advertising Sales and Client Partnerships Chairman Linda Yaccarino presented evidence that premium video delivers 4 times the brand awareness as social media and 11 times more than short-form video. The message is that premium video is essentially a different product than digital advertising. The value and engagement levels make digital a much less appealing prospect. [ (( David Lieberman, "NBCU Ad Chief Blasts Digital Platforms For Links To "Objectionable" Content," Deadline, May 15, 2017, http://deadline.com/2017/05/nbcu-ad-chief-blasts-digital-platforms-links-objectionable-content-upfront-1202093635/.))] CBS Research chief David Poltrack in December 2017 offered an even stronger position by asserting that TV is in a growth period, arguing for the health of TV advertising. [ (( Dade Hayes, "CBS Research Guru David Poltrack Sees "Bright Future Ahead" For Broadcast TV," Deadline, December 4, 2017, http://deadline.com/2017/12/cbs-research-guru-david-poltrack-sees-bright-future-ahead-for-broadcast-tv-1202219492/.))] Admitting that measuring audience is still a challenge, Poltrack argued that 'digital powerhouses' (Facebook, Amazon, Google, Apple and Netflix) are still placing their marketing money in television. [ (( Jeanine Poggi, "CBS Has a Much Different Forecast for TV Advertising Than Agencies Do," AdAge, December 4, 2017, http://adage.com/article/media/tv-ad-sales/311508/.))] Vouching for the value of TV advertising, Poltrack commented, "Why would you fund your new experimental work with money from the element of your marketing program that has proven to lift return on investment higher than other parts?" [ (( Brian Steinberg, "CBS Makes Pitch To Keep TV Advertising Dollars From Moving To Digital," Variety, December 8, 2014, http://variety.com/2014/tv/news/cbs-makes-pitch-to-keep-tv-advertising-dollars-from-moving-to-digital-1201373770/.))] The point is a valid one, but swipes aside a set of other issues: how has cross platform viewing impacted engagement and brand recall of TV advertising? What are the demographic differences (especially among millennials) present in consuming TV advertising? How do 'cord nevers' even expect TV advertising to be part of their entertainment equation?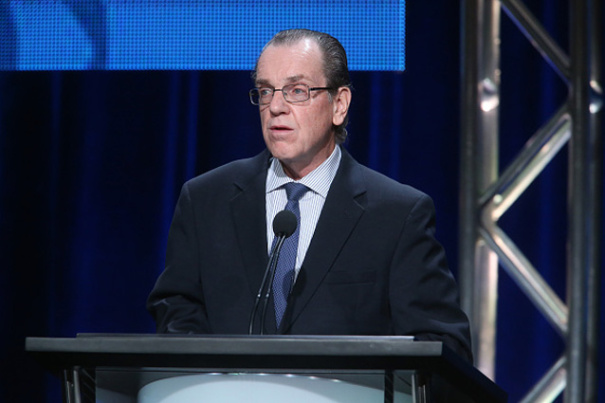 David Poltrack, Chief Research Officer, CBS Corporation, Positive About the Future of Television
'That's (TV Advertising) Entertainment!'
Being loyal to their company or optimistic about the future of a medium which has shaped multiple generations is, of course, entirely acceptable. And perhaps the issues surrounding digital advertising are warranted. The real argument may not be digital vs. television advertising, but rather how our contemporary society engages with advertising as part of their media consumption. The days of considering how DVRs impact ad recall and viewership seem quaint in comparison. Speaking at a forum in December 2017, NBC Entertainment Chairman Bob Greenblatt offered a harsher assessment of television advertising: "Consumers hate advertising. People are running away from advertising in droves, and so that, to me, is the crux of the problem. How do we stop that from happening?…We have to figure out a ways to make those interruptions a lot more palatable, a lot more entertaining, a lot more relational, or they're going to keep going. And going and going and going." [ (( Dade Hayes, "NBC's Bob Greenblatt: "People Are Running Away From Advertising In Droves," Deadline, November 28, 2017, http://deadline.com/2017/11/nbcs-bob-greenblatt-people-are-running-away-from-advertising-in-droves-1202215615/.))]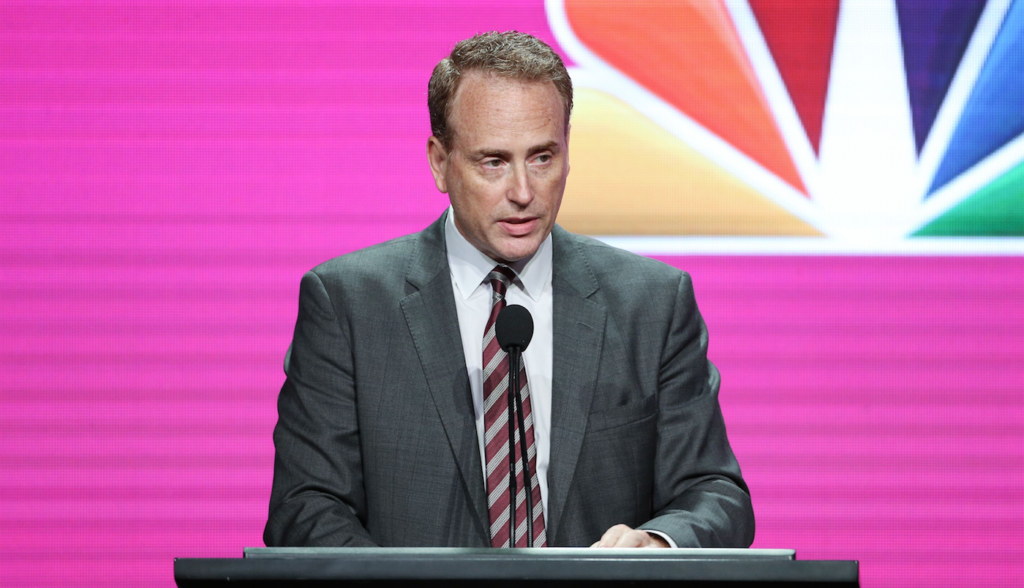 NBCU's Bob Greenblatt Offers Harsh Words on Advertising
Greenblatt's call-to-action is inspiring since it renews the proposition that advertising, television or digital, needs to have an entertainment quotient as well as a communicative one. What are the implications of this? Clearly, advertising should be compelling on the level of storytelling and emotional engagement. Those are just points of entry for any advertising. Even more persuasive are those moments when advertising can break free of the formal qualities, TV or digital. Experimenting with single show sponsorships, in-show sponsor-related content, and limited commercial interruptions illustrate the ways through which a network can balance internal brand building and alignment of the entertainment brand with the commercial brand. These kinds of formal experiments with program, advertising, and venue may at least lead toward shifting the model of viewer, advertiser, and program content. Perhaps they will also enhance advertising effectiveness beyond the silos of television and digital advertising.
In some limited ways, these experiments in the model of viewer, advertiser and program are already ongoing. FX Networks CEO John Landgraf, for instance, focuses on the long-term brand building of network through its shows rather than on Nielsen ratings. As Landgraf comments on his strategy, "I don't have to measure success based on who watched it today but rather what it meant to people." [ (( Dade Hayes, "FX Chief John Landgraf: 'I Remain Skeptical About Social Media' Driving TV Viewing," Deadline, September 28, 2017, http://deadline.com/2017/09/fx-landgraf-skeptical-about-social-media-1202178980-1202178980/.))] FX launched FX+, through Comcast, in September 2017 allowing viewers to watch commercial free versions of FX shows at the same time the shows are airing on FX. In addition, FX's past series are also available as part of the service. [ (( Josef Adalian, "FX's Subscription Service FX+ Is a Big Step Toward TV's Unbundled Future," Vulture, August 7, 2017, http://www.vulture.com/2017/08/fx-announces-streaming-subscription-service-fx.html.))] Following an earlier experiment by AMC (AMC Premium), FX+ offers consumers an alternative to commercial entertainment without any delays or dilution to the brand. The FX/FX+ example is offered not as a prescription to solve the issues with advertising consumption, but just as one strategy to reconsider how viewers interact with content and advertising within media. Further trials in the form and structure of advertising are needed to ensure the development of media advertising. The scuffle of television vs. digital advertising should not replace the more global issue of how advertising will function in the context of mass media entertainment.
Image Credits:
1. eMarketer's Projection: US Total Media Ad Spending Share, by Media, 2014-2020 (% of total)
2. BeetTV: Project By ABC, Accenture Sees Understatement Of Multiplatform TV ROI
3. David Poltrack, Chief Research Officer, CBS Corporation, Positive About the Future of Television
4. NBCU's Bob Greenblatt Offers Harsh Words on Advertising
Please feel free to comment.