Ugly Crying, This is Us and the Discursive Construct of Emotional Excess
Eleanor Patterson / Auburn University
The Tonight Show Starring Jimmy Fallon's This is Us sound guy crying sketch.
The Tonight Show Starring Jimmy Fallon (NBC, 2014–) produced a short parody of This is Us (NBC, 2016–) in September 2017, featuring Sterling K. Brown, Chrissy Metz and Milo Ventimiglia, along with Saturday Night Live's (NBC, 1975–) Mikey Day as the director of an episode being filmed. In this sketch host Jimmy Fallon plays the role of a sound guy named Dale working on the set of This is Us who continually interrupts the filming process with uncontrollable crying. Actors Brown and Metz have to continually break character and tell the character to "pull it together" and "control" himself. The sketch ends with the entire group, mainly comprised of cisgendered presenting straight men crying in a group huddle, as they embrace their emotions and emphasize how crying is natural. One year later, in 2018, the talk show Ellen (NBC, 2003–) produced a similarly themed parody on featuring Ellen DeGeneres and This is Us star Jason Hartley appearing in a teaser trailer for a fake show titled This is Onions. In the sketch, humor derived from faking out the audience with lines that seem to have DeGeneres delivering emotional news to Hartley, moments characterized by swelling piano chords and long pauses, yet, turn out to be innocuous as we find out the characters are only crying because they are cutting onions. These parodies are significant in several ways, implicitly demonstrating This is Us widespread industrial success and entrance into the broader cultural lexicon. Indeed, This Is Us was considered a break out hit after strong ratings during its first season, and its strong ratings have made it the top non-sports program on television with 18-49 year old viewers, the key demographic sold in television ads. Consequently, This is Us became the most expensive primetime show in 2017, 2018, and 2019, selling 30-second spots for $359,000 in 2019.[ (( Rick Porter, "What's Behind the NFL's TV Ratings Comeback?," The Hollywood Reporter, October 17, 2019.))] Whether intended or not, being the subject of talk show parodies evinces the belief by The Tonight Show and Ellen producers that their viewers will at least be familiar enough with This Is Us to get the joke. However, as I discuss in this post, these parodies also emphasize the ways in which this program has come to be discursive articulated with the feminized emotional excess of crying.
Ellen's This is Us parody, This is Onions.
Twentieth Century TV has been producing the show This Is Us for NBC since 2016, under showrunner Dan Fogelman. Part melodrama, part period piece, This is Us is structured as a narrative that jumps across space and time over multiple generations in the story of the Pearson Family. This is Us' narrative is not plotted out in chronological order, but rather, thematically, and each episode cuts between scenes from that can range from the 1950s to 2040. Each episode contains numerous spatiotemporal shifts, as This is Us' narrative does not progress in a linear manner, but rather, is designed so that serial storytelling can continue by interweaving parallel plotlines from the past, present, and the future. The creative decision to structure the series' ongoing narrative this way positions it to be understood within Jason Mittell's complex television framework, as This Is Us' use of flashbacks and flash forwards are example of the narrative techniques that Mittell describes as "playing with temporality [and] constructing ongoing characters" in order to "create engaging storyworlds.[ (( Jason Mittell, Complex TV: The Poetics of Contemporary Television Storytelling, (New York: New York University Press, 2015), 10. ))] Indeed, the Academy of Television Arts & Sciences have, at least somewhat, elevated This Is Us' cultural status by nominating it for several Emmy's. From 2017–2019, it was the only broadcast show to be nominated for "Best Drama," a streak that ended in 2020 when that category was dominated by cable and streaming platform productions. Twentieth Century TV's public relations teams seem to acknowledge This Is Us' inability to fully attain the status of quality television, using the following quote on the cover of their For Your Consideration (FYC) Emmy materials:
…broadcast TV's BEST DRAMA, [capitalized in the original text] worthy of being in the same conversation as the best series on TV as a whole…

The Daily Beast [ ((Kevin Fallon, "This Is Us Season 3 Premiere Confirms It's Still the Best Drama Series on Broadcast TV," The Daily Beast, September 26, 2018, https://www.thedailybeast.com/this-is-us-season-3-premiere-confirms-its-still-the-best-drama-series-on-broadcast-tv?ref=scroll.))]
This quote is emblematic of the ways in which critics and industry publicists alike understand broadcast television, and This is Us specifically, as a contrary object. This is Us is at once separate from conversations about "the best" television because it is broadcast, and yet, "worthy" of transcending its distinction as "broadcast" to be considered alongside "television as a whole."
In researching this program, I have found that while This Is Us has failed to attain critical recognition as a complex quality program, despite its unconventional narrative structure and detailed historical production, it has been consistently linked to crying. For instance, in September 2018, as viewers anticipated the start of This Is Us' third season, Vulture critic Maggie Fremont published her article "The 7 Best This Is Us Episodes If You're Just Watching the Show to Cry," recommending seven episodes for seven different types of crying. For Fremont, these included multiple crying modes, as she provided episode titles "If you want misty, wistful tears, If you want an hour of nonstop welling up, If you want to silently sob to yourself; If you want to slide down a wall while sobbing," among others.[ (( Maggie Fremont, "The 7 Best This Is Us Episodes If You're Just Watching the Show to Cry," Vulture, September 25, 2018, https://www.vulture.com/2018/09/this-is-us-7-best-episodes-if-youre-watching-to-cry.html.))] This Is Us' broader cultural connotation with crying has become so prolific that even the online health magazine Well + Good published an article extolling the benefits of watching This Is Us in order to experience emotional catharsis from "ugly crying."[ (( Gabrielle Kassel, "Ugly-Cry Through This Is Us? Here's What the Waterworks Can Mean for Your Emotional Health," Well + Good, September 24, 2018, https://www.wellandgood.com/is-it-healthy-to-cry-this-is-us/.))] Within the industry, media workers have, over and over again, characterized This Is Us in the trade press as "timey-wimey sentimental cry-fest"[ ((Robyn Bahr, "Critic's Notebook: On 'This Is Us,' a Rare and Timely Exploration of Men's Mental Health," The Hollywood Reporter, September 26, 2018.))], "a tear-jerker"[ ((Dade Hayes,"NBCU Throws Few Elbows, Widens Tent in First Unified Pitch," Broadcasting and Cable May 23, 2016, 20.))], a "feel-good cryfest of a family drama"[ (( Maggie Fremont, "The 7 Best Plot Twists in This Is Us, Ranked," Vulture, March 14, 2018, https://www.vulture.com/2017/01/this-is-us-plot-twists-ranked.html.))], NBC's "primetime cry-fest"[ (( Etan Vlessing, "NBC's Bob Greenblatt Talks Netflix Mega-Deals, Comcast-Fox Play and This Is Us," The Hollywood Reporter, June 12, 2018. ))], or a show that will "make you ugly cry."[ (( Cait Raft, "TV Recap: This Is Us' Eight Moments From Mandy Moore's Show to Make You Ugly Cry: Rebecca's Secret Hookup!" Us Weekly Magazine, February 15, 2017, https://www.usmagazine.com/entertainment/news/this-is-us-8-saddest-moments-rebeccas-secret-hookup-w466084/.))]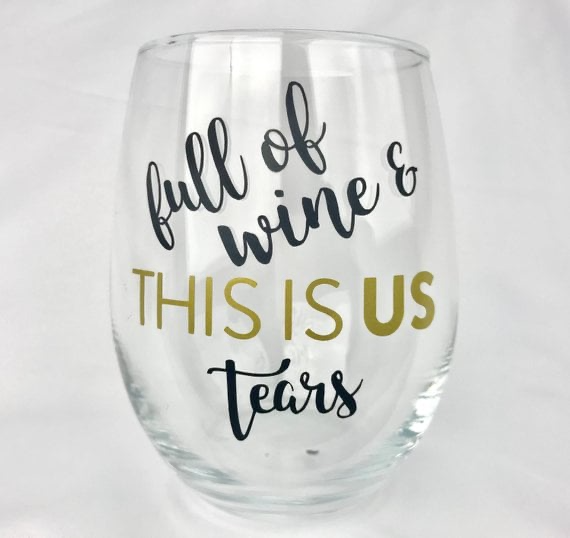 Tuesday nights are for wine, watching This is Us, and crying.
Jane Feuer has distinguished melodramatic television, in part, through its emotional excess. Discussing prime-time soap operas like Dallas (CBS, 1978–1991) or Dynasty (ABC, 1981–1989), Feuer understood this emotional excess as the result of aesthetic choices, as she described her own observation that "the majority of scenes consist of intense emotional confrontations between individuals closely related either by blood or by marriage. Most scenes are filmed in medium close-up to give full reign to emotionality without obscuring the decor. The hyper-intensity of each confrontation is accentuated by a use of underscoring not found in any other TV genre, and by conventions of exchanged glances, shot duration and the zoom lens.[ (( Jane Feuer, "Melodrama, Serial Form and Television Today," Screen 25 no. 1 (1984): 10.))] These aesthetic conventions of the prime-time soap opera are present in This is Us, it is a melodrama centered on a family over generations with textual elements that emphasize the centrality of family secrets and relational tension between siblings, spouses, parents and children to the show's storytelling. This Is Us production staff has worked to structure the show's serialized narrative strategically to include surprising twists and cliffhangers that play to its character-driven focus on the Pearson's family life. This strategy includes ending episodes with heart attacks or surprise pregnancy reveals, what critic Josef Adalian describes as This Is Us' "patented cliffhangers."[ (( Josef Adalian, "Why This Is Us Shouldn't Cry Over Falling Ratings," Vulture, November 28, 2018, https://www.vulture.com/2018/11/this-is-us-season-3-fall-finale-ratings.html.))]
However, within the ongoing linkage in trade and popular press between This is Us and crying, I see emotional excess operating here as a discursive gendered marker. Indeed, consider the parodies I discuss at the outset of this post. This Is Us has come to function in our cultural lexicon as a shorthand for a feminized affective mode of emotional expression. As Heather J. MacArthur has noted, the overt emotional expression involved in crying has long been linked to feminized popular culture and representations of female empathy.[ (( Heather J. MacArthur, "Beliefs About Emotion Are Tied to Beliefs About Gender: The Case of Men's Crying in Competitive Sports," Frontiers in Psychology, 10(2019): 2765,1 – 15.))] Yet, I see the intensity of the type of crying associated with This Is Us, such as ugly crying or sobbing, functioning discursively as an indexical sign of melodramatic television's feminized emotional excess.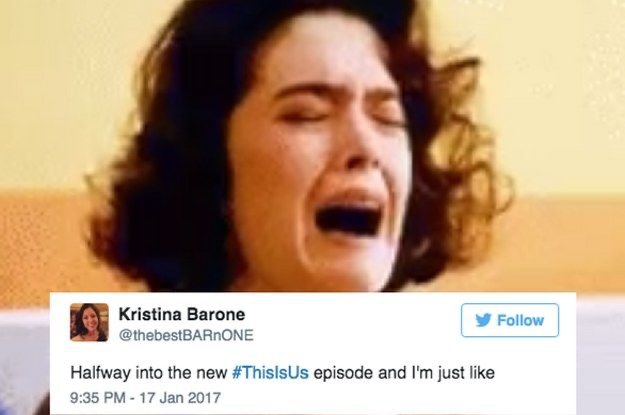 This is Us draws strong emotional reactions from its viewers.
This Is Us' emotionality is valued within the industry for its perceived ability to engender loyal audiences through its serialized melodramatic storytelling. Producer Dana Walden explained that emotionality is the reason This Is Us has been a ratings hit, saying, "There's a lot of pent-up emotion in this country, and people are finding it difficult to express it in appropriate ways. And this is a show that you can watch and cry and feel a great degree of emotion. It's cathartic, on top of being really extraordinary television."[ (( Debra Birnbaum, "'This Is Us': How Dan Fogelman Broke Records and Hearts With NBC's Hit," Variety, March 7, 2017, https://variety.com/2017/tv/features/this-is-us-nbc-emmys-dan-fogelman-1202002871/.))] However, even within the television industries, the emotional excess of This Is Us has worked to reinscribe the femininity of the show. In discussing the success of This Is Us, producer Jennifer Salke, who greenlit This Is Us for NBC in 2016, discussed the development process for This Is Us in gendered essentialist terms. When asked if she knew it would be a success, Salke told Variety:
… if you have been raised in TV in the last 25 years you're getting a clear message: 'Don't deliver me anything serialized. I'd love some action, I'd love some high stakes and I'd love a star.' When it came to This Is Us, it was mostly men who would say, 'How could you go out on a limb like that? That took some balls.' I remember thinking, it did? Maybe it just took a vagina, because I just had this feeling that This Is Us was going to be magical. And it was.[ ((Malina Saval, "Tales from Two Network Execs," Variety, April 3, 2017, 14.))]
Here, then, for Salke, it took having a vagina to understand the commercial value of producing emotional excess within the contemporary broadcast television environment.
Why does it matter if This is Us is linked to vaginas and ugly crying? Because the cultural linkage of a television show with crying instead of complexity places This Is Us squarely within the feminine sphere of affective feeling, connected to bodily functions, or even literally the birth canal, rather than the cerebral contemplation associated with other serialized television programs like Lost (ABC, 2004–2010) or Breaking Bad (AMC, 2008–2013), whose storytelling has been praised as complex and requiring audiences' mental acuity to keep up with the narrative.[ ((Michael Z. Newman and Elana Levine, Legitimating Television: Media Convergence and Cultural Status (New York: Routledge, 2012).))] In contrast, This Is Us' articulation with ugly crying and emotionality reinscribes the show within both the logics of feminized mass culture, while feminizing the culture of producing broadcast melodrama.
---

Image Credits:

The Tonight Show Starring Jimmy Fallon's This is Us sound guy crying sketch.
Ellen's This is Us parody, This is Onions.

References: