Failed Experiential Promises and the Bait-and-Switch of Fox's Rent: Live
Kelly Kessler / DePaul University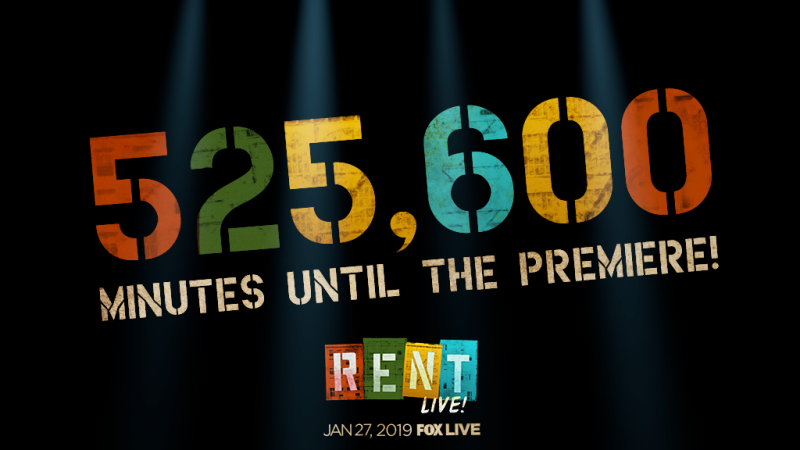 Fox's time sensitive and cheeky countdown ad for Rent Live!
So what, Rent: Live wasn't actually live. They used footage from dress rehearsal. Who cares? The dude broke his ankle. What were they supposed to do? Let's take it back a few decades to address this. It was the summer of 1989 and I was seventeen years old. I had dragged my high school friends to the St. Louis MUNY, the largest outdoor theatre in the United States. We were parked in the free seats behind 11 thousand paying customers, as I waited with bated breath to see two legends, far from their primes, reprise their iconic roles. Twenty-five years after their star turns in the motion picture of the same name, Debbie Reynolds and Harve Presnell were touring in The Unsinkable Molly Brown. As was common at the MUNY, a helicopter flew over the theatre, momentarily obscuring the sound from the stage. In a moment of whimsy, Reynolds suddenly broke character and began whirling her arms around and making noises as if she were the obtrusive helicopter. This moment of broken character, of spontaneity, of liveness and ephemerality was what made this performance special and memorable thirty years later. Moments like this, or Shirley MacLaine emerging from the chorus to step in for Carol Haney and her sprained ankle in Broadway's 1954 Pajama Game and thus being discovered by Paramount's Hal Wallis, or David Niven's memorable response to a streaker's "shortcomings" at the 1974 Academy Awards telecast: these are the moments that define live theatre and live television. These are the types of moments the audience prays for. This is what the audience of Rent: Live had been promised and what Fox, out of fear of failure, denied them.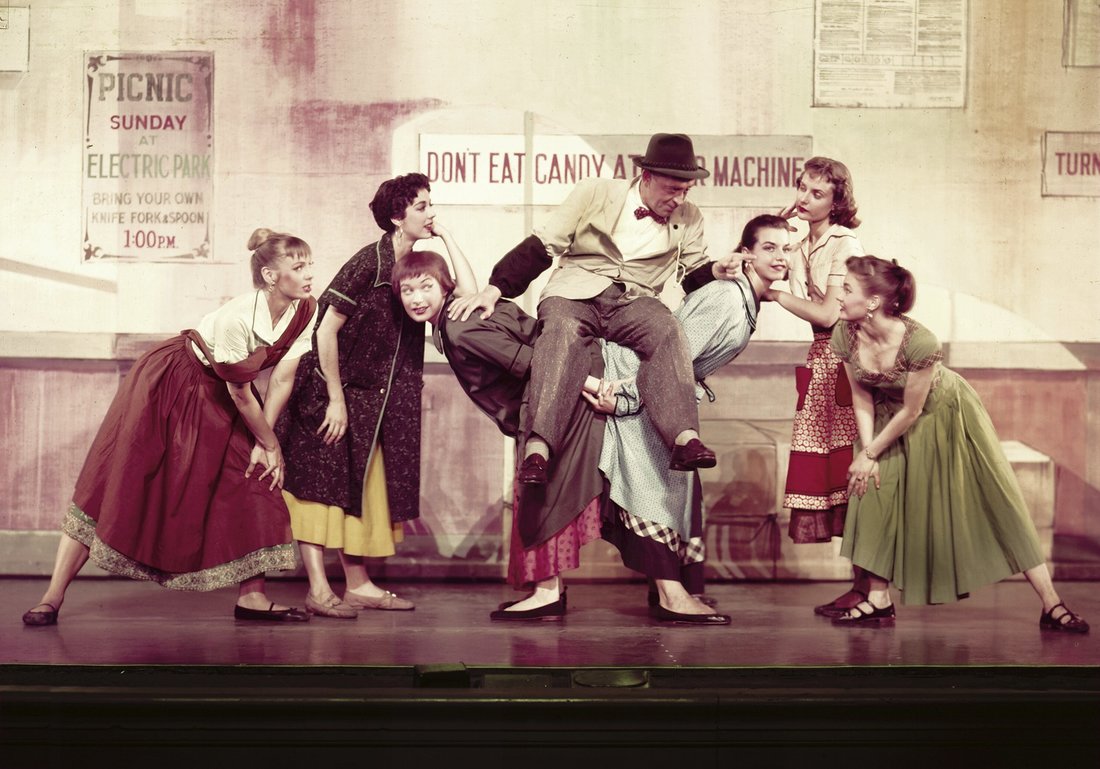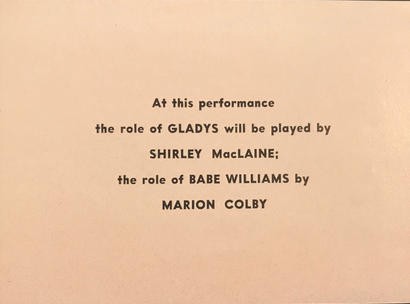 Shirley MacLaine performs in the 1954 Broadway production of The Pajama Game (top) and a playbill insert from MacLaine's star turn (bottom).
When Chairman of NBC Entertainment Robert Greenblatt announced the network would be airing a live television broadcast of The Sound of Music in 2013, this was the promise. Greenblatt, Neil Meron, and Craig Zadan all hearkened back to the early days of American broadcasting, the liveness of New York-based TV, and the history of live broadcasts of theatrical performances like Mary Martin's iconic Peter Pan (1955). The folks from Fox would double down on this promise of the excitement of liveness as they announced Tyler Perry's The Passion (2016), Grease Live! (2016), A Christmas Story Live! (2017), and then Rent: Live. This made perfect sense on various levels. As the broadcast networks struggled to maintain terrestrial viewers, they saw sports and reality television—two outlying genres that still relied on a sense of the now or liveness—finding viewers where content with less immediacy had failed. This reach back into the vaults brought a re-embrace of what Robert Wade said of television in a 1944 issue of Theatre Arts, that the new medium was "radio with sight, movies with the zest of immediacy, theatre (intimate or spectacular) with all seats about six rows back and in the centre, tabloid opera and circus without peanut venders."[ (( Robert Wade, "Television Backgrounds," Theatre Arts, 28 (1944): p. 728.))] The networks had promised to give the audience that kind of zest by bringing Broadway-ish to the masses.
The split screen of Grease Live!'s Associate Director Carrie Havel calling "Greased Lightening" (released after the broadcast) (top) and this The Wiz Live! quasi-DIY behind-the-scenes video from social media personality Todrick Hall (released before the broadcast) project the high stakes, multiple moving parts, and sense of immediacy logistically and rhetorically connected to these complex live musical events (bottom).
As I discuss in my forthcoming book, Broadway in the Box: Television's Lasting Love Affair with the Musical, between The Sound of Music Live! and Rent: Live, the form that immediacy or zest would take repeatedly shifted.[ (( Kelly Kessler, Broadway in the Box: Television's Lasting Love Affair with the Musical (New York and London: Oxford University Press, forthcoming 2020).))] In a Web 2.0 environment peopled with viewers poised for multi-platform viewing, time-shifting, and multi-tasking, the network powers-that-be sought to reconsider the definition of liveness. Between 2013 and 2019 Fox and NBC dug in on the live musical. The performances themselves were always synchronous to the broadcasts, but the designs, direction, and promotional strategies alternated between visual formats (cinematic, proscenium-ish, highly mobile), types of digital performances (minimal, fan and/or network-driven social media presence, 360-degree Facebook Live stream), and conceptualization of the audience (in the theatre, at home, online, or all three). From The Sound of Music Live! through Jesus Christ Superstar Live in Concert (2018), the networks kept up their ends of the bargain, embracing Stephanie Marriott's conceptualization of live television as including a risk or threat, lacking "glossiness," and embracing a constant sense of fallibility.[ (( Stephanie Marriott, Live Television: Time, Space and the Broadcast Event (London: Sage, 2007), 43, 97.))] Although the first several live musicals managed to go off without any major disasters, they all bore the scars of liveness whether through Carrie Underwood's wooden performance of Maria, Grease Live!'s near golf cart accident, or an array of audio issues with Hairspray Live!. Such possibility for imperfections were why many were watching, and what drove a flood of fans and hate-watchers to Twitter. And then came Rent.
THEY ALMOST TIPPED THE GOLF CART! #GreaseLive pic.twitter.com/EeI2n00p1f

— KiddNation (@KiddNation) February 1, 2016
The Grease Live! cast recovers from an unexpected curb-bump while rushing across the Warner Bros. Studios lot for the broadcast finale.
During the final ten minutes of Rent: Live's January 26th dress rehearsal, the show's Roger, Brennin Hunt, broke his ankle. Over the next day rumors flew about just what Fox would do for the big-budget event. In the end (and to use a contemporary phrase), they Vague-booked the audience and pulled a bait-and-switch. First, in a joint statement, Fox Entertainment and 20th Century Fox announced that, "Last night during a live performance of Fox's production of Rent, one of the actors, Brennin Hunt, was injured. But in the spirit of Rent, everyone—producers and cast, original and current—is dedicated to ensuring that tonight's broadcast must, and will, go on."[ (( Maureen Lee Lenker, "Rent Live Actor Suffers Broken Ankle, but Fox Says Show Will Go On," Entertainment Weekly, 27 January 2019, accessed 20 March 2019, https://ew.com/tv/2019/01/27/rent-live-brennin-hunt-broken-ankle/.))] As the show's broadcast began, a "previously recorded" title appeared at the bottom of the screen, and at the first break Jordan Fisher, the show's Mark, announced that "Most of what you'll see tonight will come from last night's performance," and then noted that the cast had "rallied together to rework the final act."[ (( Matt Stevens, "'Rent' Live Is Mostly 'Rent' Recorded, After Actor Injury," New York Times, 27 January 2019, accessed 20 March 2019, https://www.nytimes.com/2019/01/27/arts/rent-live-injury.html.))] No more specifics were given about how much of the show being broadcast had come from the previous night's performance, notably one neither the performers nor the crew thought would be used for the national broadcast. Reviews were less than glowing, often commenting on the unevenness of the taped portions of the show (which turned out to be everything except the last fourteen minutes).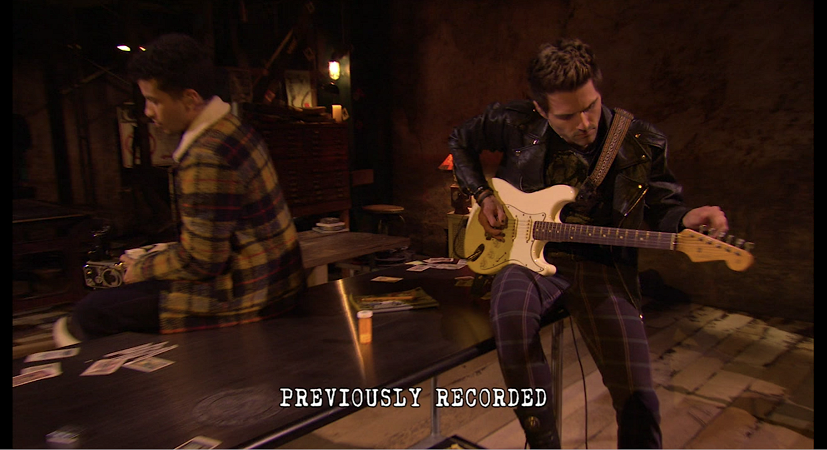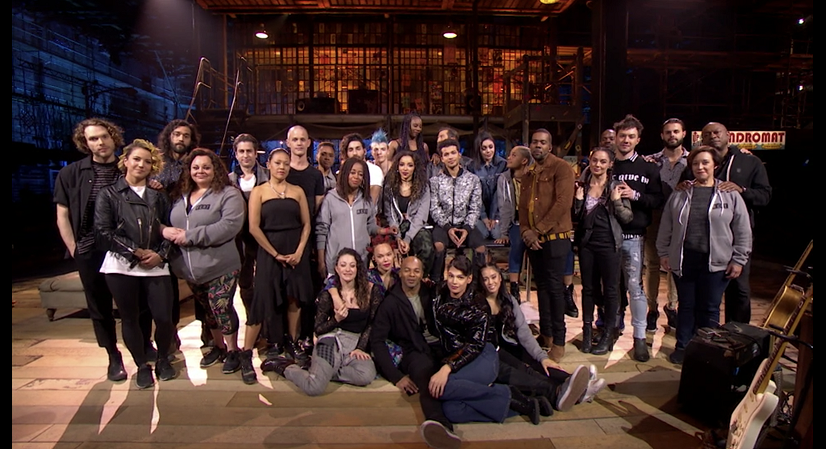 Screenshots of the opening "previously recorded" message (top) and the cast gathering to make their announcement about Hunt's injury and their plan to soldier on in the spirit of the show's late composer and lyricist Jonathan Larson (bottom).
One more time the networks had proven that their live musical events were anything but theatre and they were unwilling to assume the risk of a truly live theatrical event. Their unwillingness to do so robbed them of the "anything can happen" credibility they had been hawking since The Sound of Music Live!. With the networks skipping the standard practice of having understudies on hand, something Fox Entertainment's Charlie Collier called "impractical," the hollowness of "anything can happen" came to light.[ (( Liz Shannon Miller, "'Rent Live': Fox CEO Defends Show, But Makes No Other Live Musical Plans," IndieWire, 6 February 2019, accessed 20 March 2019, https://www.indiewire.com/2019/02/rent-live-fox-defends-show-no-other-live-musical-plans-1202041823/))] Instead of seeing something akin to legendary MLB pitcher Randy Johnson hitting a bird with a pitch or experiencing the shock of Janet Jackson's 2004 Super Bowl Halftime Nipple-gate, Fox presented the audience with a very expensive B-grade performance. As a reward for making the audience sit with the knowledge that they could have experienced something exciting and unexpected, Rent: Live raked in the lowest viewership of any of the live musicals (3.4 million), even falling below the dismal ratings of Fox's one-two punch of The Passion (6.6 million) and A Christmas Story Live! (4.5 million).[ (( Tony Maglio and Jennifer Maas, "Live TV Musicals Ranked by Ratings, From 'Rent' to 'Grease,'" The Wrap, 28 January 2019, accessed 20 March 2019, https://www.thewrap.com/rent-fox-live-tv-musicals-ranked-ratings/.))] To quote the folks at Vulture, "It's as if they had misremembered the old showbiz maxim as 'Give the audience what it doesn't want.'"[ (( Matt Zoller Seitz, "Rent: Live Should Have Made TV History. Instead, It Wasn't Even Live," Vulture, 28 January 2019, accessed 20 March 2019, https://www.vulture.com/2019/01/rent-live-fox-wasnt-actually-live.html.))] The irony is that those in the live theatre audience were able to experience what those at home were yearning for: an altered live performance with the busted, wheelchair-bound Hunt "the show must go on-ing." After the fact, scads of cellphone footage emerged of the actual live performance, one conducted just to keep the theatrical audience entertained until the actual live broadcast of the final fourteen minutes took place.
so, around 15% of the time, we all watched the broadcast together, like this: pic.twitter.com/mp0FcySlkJ

— Dylan Sanford (@blackdogdylan) January 28, 2019
Rent Live! camera operator Dylan Sanford live-tweets details about what is actually going on during Rent Live!-ish, providing more clarity than the broadcast itself.
Rent Live for me at least @RENTonFOX #RentNotLive #RentLive pic.twitter.com/Ax2Hhm8okR

— young mak (@makenacostlow) January 28, 2019
Tinashe wheels Brennin across the stage during a commercial break. Crowd in the studio is going nuts! #RentLive #RentOnFox #Rent #RentLiveOnFox pic.twitter.com/xXEW7bxNvl

— Marjorie Hernandez (@MJae13) January 28, 2019
A Rent: Live! cameraman and audience members tweet video from the actual live performance occurring during the disappointing taped broadcast.
Fox will never know how the ratings might have panned out if audiences had been given what had been promised. How many more would have stayed for the promise of seeing either an unknown going on in Hunt's place or a last-minute restaging and reshooting that would accommodate a wheelchair-bound Roger? They certainly would have saved themselves all of the reviews and Twitter chatter condemning the big budget bungle, colloquially dubbed Rent: Live-ish. It's unclear whether the networks are in-it-to-win-it with the live musical. Just eight days after the Rent disaster, Paul Telegdy and George Cheeks, Co-Chairmen of NBC Entertainment, announced in a joint statement that they would not be moving forward with their planned live broadcast of Hair, but proclaimed "Live musicals are a part of this network's DNA and we are committed to continuing that tradition with the right show at the right time."[ (( Nellie Andreeva, "NBC Scraps Plans For 'Hair Live!', Will Refocus On Family Friendly Musicals," Deadline, 4 February 2019, accessed 20 March 2019, https://deadline.com/2019/02/hair-live-nbc-next-musical-not-going-forward-dead-1202549692/.))] It'll be interesting to see how the networks pick up and dust off after Rent, and if they are able to find an experiential sweet spot capable of projecting the sense of liveness and risk desired by the audience, while not falling outside the bounds of what they deem worthy of the economic gamble.
Image Credits:
1. Fox advertisement for Rent: Live
2. Picture and program insert from 1954 Broadway production of The Pajama Game
3. Screenshots from Fox's Rent: Live
4. Split screen of Associate Director calling "Greased Lightening"
5. Todrick Hall's preshow video of The Wiz Live!
6. Tweet by KiddNation of Grease Live! golf cart mishap
7. Tweets by Rent: Live cameraman Dylan Sanford the night of the "live" broadcast and performance
8. Tweet by young mac from the Rent: Live audience
9. Tweet by Marjorie Hernandez from the Rent: Live audience
Please feel free to comment.