Señal 3 La Victoria: Communication in Service of the People
Kate Cronin / University of Texas at Austin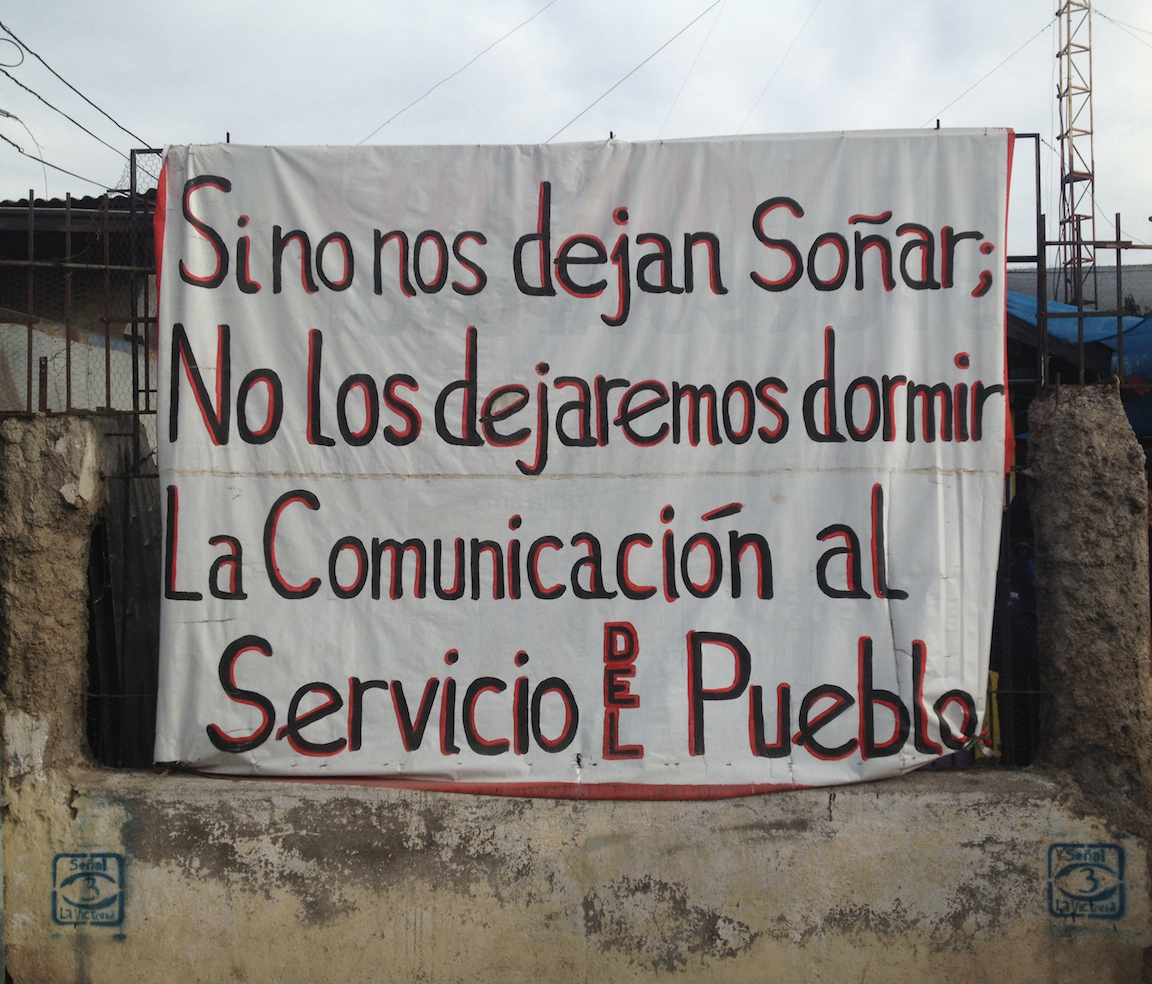 "If they won't let us dream, we won't let them sleep. Communication in service of the people."
Inside the small house behind this banner sits Chile's first community television station, Señal 3 La Victoria. For two weeks last May, media preservation students from NYU, UCLA, the University of Wisconsin at Madison, and the University of Texas at Austin, came together as members of NYU's 2016 Audiovisual Preservation Exchange program (APEX). Together, we traveled to Santiago, Chile and teamed up with the founders of Señal 3 to inventory 20 years worth of Umatic, VHS, and Hi8 videotape and to build a fully functioning video transfer station. [1]
From the outset, the founding members of Señal 3 made it clear that their primary objective for the exchange was to increase community access to their audiovisual archive. This fervent commitment to the democratizing potential of community television stemmed from their desire to counter what they perceived as the continued exclusion of La Victoria, and other working-class Chilean communities, from meaningful participation in the public sphere. First repressed by a dictatorship, then denied access to the necessary resources to broadcast legitimately by the democratically elected governments that followed, the founding members of Señal 3 felt twice silenced by the Chilean government. For this reason, in the wake of Chile's overlapping transitions to both a democratic government and digital broadcasting system, Señal 3 embraced their position as media pirates, emerging as a dynamic agenda-setter within their community. In the process, they became the custodians of an immense archive of human rights documentation, a distinctly undervalued contribution to the historical memory of a country still publicly reckoning with its past.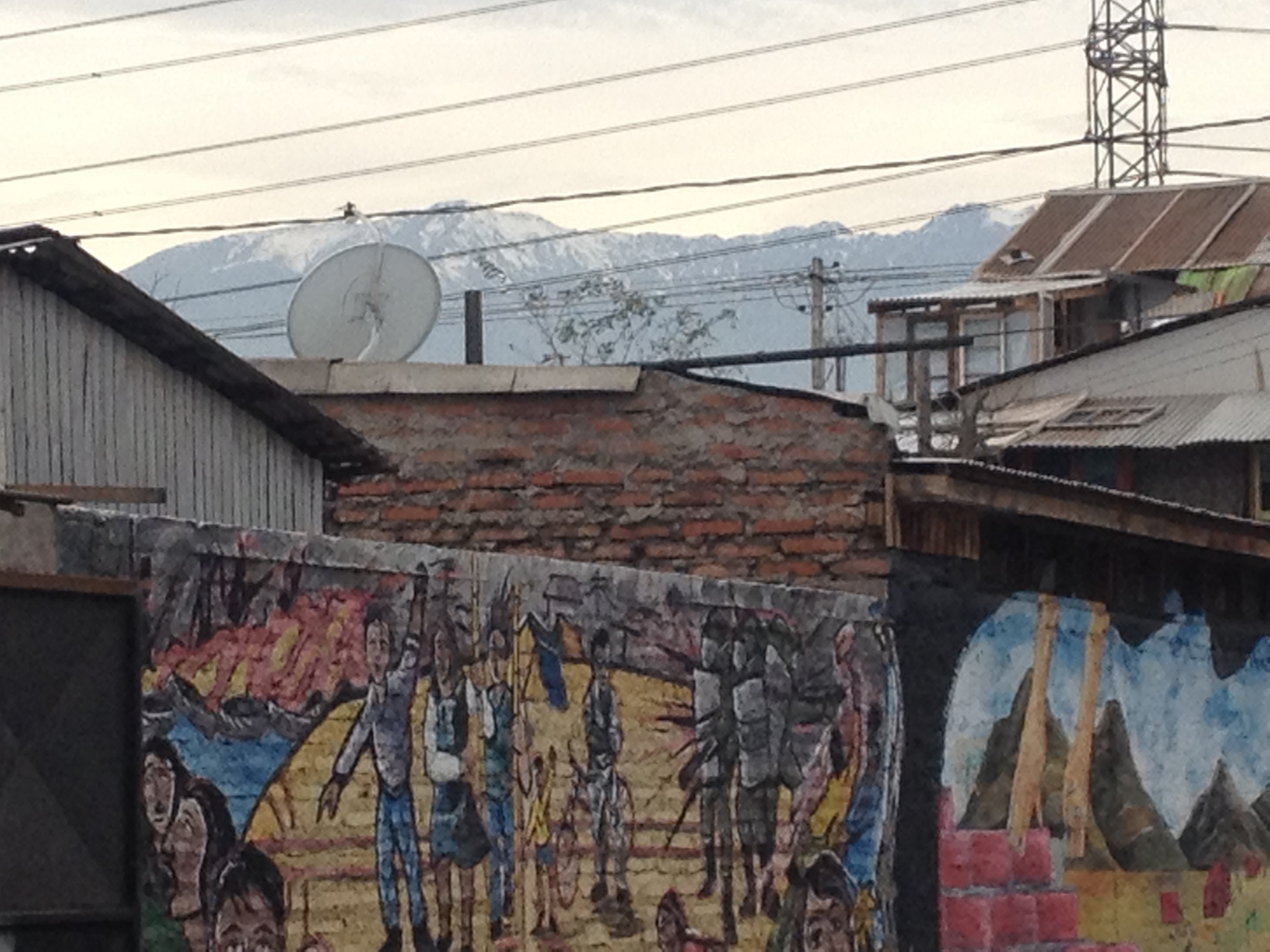 A view of the Andes from the streets of La Victoria.
La Victoria has historically been a hotbed of leftist political resistance and activism in Santiago, Chile. In 1970, the neighborhood threw their support behind the socialist, democratically elected President Salvador Allende, who was ousted by a US-backed coup in September of 1973 and replaced by the military dictatorship of Augusto Pinochet. Over the course of 17 years, Pinochet's government forced over 200,000 Chileans into exile, tortured 28,000 in secret, executed 2,279, and disappeared 1,248. [2] During Pinochet's presidency, residents of La Victoria vehemently protested against (and were consistently repressed by) the government.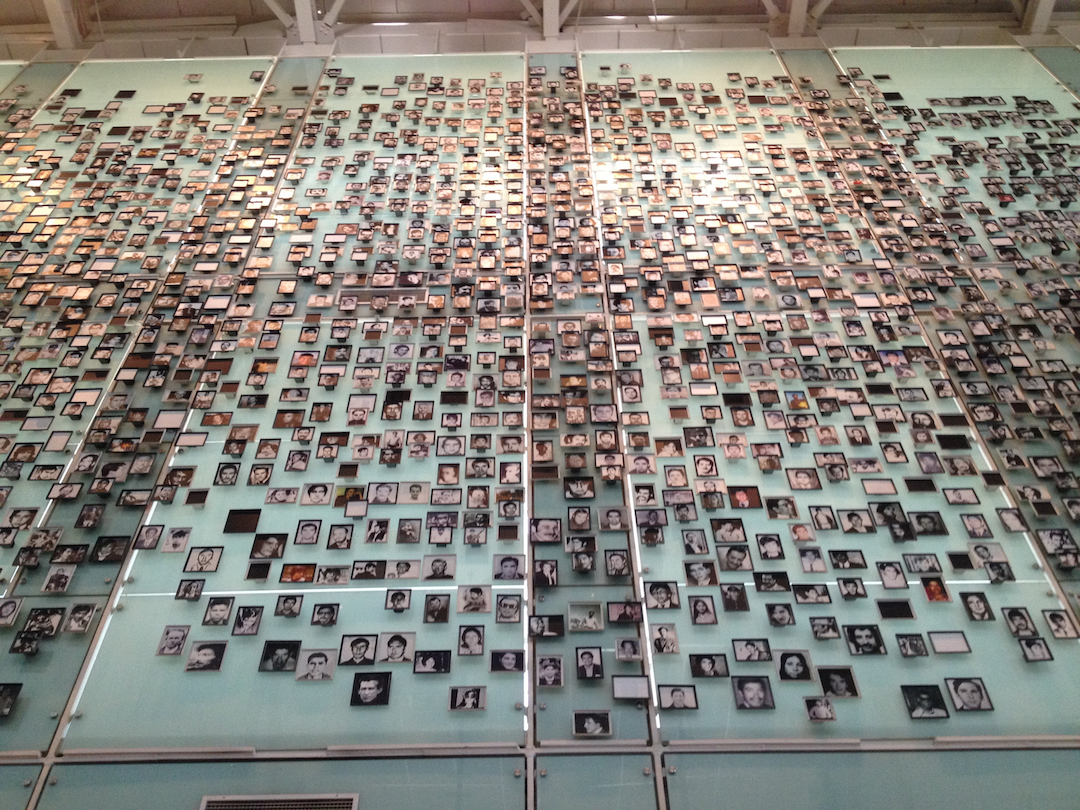 The Wall of the Disappeared in Santiago's Mueseo de la Memoria y los Derechos Humanos (Memory and Human Rights Museum)
Despite La Victoria's history of political resistance, Señal Tres did not begin broadcasting until 1997, seven years after Chile's return to democracy. The founders, most of whom grew up during Pinochet's presidency, are self-taught journalists, cinematographers, and editors with day jobs as plumbers, electricians, and builders. They devote their weekends to Señal 3 and pay the station's massive electric bill out-of-pocket. They started out with donated equipment and funding from international NGOs, community television partners in Europe, and even a ska band from Madrid. Señal 3 has since helped to establish several other community television stations including Canal 3-Pichilemu, a Mapuche community station. They have never sought or received state funding; instead, over the past 20 years they have developed an extensive international support network of community television practitioners. They've also started a local communications school where they teach community members to produce, edit, and broadcast television programs, which they then air as part of their Saturday broadcasts.
All of their production work is done in-house, using pirated software and VHS tape decks to edit their broadcasts. They air everything from protest footage, educational programming on women's health and sexual education, segments on popular video games produced and created by local children, pirated sports broadcasts, and bootleg copies of mainstream Hollywood films. [3] They broadcast to a 9 km radius on Saturdays, reaching approximately 350,000 homes and 800,000 residents. [4] For the better part of two decades, they have broadcast without the support or permission of the state, effectively rendering them broadcast pirates.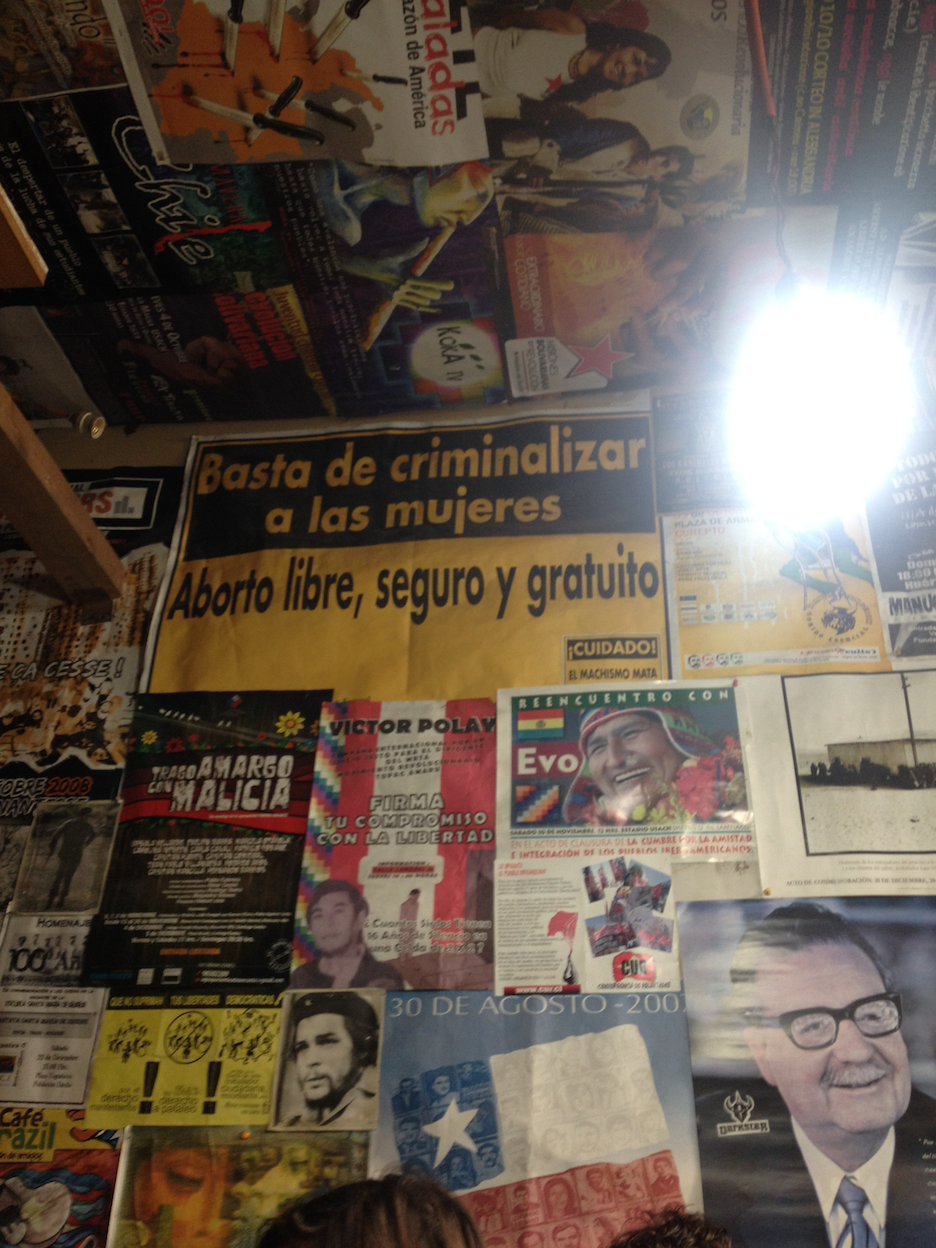 The walls of Señal 3, covered from floor to ceiling with posters.
Jennifer Ashley has traced Señal 3's pirate roots back to the years of Pinochet in which clandestine media was a key tool of resistance against the dictatorship, representing both the freedom of expression and the democratization of information. Although Pinochet was voted out of office in 1990, the neoliberal communication policies of his government remained firmly in place, resulting in the privatization and globalization of Chilean media, a high concentration of media-ownership, and a limitation of the electromagnetic spectrum, something the Señal 3 station members see as a public resource. [5] Ashley, who spent over a year working with the Señal 3 team and living in La Victoria for her doctoral research, describes Señal 3's relationship with the government before the transition to digital television as a form of "open secret piracy . . . a way for the Chilean state to defer, but not refuse, demands for greater media democratization" [6]. For this reason, Señal 3 and other community television activists organized around the national shift to digital television (beginning in 2009) as an opportunity for the state to re-distribute the electromagnetic spectrum more democratically and to legitimate their participation in public discourse. However, 2014's Digital Television Legislation neither stipulated a significant redistribution of the electromagnetic spectrum nor allocated support for community television stations to help with the expensive transition from analog to digital broadcasting infrastructure and equipment. For community television activists, this legislation represented the continuation of a long history of excluding alternative voices and media practices from the Chilean public sphere. [7]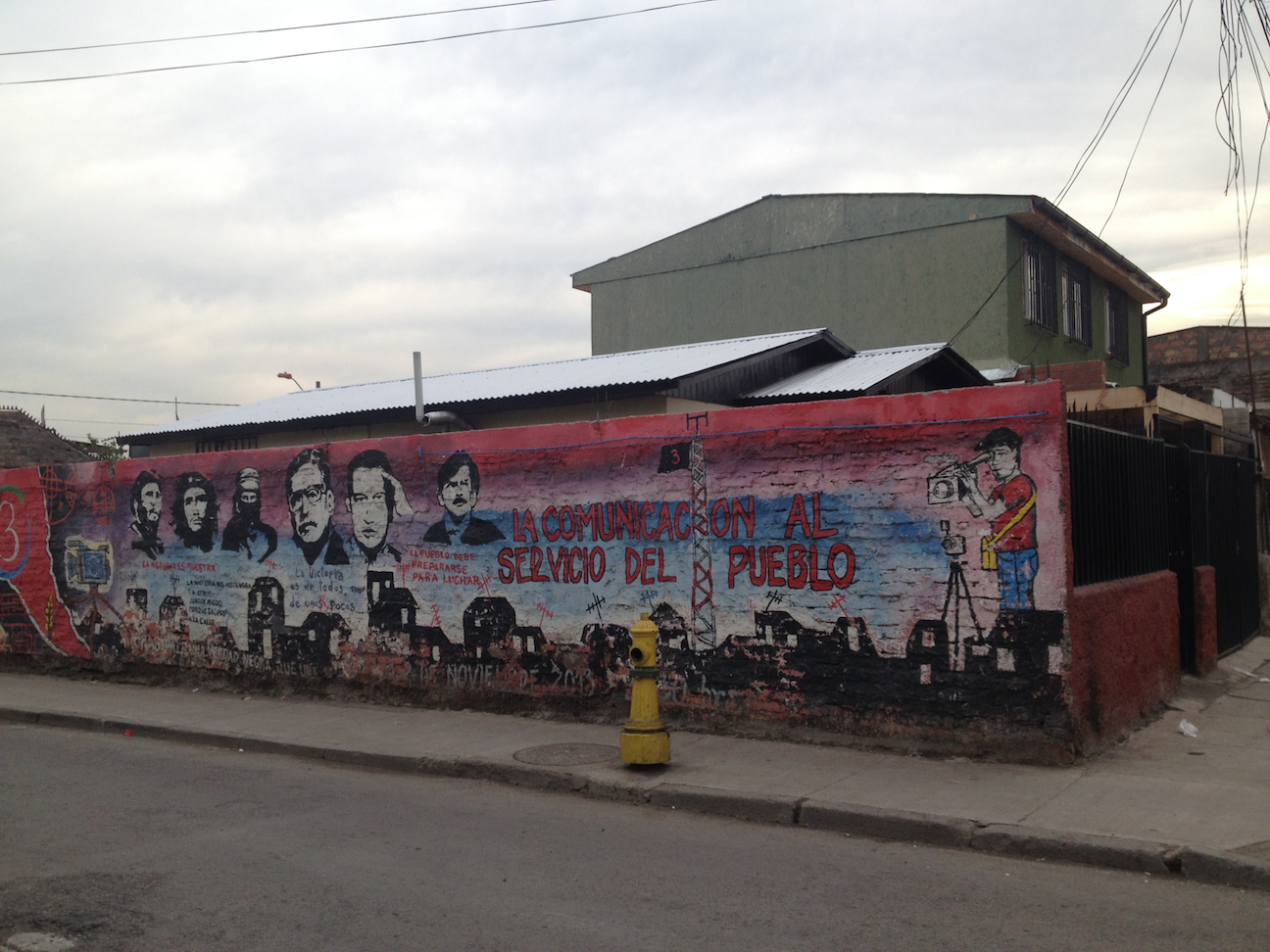 A mural down the street from Señal 3.
Señal 3 adjusted to their position within the emerging digital landscape by continuing to clandestinely broadcast an analog signal for their (many) community members who could not yet afford to make the transition to digital television. They also began to stream some of their broadcasts online. For this reason, when the APEX team arrived in La Victoria in May of 2016, our preservation efforts straddled Chile's analog past and digital future. The founders of Señal 3 made it clear from day one that their media archive belongs first and foremost to their community. They saw the digitization and digital preservation of their archive as both a practical and a democratic imperative: videotape is an unstable storage medium with a finite life cycle, and digitization presented them with the opportunity to make 20 years of audiovisual documentation of their community, by their community, available on-demand to their community. Now in possession of an inventory of their archive and a fully functioning digitization station, the team at Señal 3 is one step closer to their goal of making the archive widely accessible to the people of La Victoria. While this is undoubtedly a step in the right direction, Senal 3 still faces many obstacles: technological obsolescence, the steep cost of digital storage, and the lack of standardization among digital formats, just to name a few. With neither state support nor permission, they must work with their international network of community television operators to address these challenges.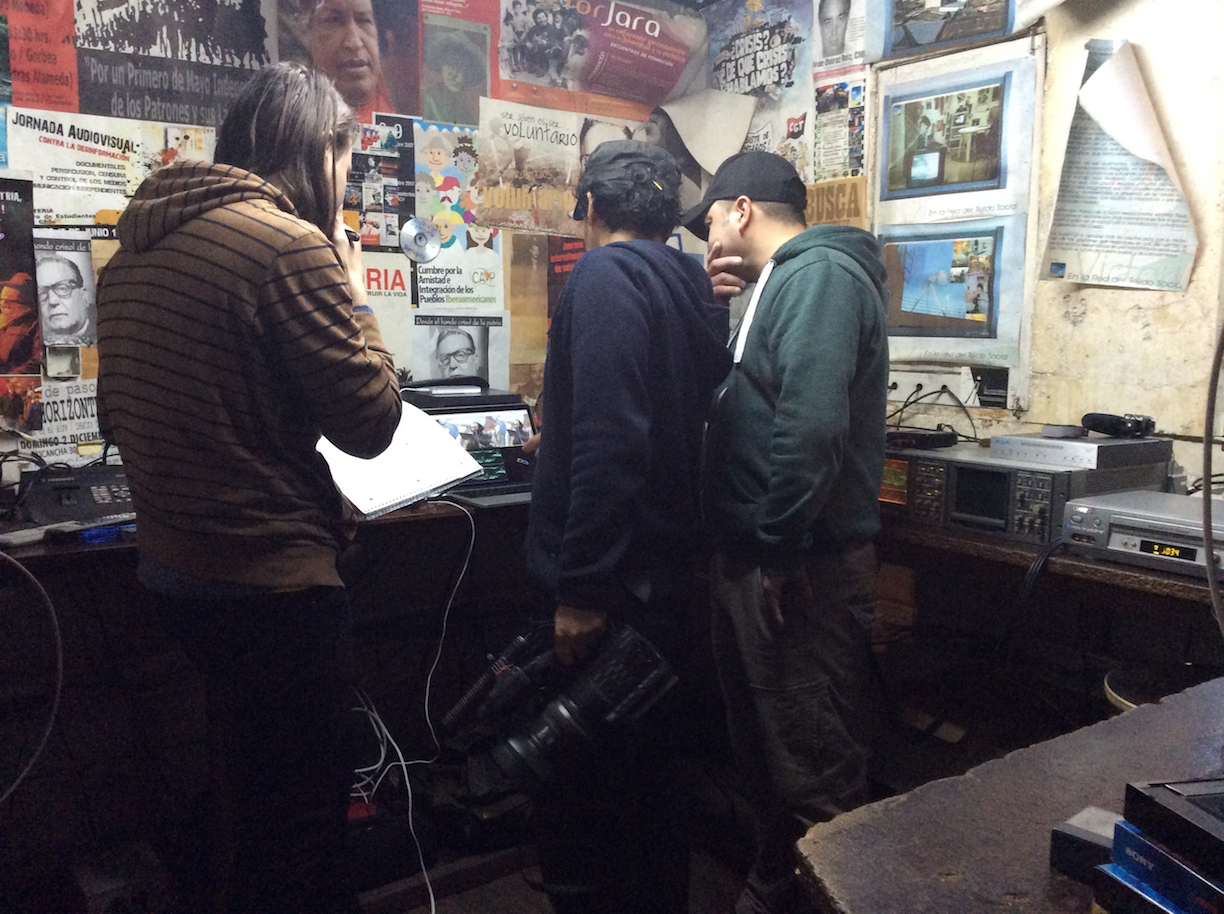 APEX and Señal 3 team members troubleshoot at the video transfer station.
Much has been written about the media's role in Chile's transition to democracy and public reckoning with (or denial of) the human rights violations committed during Pinochet's dictatorship. [8] However, few have acknowledged community television stations as active – albeit unsanctioned – participants in the necessary human rights discourses that have taken place throughout Chile and abroad since the country's return to democracy in 1990. For television scholars interested in alternative media and communications policy, historians interested in historical memory, and archivists invested in human rights documentation, cultural patrimony, and community archiving practices, the longevity and wide-reaching activism of Señal 3 serves as a powerful reminder to consider the potential local, national, and transnational impact of broadcast media practitioners who operate outside the legal framework of the electromagnetic spectrum.
APEX Santiago 2016 – Señal 3 Community Archiving Workshop from Michael Pazmino on Vimeo.
Image Credits:
1. "If they won't let us dream, we won't let them sleep," Author's personal collection.
2. A view of the Andes, Author's personal collection.
3. The Wall of the Disappeared, Author's personal collection.
4. The walls of Señal 3, Author's personal collection.
5. A mural, Author's personal collection.
6. APEX and Señal 3 team, Author's personal collection.
Please feel free to comment.