Parkives: Tomorrow's Residual Media…Today
J.D. Connor / Yale University
[vimeo]http://vimeo.com/7047856[/vimeo]
The state of the art in theme park attractions is "Harry Potter and the Forbidden Journey," the flagship ride at Universal Orlando's Wizarding World of Harry Potter. Pre-ride, Harry and the gang give advice via the Musion Eyeliner, a projection technology that is an updated version of the Pepper's Ghost illusion, like a teleprompter. It was the tech behind the ghost Tupac at Coachella last year.
For the actual Journey, riders are move past a series of projections, an animatronic Whomping Willow, simulated fire, spitting spiders, and, centrally, three mini-Omnimax domes. In the domes, the world opens up as you're chased by a dragon, play some quidditch, and are hounded by Dementors.
To carry riders through, a KUKA robot arm wields a 4-seat bench like a wand. It pivots and lurches in all directions while the entire arm moves along on a track. KUKA is an industrial robotics company that has only lately gotten into the ride business, but they are, like "Forbidden Journey," cutting edge.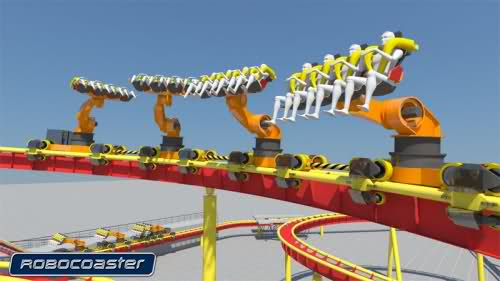 KUKA Robocoaster mounted to a track
Yet innovation is not enough. Every major amusement park becomes its own threefold archive. First, a park banks technologies of entertainment—complexes of physics and media, narrative and sensation. Second, it preserves an ideology of entertainment—a vision of the visitor's relation to spatial arrangement and design. Not as obvious as the technological complexes that it comprises, a park's vision is more inbuilt and less updatable. ((Perceptions of scarcity determine which ideology reigns at a park. Where land is rare, the park becomes a preserve (Knott's Berry Farm; Rye Playland; Cedar Point). Where vision is scarce, the park becomes a monument (Disneyland). And where narrative is scarce, the park becomes a studio (Storyland, Universal Studios).)) Finally, a park is a material archive of contract—arrangements of intellectual property and labor that swathe technology and media. Disney may own Marvel, but Universal owns the rights to exploit the Marvel characters in perpetuity. ((The conviction that movie studios were the central narrative engines of global culture reached its peak in the early 90s. Disney opened Disney-MGM Studios in 1989; Universal built its Orlando properties to compete with Disney; Paramount bought Kings Island, Kings Dominion and others in 1992; and Time/Warner took sole ownership of Six Flags in 1993. Warners sold out in 1998, and Paramount exited the theme park business when Sumner Redstone broke up the company. Both studios reverted to the earlier model where they profited from licensing their franchises—hence the Wizarding World at Universal. Universal set about securing intellectual property in huge chunks—Sony's Men in Black, Fox's The Simpsons, Dr. Seuss, Marvel. These would become the "Islands of Adventure," the companion park to its Universal Studios.))
Whether technological, ideological, or contractual, parkives are not often motivated by anything like a preservationist impulse—unless that impulse serves its ideology or contract. Rather, these are places where return on investment is high enough to justify their continued operation. Parkives are fermatas in the music of capital.
Since major rides are conceived as relatively durable embodiments of an organization's vision, secured by contract and channeled through narrative and experience, they are inevitable centers of the sort of corporate reflexivity John Caldwell, Jerome Christensen and others have drawn our attention to. ((John Caldwell, Production Culture: Industrial Reflexivity and Critical Practice in Film and Television (Durham: Duke University Press, 2008); Jerome Christensen, America's Corporate Art: The Studio Authorship of Hollywood Motion Pictures (Stanford: Stanford University Press, 2011).)) What makes a ride unlike a movie or a television show is the paramount role of experience in the configuration. The iterability and extremity of the ride shifts the balance between story and stunt. A studio imagines its futures through its narrative; a park channels its audiences through ideal experiences.
The multiaxis motion enabled by the KUKA robot arm puts the rider through paces similar to those of Filmotechnic's "Russian Arm."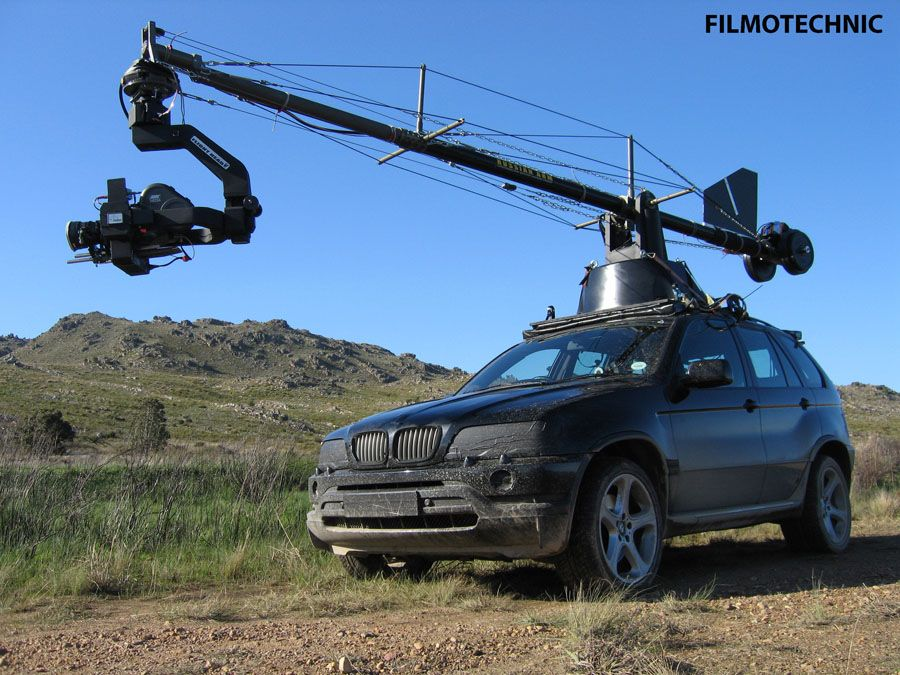 The Russian Arm
The dramatic alterations in camera position are replicated in the dramatic alterations in audience position. This alignment of production with experience links the two aspects of the Universal parks—the "behind the scenes" of Universal Studios and the packaged modalities of Islands of Adventure. It is no accident, then, that the phenomenal success of Wizarding World has encouraged Universal to make the Potterverse the actual link between the two parks. Plans are in the works to build a Diagon Alley and a Gringott's ride in Universal Studios that will connect with Islands via a Hogwarts Express. (("Permits Show Hogwarts Express to Link Islands of Adventure to Universal Studios Orlando."))
However important the narrative arcs of the rides are, major parks are far more dependent on design in order to achieve the necessary levels of integration between event (ride), consumption (shop and restaurant), and cultural extension (various "lands"). Stuart Craig and his production design team from Harry Potter oversaw the reconstruction of Universal's "Merlin Woods" in line with the Potterverse. Contractual stability made design continuity possible here, just as it had with Universal's own Jurassic Park.
Disney, the parkiest major studio, has always been overbranded. Family friendly can mean dangerously anodyne, and "disneyfied" is a slur that even company executives use. That brand overhang doomed Disney's America, the historical theme park it intended to build in Virginia. And when the company launched Walt Disney Theatrical in 1993 and became the anchor of the redevelopment of Times Square, it had a narrow path to thread.
Where Universal had to convince people that what they really wanted in a theme park was a visit behind the scenes, Disney had to convince Broadway theatergoers that they were not visiting a theme park at all while still capitalizing on the company's family-friendly brand. The solution to the problem was to cultivate artistic takes on company properties. It worked spectacularly well with The Lion King in 1997 and has continued. Disney is currently backing the Peter Pan prequel Peter and the Starcatcher, a small-scale production that everywhere trumpets its handbuilt aesthetic. But the real indication that the "art of Disney" approach is working is Newsies!
Newsies! had been envisioned as a touring show, but it performed well enough in its New Jersey previews to be moved to Broadway. Based on a 1992 film that performed poorly at the box office, Newsies is the Ragtime story of media-driven class formation, filtered through Fredric Jameson, and rewritten so that the happy ending is not revolution but making good by marrying the boss's daughter.
"Seize the Day" is rousing; the dancing is energetic, but what makes Newsies go is its scenic design. The set consists of three erector-settish towers which move in concert, configuring themselves as a single building, a streetscape, the bowels of The New York World as necessary.
Each tower is divided into three screened floors, and each screen can be projected upon. Hollywood Squares meets Times Square. Impressively, the projections occupy their squares perfectly, even when the towers are turned or in motion—a computer and operator are seamlessly keystoning on the fly. Sven Ortel, the Tony-nominated designer who handled the projections, notes that the algorithms that made this advance possible only became available in the last two to three years. That great leap forward disappears—intentionally—in Newsies!' design.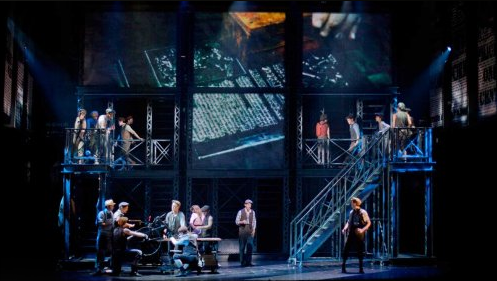 Sven Ortel's design in Newsies!
For Newsies! Ortel wanted to "make the technology disappear to some degree." ((Interview with the author, 1/31/13.)) That disappearance is the relative occlusion of Disney itself, the tempered presence of the conglomerate, taking "a backseat" to narrative, to individuality, to art. If theme parks are self-archiving, Newsies! knows the day it seizes is long past.
Image Credits:
1. KUKA Robocoaster mounted to a track.
2. The Russian Arm.
3. Sven Ortel's design in Newsies!.